Empowerment Along Wallace Lake Loop

In May 2020, when the state of Washington's governor Jay Inslee reopened public hiking trails, my options were to hike alone with my dog Ajax, or hike with him and one person. Lucky for me, Ajax is a wonderful hiking partner, and the two of us have done dozens of hikes together during the past eighteen months, even if I couldn't find a human companion.
However, I treasure those trips I take with a human buddy. Like all of my visits to the Woodland Park Zoo, I always learn something new from our conversations. On August 3, 2021, we joined a close friend and her dog to explore Wallace Lake loop, a nine-mile loop in a Washington State Park off US Highway 2. We headed upward along the wooded Greg Ball trail, a gently ascending path built in the memory of the gentleman who launched the trail maintenance program within the Washington Trails Association. This blog post highlights some of the topics of conversation we had about moving forward.
EMPOWERMENT
One of our topics inevitably turned to a discussion of my recently launched blog. I mentioned the term empowerment and how successes in one area of your life often bleed into others.
The evening I launched my blog, I received an email from a former client who was getting discouraged about some tough challenges. Remembering our tumultuous history, I could have deleted the message, but instead, I paused and thought about the confidence I'd gained during my recent success. Perhaps I could try something different.
And I did: I sent her some carefully thought-out suggestions for ideas she could think about with no strings attached. After all, if I could branch out in a new direction and launch a blog on my own, what else might I be able to do if I just tried?
Similarly, if you reflect on areas of your life that are working well, what are some of the skills you used to get there? What are some of the tasks you routinely do that others find useful, maybe even important? Is there some way to use those same skills and strengths in a different area of your life where you might not feel as satisfied (yet), in order to make progress?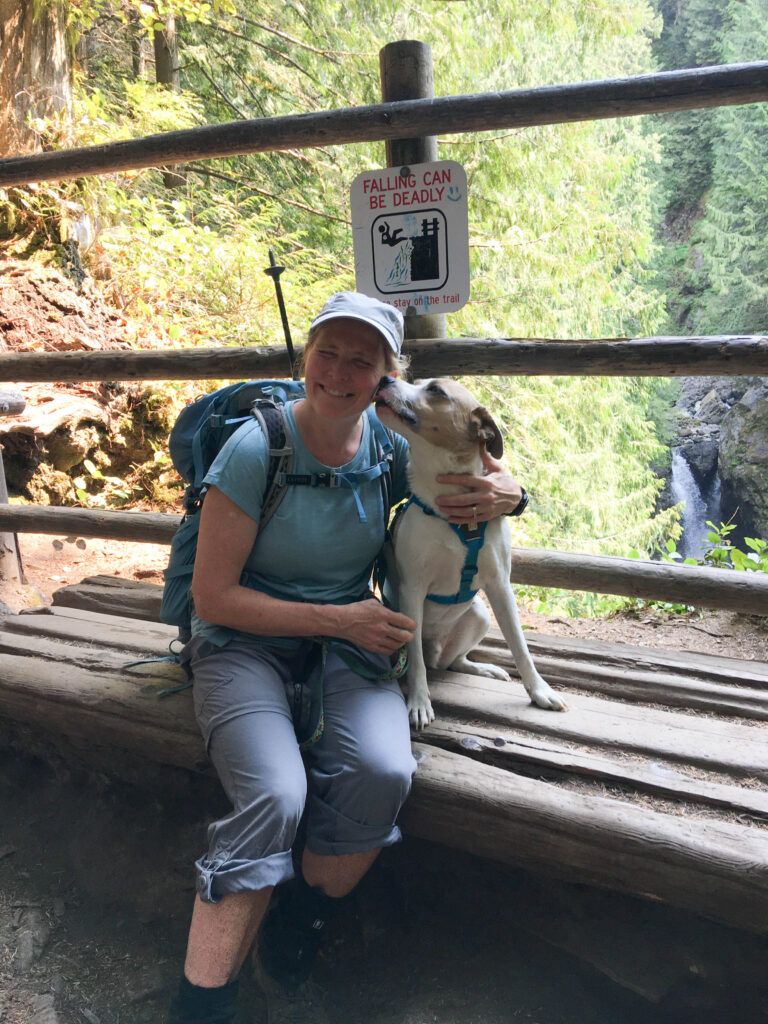 CREATIVE DISCOVERY THROUGH PLANTAR FASCIITIS
As we continued beyond the lake to the falls we'd visited months earlier in April, our conversation turned to another exercise I'd experienced during a horrendously debilitating case of plantar fasciitis years ago. Because it had hurt even to walk, I spent a lot of time that summer writing. I even tried a journaling technique that involved getting in touch with different parts of my body.
The voice of my brain was one color of ink, my heart, another; I used a third for my injured foot, a fourth for my inner critic, a fifth for my gut instincts, and a sixth for the sane, adult part of my brain which, when not stressed, remains in harmony with the rest of me. My task? To let each part of my body "talk" to one another on the page.
I laugh now because as the colors battled for time on the page, my sane, adult voice pretty remained silent until all the others had their say. My injured foot insisted, "I'm putting my foot down. No more exercising. I need rest. And if I have to shut the rest of you down to get it, so be it."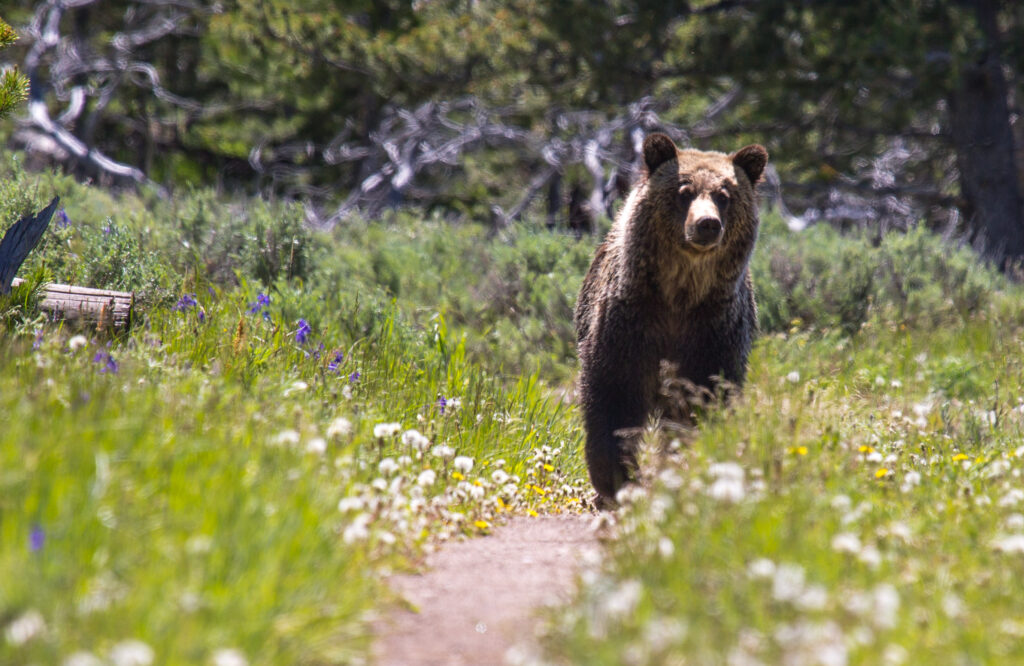 What I learned from that journal exchange was that the self-inflicted overuse injury was my body's way of demanding recovery. Ever since, I've insisted that my athletes adhere to active recovery (or rest) days in their programs, even if they think daily hard training is the answer.
If you experience a physical limitation or injury or are dealing with something holding you back, consider asking the obstacle what role it is playing in your life.
Is there an addiction or bad habit you'd like to replace? While every habit or addiction is there for some reason, whenever you outgrow that reason, it's time to look at how it served you and how another habit might work better for you.
If you can come to terms with whatever your block is trying to tell you, instead of getting mad at yourself because you are stuck, you might be able to start taking the necessary steps to move forward.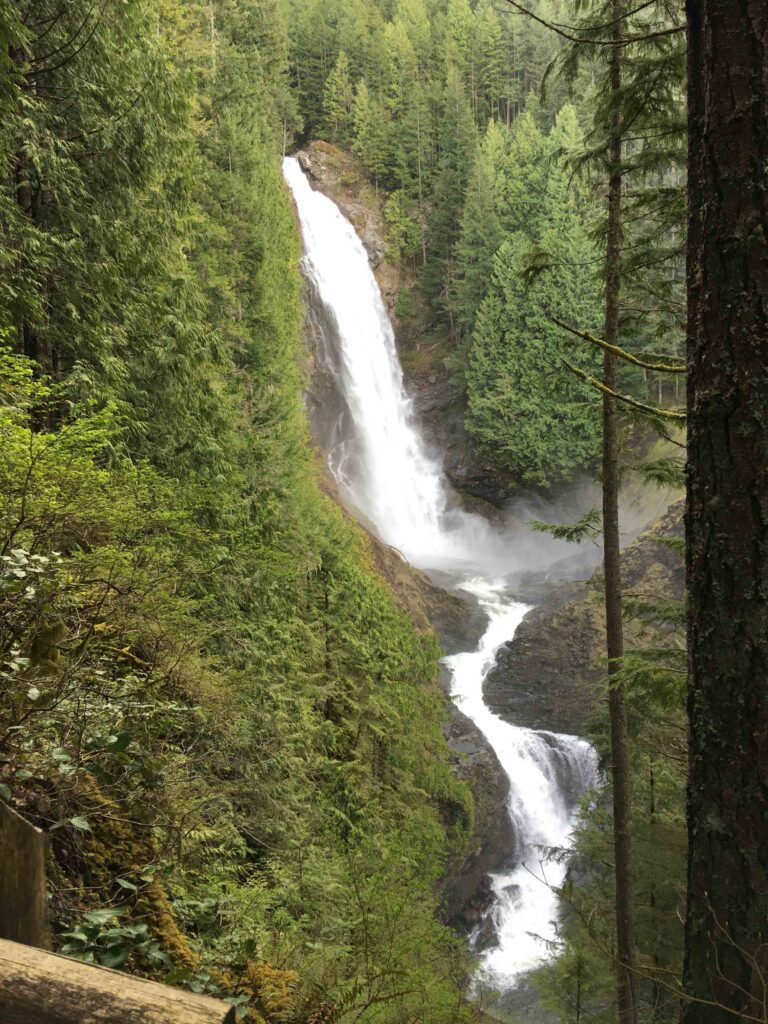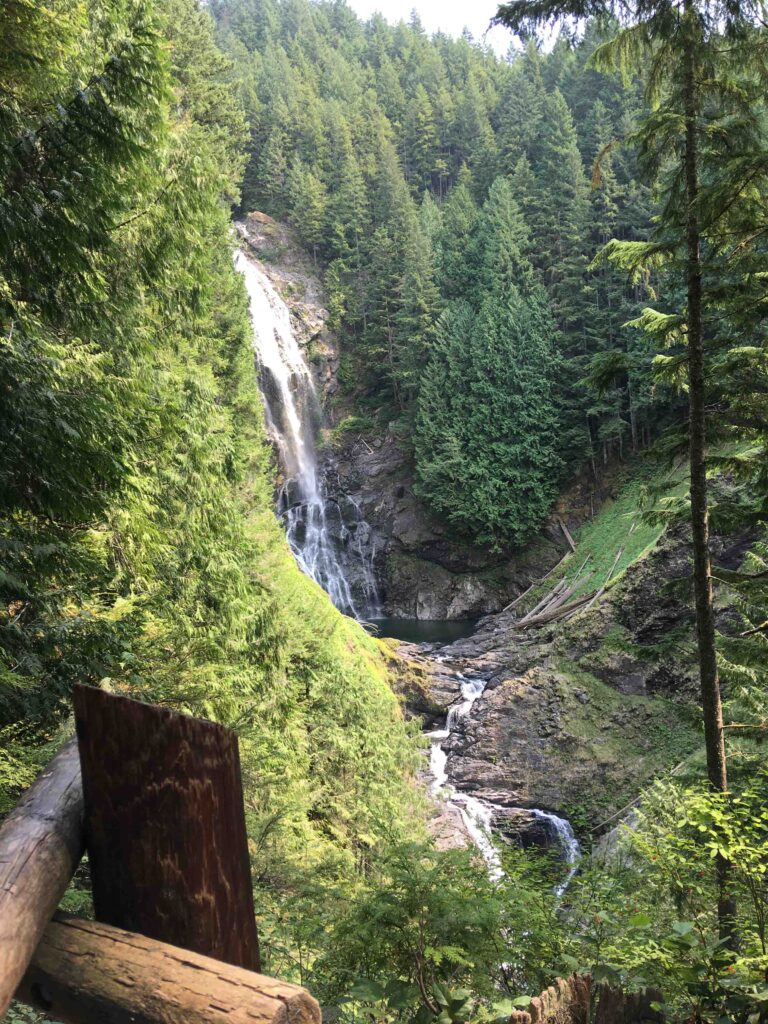 ROLE-PLAYING USING TWO EMPTY CHAIRS
Icky, sticky situations can provide challenges for anyone, but especially for those of us who tend to be more introverted. Another technique I've learned from various parenting classes is role-playing but by yourself. Whether you need to have a crucial conversation with a spouse or partner, address a child with some tough love, or talk to a friend or colleague about how you're being treated, this technique may help.
Sit in a chair with another facing you, and state your side of the story to the empty chair as simply and concisely as you can. Take a deep breath and then switch to the opposite chair and try to imagine how the other person you want to address might react to your comments. What would their body language reveal? How would they look at you? What would their voice sound like? Really "listen" to what the other person might say or how they might react.
Then return to the first chair and respond. Bring up as many obstacles as possible so you can practice your reaction. Change up the dialog and situation until you feel better prepared for the unexpected. Like the multiple color pens exercise, this one allows the exploration of different options in a safe environment and can provide powerful insights.
RIPPLE EFFECT
As we rejoined the masses of people (and their dogs) who were making their way upward to the lower, middle, and upper falls as we descended, I had a chance to contemplate the way conversations ripple outward to and through whoever is sharing information. If one of my hiking buddies or clients finds something that I say to be useful, I want to send it out to others.
If someone reading my blog finds the information to be helpful, they might share it with others. In that way, the thoughts I share in my small corner of the universe have the power to ripple outward, just like a stone in a puddle or pond. May the exercises suggested above move through you to invoke change and provide upward and forward momentum.
Choosing Paths to Travel
Granite Mountain, August 1, 2021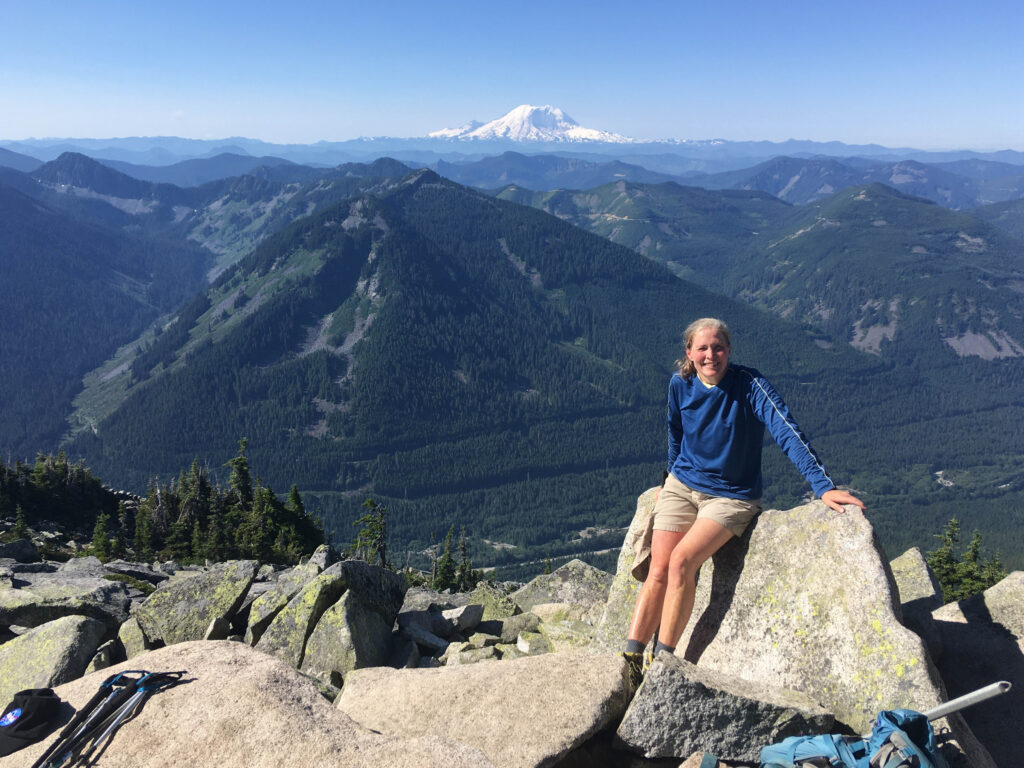 While hiking up Granite Mountain early on the first of August, 2021, I pondered publishing my first blog post and what it meant to reach such a monumental goal. I also mulled over Robert Frost's poem, The Road Not Taken, and how we choose our various paths in life.
The day began as a hike to Island and Talapus Lakes. I mistook the faint orange haze for low clouds, but as soon as my dog Ajax and I got out of the car, I could smell and taste smoky particulate matter. Wildfires burning in eastern Washington. Although eight other cars sat in the parking lot, we didn't see anyone stirring as we set out at 6:15.
The Hike
Near the one-mile signpost indicating a choice between Pratt Lake or Granite Mountain, I recalled the last time we'd hiked Granite. In July 2020, Ajax overheated and needed several rests as we descended. He'd completed several double-digit hikes this year with no trouble. Mileage wasn't the issue. Would he do okay in cooler conditions? Should we try again?
I sent a quick text to my husband telling him we were at the same exit but headed for Granite, not Island. "Go for a little while;" I told myself. "If the air quality deteriorates, you can always turn around." It turns out we were choosing the road more traveled, but we didn't know that at the time.
At the upper reaches of an avalanche gully, I could make out the hazy outline of the mountains across the valley. We would not be rewarded with a view of Mt. Rainier even if we reached the summit. I heard a loud CRACK in the gully above and behind us and whipped around to see quaking branches.
A Bear?
Only one thing makes such noise: a foraging bear. I quickly turned to see Ajax on high alert, about to give chase. I grunted my special "No" signal with no onomatopoeic equivalent except an obnoxious doorbell. "Stay close," I called to Ajax, followed by "bear, bear" at regular intervals until we completed the gully crossing and reached the woods on the other side.
No turning back now.
Fortunately, we never spotted the source of the noise and I forgot all about it as we side-stepped the ascending masses later that morning.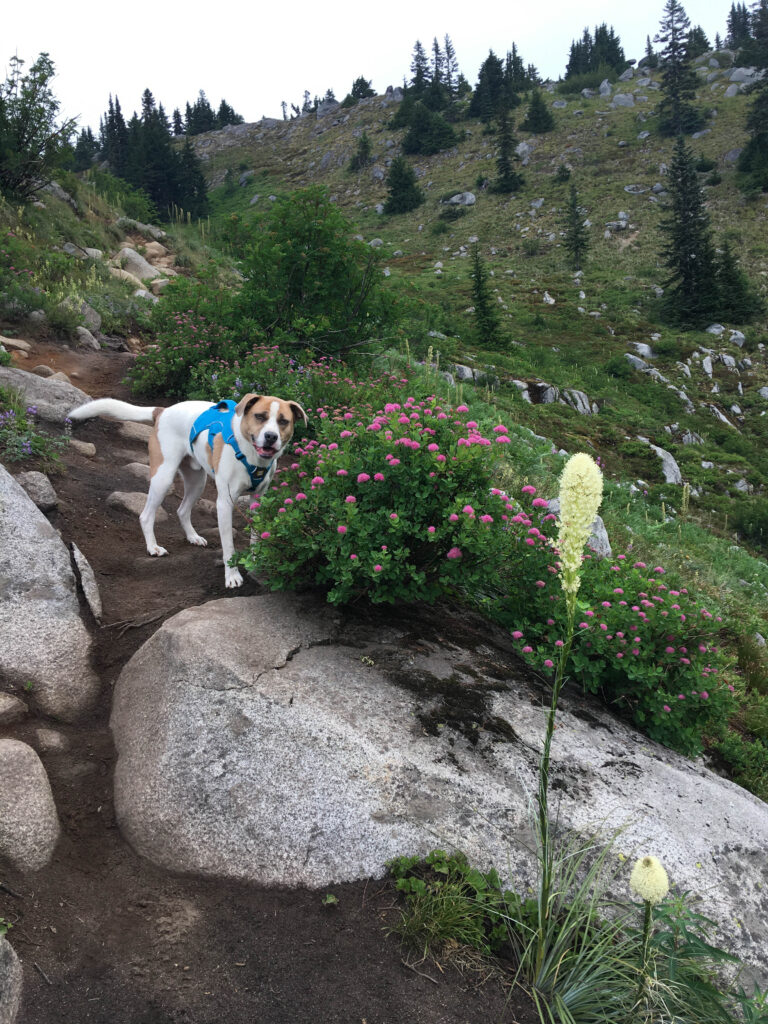 In the meadow, Ajax trapped a chipmunk below a cracked granite rock. I snapped on his leash to coax him past. Several minutes later, again off-leash, a marmot sounded an alert call and Ajax gave chase. When he returned to my side panting heavily, he was rewarded with more time on leash until we were out of the meadow.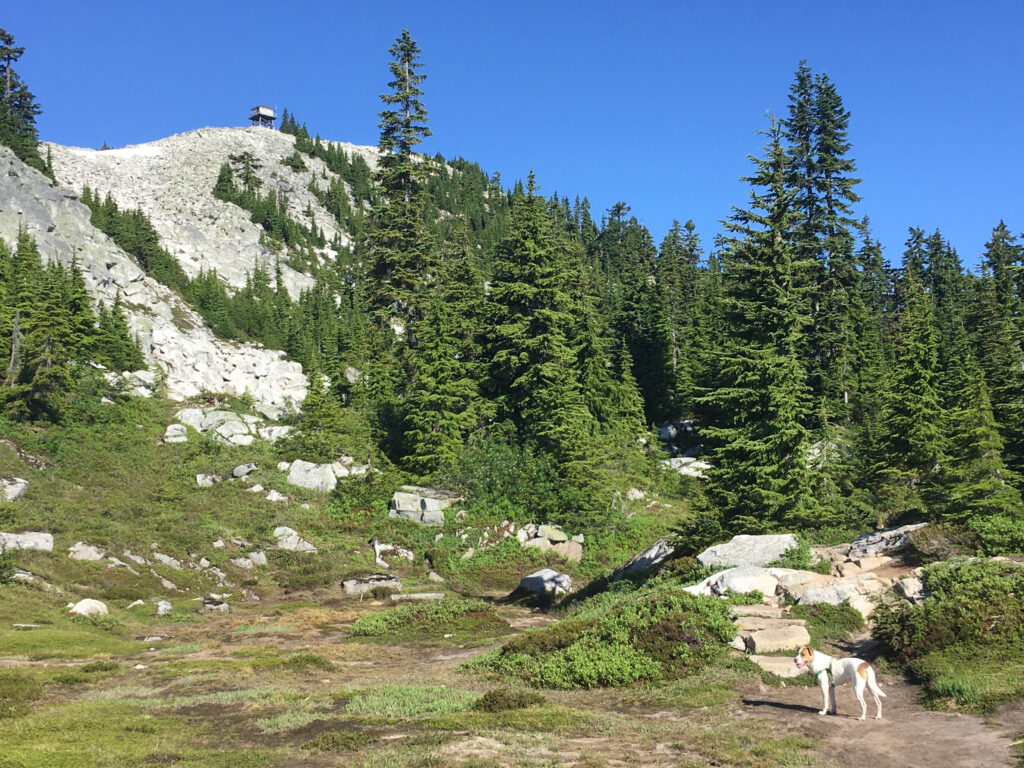 Lessons Learned
We beat our record for the shortest time at the summit – ten minutes – because the bugs were horrendous. I made myself several promises, to:
Hike mid-week for the rest of the summer to avoid hordes of people and dogs.
Keep Ajax's leash on anywhere bears, marmots, or picas could be, as well as dogs.
Visit Granite in the early season (when snow means flowers–and bugs–aren't plentiful yet) or late season (when it's cooler, with more breezes, clearer views, and fewer people hiking). Trip reports on WTA are of great help with planning.
Stick to the objectives that I set when I leave the house, or else call and leave a voice message. It turns out my text never got sent, so nobody knew I had changed our destination. Nobody knew where we were if we'd run into trouble — with a bear, with a tired dog, with smoke inhalation problems or dehydration. Dangerous practice.
The Best Part
This hike was a celebration outing for launching my first blog post. But my favorite part of the day was adding a mile in the forest after we finished Granite. Instead of turning left to return to the trailhead, we continued right. We visited several lovely stream crossings, with fewer people, no bugs, and a place to sit and enjoy a peaceful snack.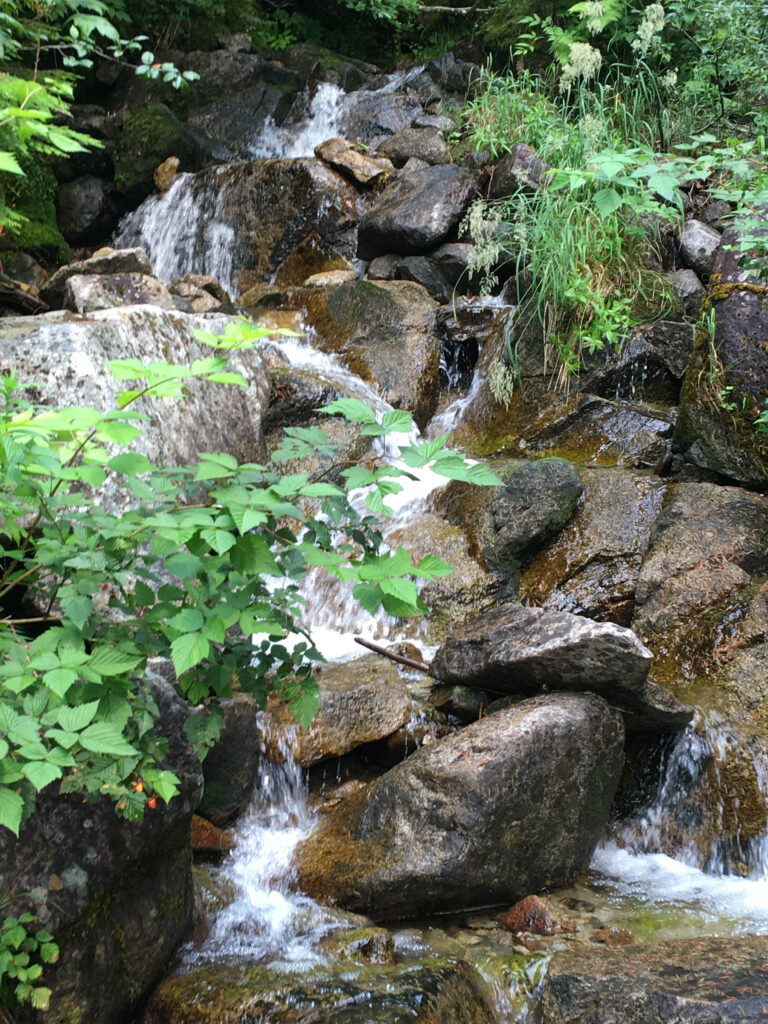 I thought about journeys and destinations, and about how Body Results clients come to me with a specific objective in mind, some of whom feel immense disappointment if they don't reach that goal. One of my unconscious objectives for the day had been to provide a shaded hike with streams for Ajax to cross and drink from. By choosing a hotter, drier route, did I neglect him? I carried extra water; we took frequent breaks to eat, drink, and sniff; and he liked chasing critters and meeting other people and dogs.
Perhaps I neglected myself?
Just like in life, when we're thrown curveballs (like hazy skies, poor air quality, thrashing bears, or swarming bugs), we need to go with the flow, to change plans mid-stride, to adjust to whatever we encounter. I'll take that as the biggest lesson on my path to a growth mindset: Enjoy — and learn from — the journey, not just the destination. The mountains are wonderful teachers. Perhaps that's one of the reasons I'm pulled outside again and again: to learn what Mother Nature has to teach me.