This week I pondered a recent Precision Nutrition lesson about common cognitive distortions. These are inaccurate, negatively biased, habitual ways of thinking. On a birding trip to Monroe this morning, I reflected on three I used today. Herein I describe my efforts to overcome four cognitive distortions against the backdrop of the rare, beautiful Whooper Swan.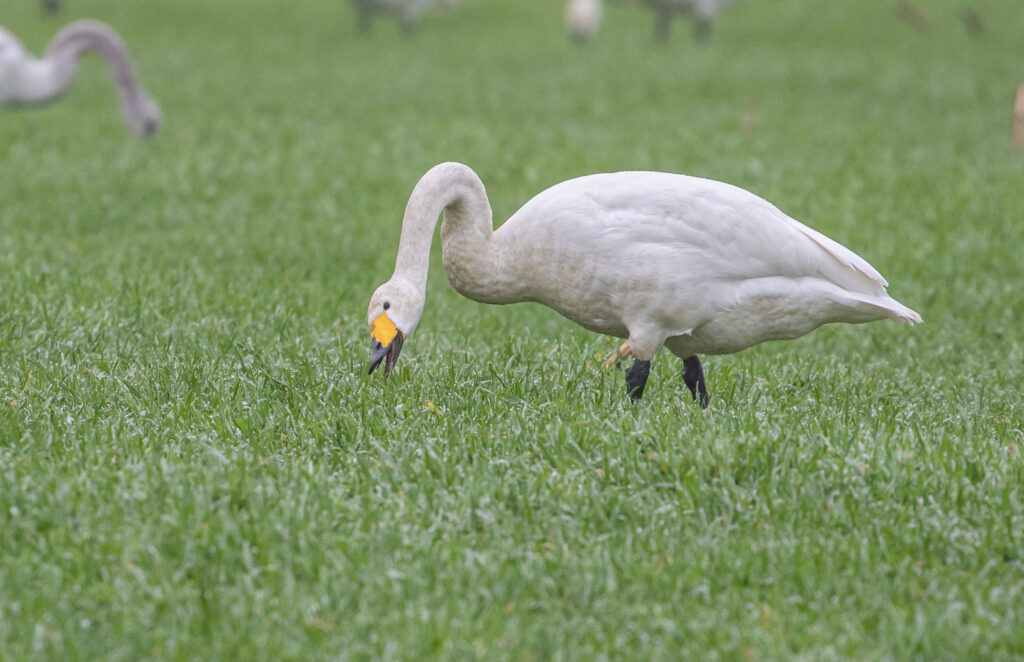 A Birding Outing to Monroe, WA
My husband, a friend, and I drove to Monroe early this morning. Our mission was to locate and photograph the rare Whooper Swan, the Eurasian counterpart to the North American trumpeter swan. We pulled up at the edge of one of the fields it had visited the day before. There, on the edge of a large flock of white fowl, stood the yellow-beaked Whooper Swan, feasting on grass. Chasing rarities doesn't get any easier.
Both my husband and friend completed the Seattle Audubon Master Birder program several years ago. I joke that I've developed my birding knowledge "via osmosis." While I appreciate birds, my first love remains mammals, evident from my volunteer time at the Woodland Park Zoo.
When our friend asked me if I'd ever seen a Townsend's solitaire on any of my hikes, I told her, "I'd have to check my ebird list." The Whooper Swan makes world bird species number 543 since I started keeping track twelve years ago. But I have a sucky birding memory. Enter Cognitive Distortions.
Common Cognitive Distortions
I joined them on this outing partly to expand my mental and cognitive resilience. (What, wasn't it for fun? Partly.) Aware that my list of to-do's back home was getting long, I wanted to address several cognitive distortions:
Binary Thinking — either/or, all/nothing, black/white. I could either go birding or stay home and tackle my to-do list. Birding was a way for me to remind my brain about that nifty little word, and. Perhaps I could bird AND get my workout in, write my blog, finish eight pages of fiction…
Negative Mental Filter — seeing a rare bird would be a huge unexpected, unplanned-for experience, and would give me social time with my husband and friend. I'd be out in fresh air, taking cool photographs, and doing something new. I wanted to enjoy the positives and try to ignore that one nasty negative (not getting everything done on my list)…
Labeling — as in, "I have a sucky birding memory." No, I'm an advanced beginner birder. Which is perfectly fine. Or better, I remember whatever I pay attention to. Perhaps I just need more time birding.
Shoulding All Over Yourself — ignoring the "You should do your strength workout; you should stay and write your blog post; you should get that piece to your readers so they have enough time." What I wanted was to see swans. I love swans, geese, and ducks.
Overcoming Cognitive Distortions Takes Vigilance
As we took our last photos and returned to the car, I congratulated myself for getting out of the house and going on an adventure. I'd embraced the beginner's mind (see January's post) knowing that both my birding partners have far more knowledge and experience than I do.
Everything was great… until my friend offered to take me birding sometime. Before I could think, I heard the automatic words come out of my mouth. "Oh no, I'm not very good at it." Aack! And I had been trying so hard! Will I be a WIP (Work In Progress) for the rest of my life?
Instead of saying "I failed!" I had to laugh. How much vigilance do I need to change them? Especially when I've been using them for decades. Tapping into my infantile growth mindset (and my friend's kind words) I realized SHE offered to take ME. She wanted to pay it forward by teaching what she knows. I could accept her generous offer and have fun birding with someone new. Get a different perspective. She'd have company, I'd get more adventure. Win-win.
Overcoming Cognitive Distortions Takes Planning
I plan to move forward by taking the following steps:
Sharing my intentions with family members who can help me spot the cognitive distortions I'm using;
Noticing and Naming whenever I'm using one, so I bring increased awareness to my brain;
Writing them down, crossing out the distorted "untruth" and writing a "better truth" or "true truth";
Celebrating whenever I stop mid-stream to check what's coming out of my mouth. Becoming conscious.
Perhaps in doing so, not only can I change my brain's programming, but I can also model how to overcome cognitive distortions for my colleagues, writing partners, clients, and daughter. In this way, I'm moving from "consciously incompetent" toward "consciously competent." How about you?