On Father's Day, my husband, our daughter, a friend from Arizona, and Ajax joined me for a hike to Wallace Falls. Mother Nature supplied plenty of rain, mist, and sun breaks along with plenty of puddles. The result? One very muddy dog. Fortunately, the hail waited until the long stop-and-go drive home. As a fair-weather hiker, I've recently come to enjoy rain because it provides cooler weather, a lower risk of sunburn, great photo opportunities (clouds make for interesting light), and fewer people. All contributed to a unique experience.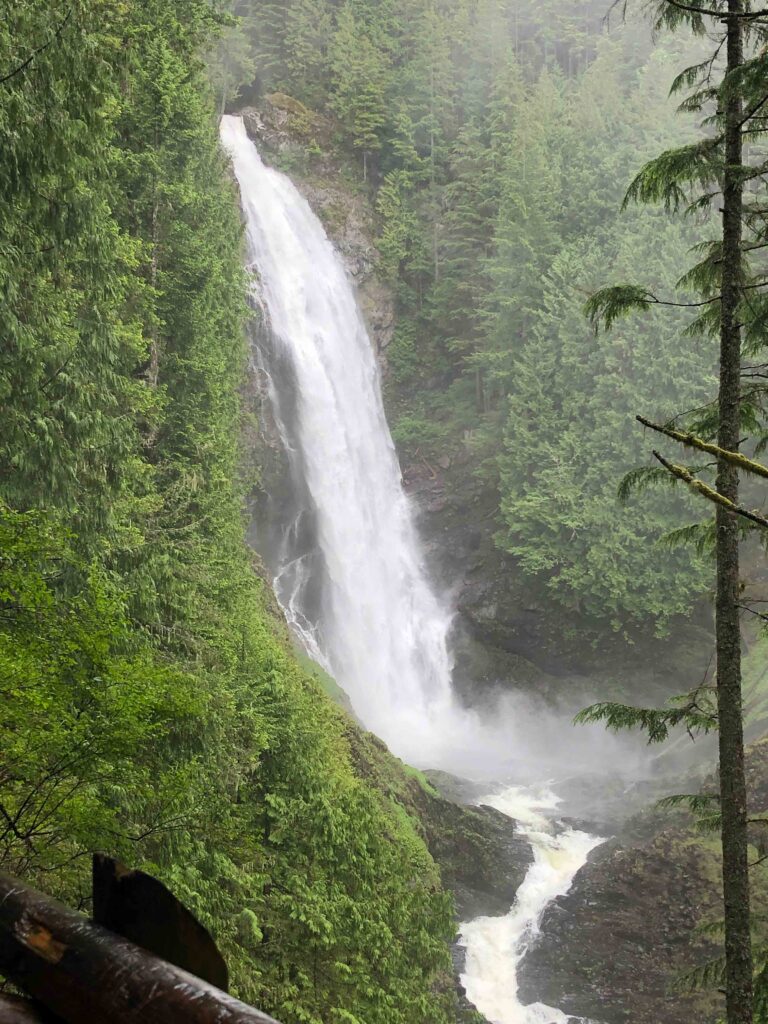 Uh-oh!
The last time Ajax and I visited this park was on a hike to Wallace Lake two years ago (see my blog post from August 2021). This year, a sign outside the parking lot declared it to be full, but we soon realized that was probably the case for a crowded and sunnier afternoon the day before. We quickly found a suitable parking spot in the half-full lot and traded sneakers for boots.
Missing Boots
Except somehow, my daughter's boots never made it into my husband's car. I had a second, older pair in my car, but she doesn't wear my size. Would we have to turn right around and go home without taking a step?
Fortunately, my daughter and husband wear the same size. He offered to hike in his sneakers so she could wear his boots. The lightweight slip-ons she wore on the drive never would have held up to a mile of mud, much less six. Crisis averted, we locked the car and headed up the trail at 9 a.m.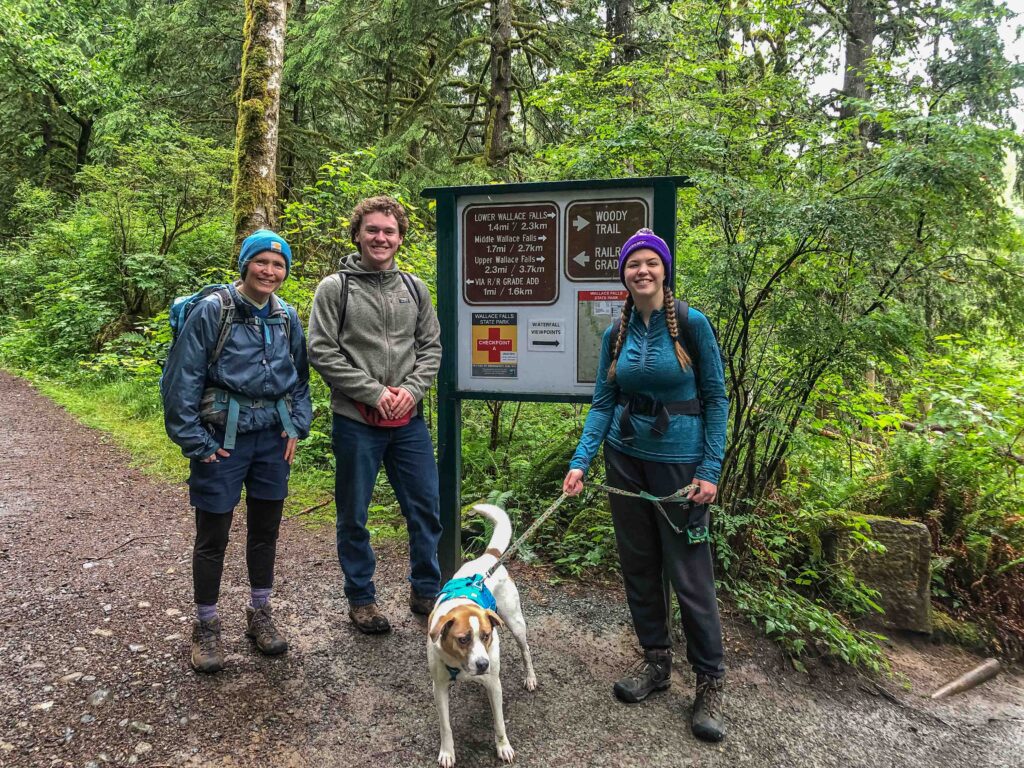 No Raincoat
Our guest, Zach, and his parents were my hiking partners for the wonderful learning experience on Mt. Wrightson in Arizona. I knew he would be fine on whatever hike we chose. But he's used to Arizona sun and heat. They don't have many waterfalls or lakes. The thought of bringing a raincoat never crossed his mind.
No boots for one; no raincoat for another. In typical motherly fashion, I ruminated about how my daughter was doing up at the front of our group in her borrowed footwear. Did our guest have enough snacks and warm clothing? Was my husband actually enjoying his Father's Day in the rain, or merely tolerating it? Surely we'd faced the worst.
Baby Grouse Chicks
I was wrong.
To avoid being pulled into muddy puddles, I let Ajax off-leash. He's usually very good with voice commands. Unless he spots a mother grouse with baby chicks.
Strike three. Fortunately, I believe the baby grouse will survive. But we revoked Ajax's off-leash privileges for the rest of the day.
Let Nature Be Your Teacher
As we ducked into the forest, we traded the annoying buzz of power lines for the refreshing sounds of cascading water. Ajax and I paused to capture a photo of the William Wordsworth quote that greets guests to the solace and beauty of the park.
On the rainy hike, my husband and Zach traded stories and questions until we paused at the picnic shelter for our first snack break: kibble for Ajax, homemade cookies for the kids, and ground beef for my husband. I chose to visit the vantage point for the lower falls. The volume of water flowing this time of year is truly mind-boggling.
Zach later admitted that his experience at Wallace Falls was "otherworldly." Hiking in mud and rain must have felt as different for him as hiking in the arid Arizona April heat had been for me. Nature is an awesome teacher, if we'll only pay attention to her lessons.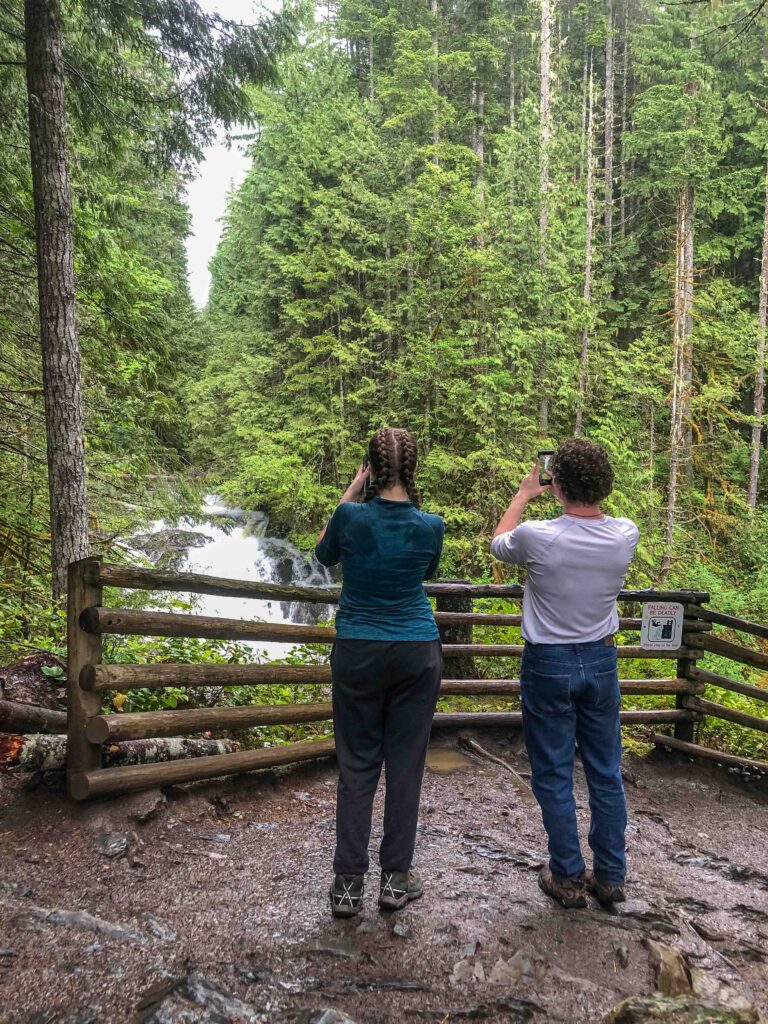 Enjoy Rain Mixed with Sun
People often joke about Pacific Northwest weather: if you don't like it, wait a few minutes. We felt the air around us warm as we hiked higher and tried to figure out why that was. My guess is the clouds were growing thinner, which meant more of the sun's strength could reach Earth. We paused at each vantage point for photos, continuing all the way to the bridge that crosses Wallace River where we spent time gazing at the rushing torrent beneath us and exploring off-trail down to the river.
On our return to the Upper Falls after exploring the bridge at the top, we got rewarded briefly by a visit from the sun.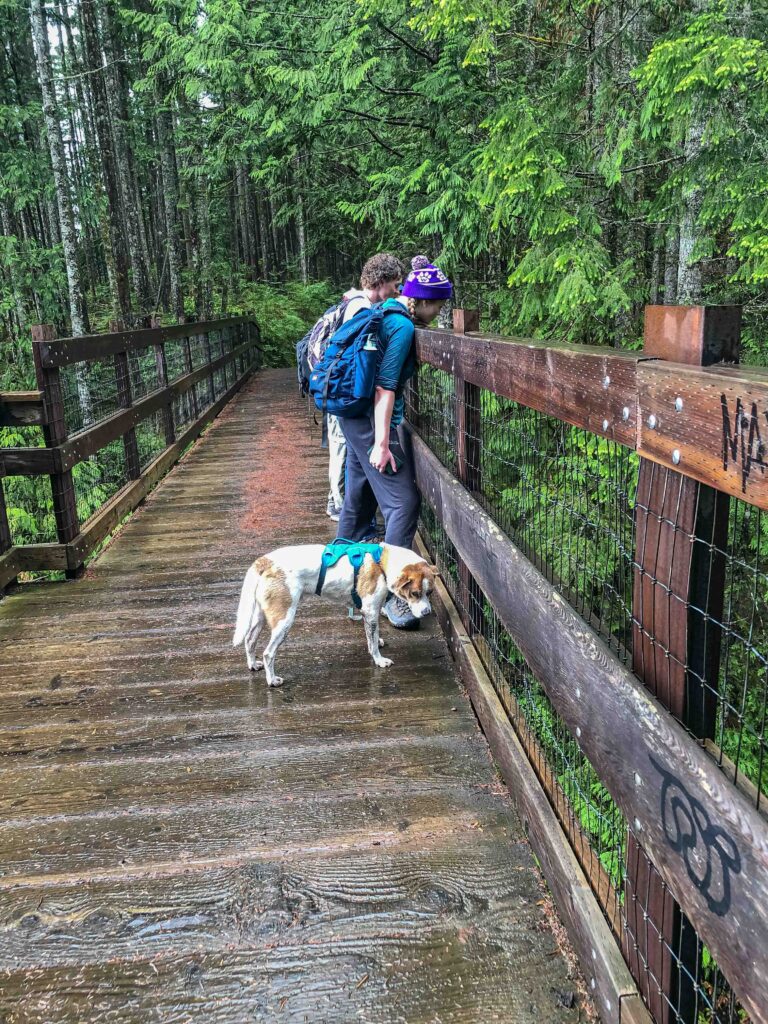 Now, we can look back at our experience and laugh about those things we forgot and about our soggy doggy. (I offered to sit next to Ajax so our guest could sit in the front.) Trips are made far more memorable whenever obstacles are thrown in our path.
We've also rediscovered that the westbound single-lane highway east of Everett is a headache to travel on weekends. It was true three years ago. Maybe even more so now.
However, we salvaged the drive home with a Word Chain game in which we chose a category (geography) and round-robin fashion, had a person name a geographic feature and the next person come up with something starting with the letter the previous person ended with. And did I mention hail?
Enjoy Rain: Takeaways
The Mountaineers organization recommends that every hiker carry the Ten Essentials (or the updated "ten essential systems") on the trail. These include extra food and water, a First Aid kit, extra clothing, and a map and compass for navigation.
It's one thing to think you have it and another to have it. One strategy to use to avoid our mistake is to check with all party members ahead of time to be sure they actually brought what they need so that you avoid a painful surprise at the trailhead.
And we're going to keep hiking in the rain in the summer. With the right gear, it provides a pleasant experience and interesting lighting. What "close calls" have you had in the mountains and what creative ways did you handle it? Please share in the comments so we can all benefit and learn.