On a recent hike to Talapus and Olallie Lakes, I practiced "channeling my inner wood duck" (i.e. going with the flow). Ajax, my daughter, and a friend joined me on a sunny midweek adventure. To enjoy the trip yourself, plan on allowing at least 30-45 minutes to explore the shoreline at each lake. Join us on our journey into the woods.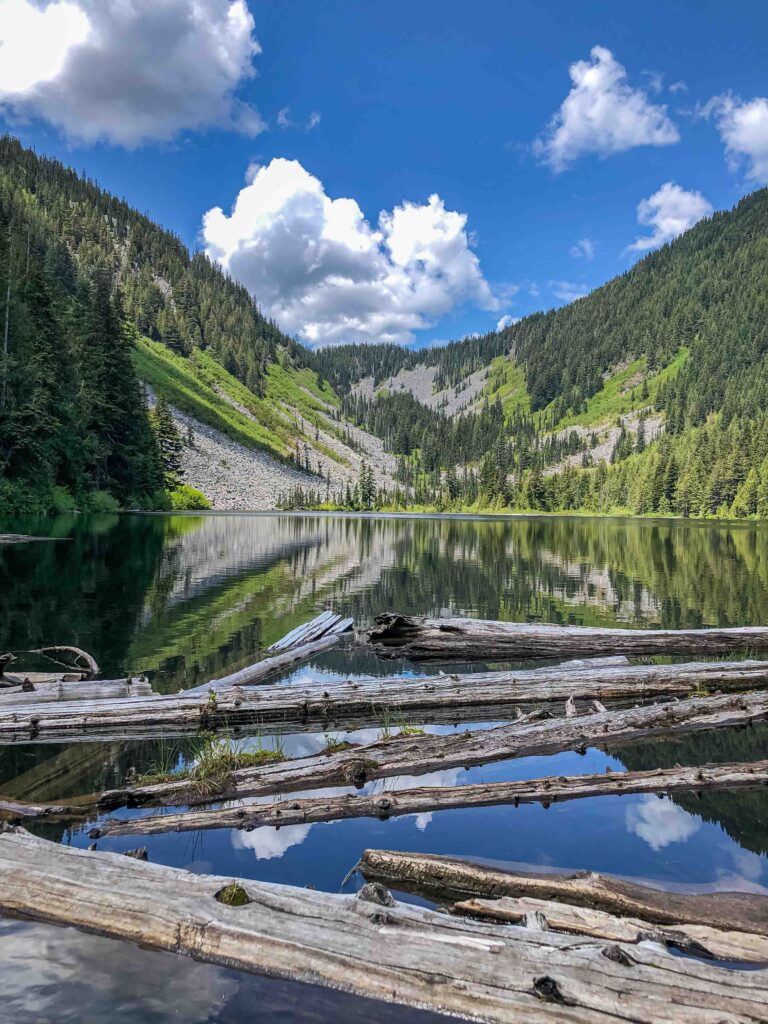 At the Trailhead
We reached the trailhead at Exit 45 a little before 9. I'd suggested we leave early since we're in peak hiking season and the Talapus Lake parking lot is small. Eleven cars were already parked when we arrived, leaving plenty of spaces. Hurray for midweek hikes!
The four of us headed up the Talapus Lake trail under sunny, clear conditions with a light breeze. More like what our guest, Zach, was used to in Arizona, rather than the rain we experienced four days earlier at Wallace Falls. This time he borrowed a water bottle and refilled it twice before starting the hike. There's always something unexpected with teenagers!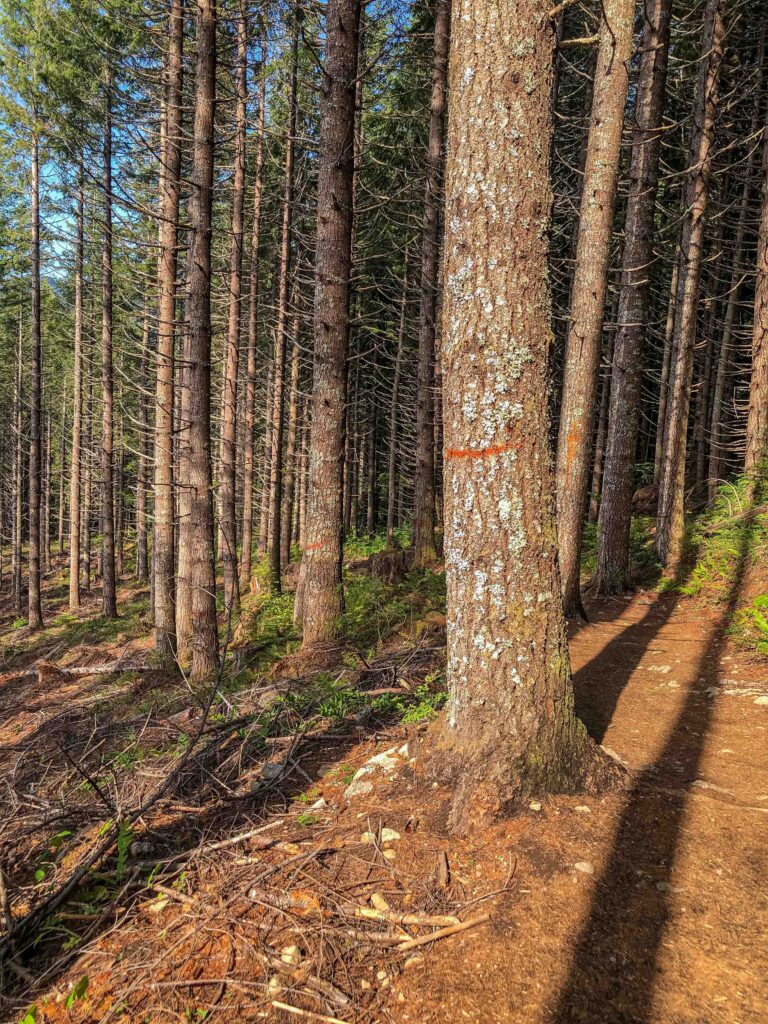 Trail to Talapus and Olallie Lakes
The area near the parking lot has recently been logged up to a sign indicating the boundary of the Alpine Lakes Wilderness. WTA trail maintenance crews have worked extensively on this wide, moderate trail over the past decade, most recently in 2021. Since I have only accessed Talapus and Olallie via the Pratt Lake trail (at exit 47), I was excited to explore a new trailhead. We were not disappointed.
The din of I-90 traffic faded as we gradually climbed into a denser forest. My daughter and Zach hiked ahead with Ajax while I hung back to identify birdsong (17 species including a red-breasted sapsucker, a type of woodpecker) and shoot photographs (113) of treasures in the peaceful woods.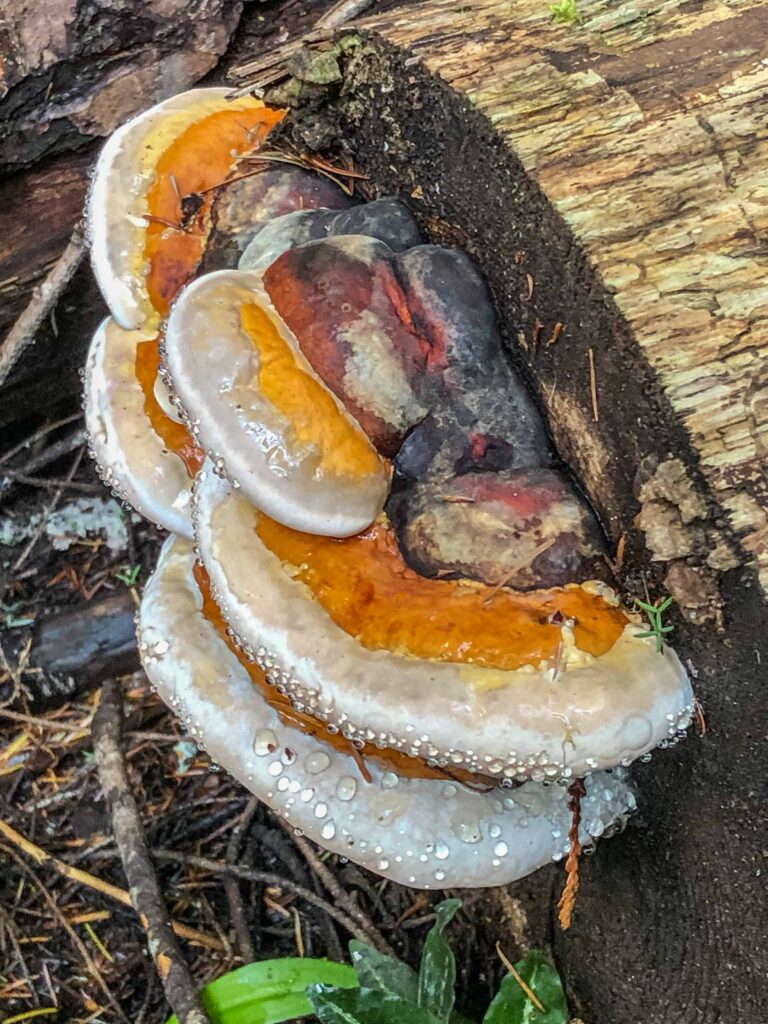 Waterfall Detour
One of the advantages of hiking in a small, private group rather than a larger guided group is the freedom and independence to explore. When we came across a river cascade beyond an enormous fallen tree, we meandered off-trail in search of cool vantage points and photo opportunities.
My heart nearly stopped when Zach contemplated crossing a mossy log that had fallen across a stream. When he glanced over at me shaking my head, he changed his mind and found another way. They may both be adults, but teen brains are still developing. Thoughts of emergency first aid and "what if" raced through my mind until we were safely back on the official trail. If there is a way to squelch the mothering instinct, I haven't found it.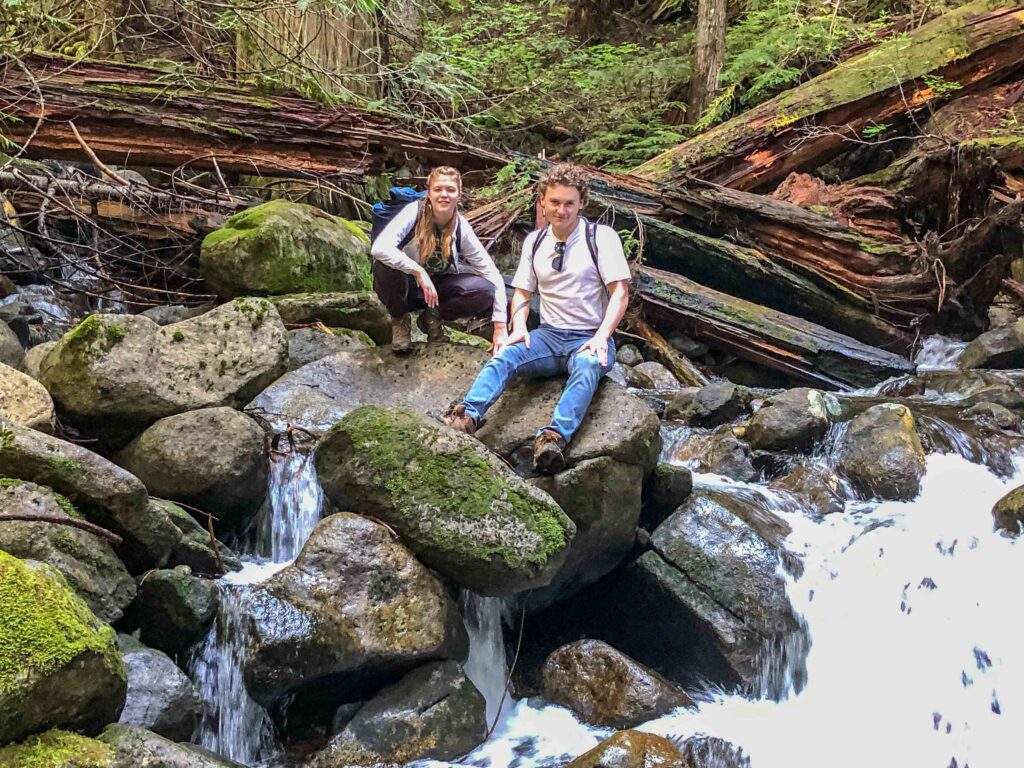 At Talapus Lake we stopped for a short water break and agreed to continue to Olallie Lake first. Then we could backtrack and spend more time anywhere that caught our interest.
I had one momentary fright when I slipped on a wet log. In a split second, I landed on my left forearm, flashing back to my fall in the Fiery Furnace 18 months ago. This time, I practically bounced off the pine needles and hopped back onto my feet, and dusted off the dirt, but not before they both noticed. My daughter raced back to check on me. I assured them both that I was totally fine. But I silently asked myself, is it age? Lack of attention? Terrain challenge? Or could there be a deep core muscle that is no longer engaging properly?
Olallie Lake Wading
After brushing off from my fall, we continued along the west side of Olallie Lake, scoping out campsites for a future backpacking trip. At a nice sunny vacant spot, we stopped to have lunch and clean away the rest of the dirt. Beautiful tiny butterflies flitted around our packs. They were so light I couldn't even feel the one that perched on my hand.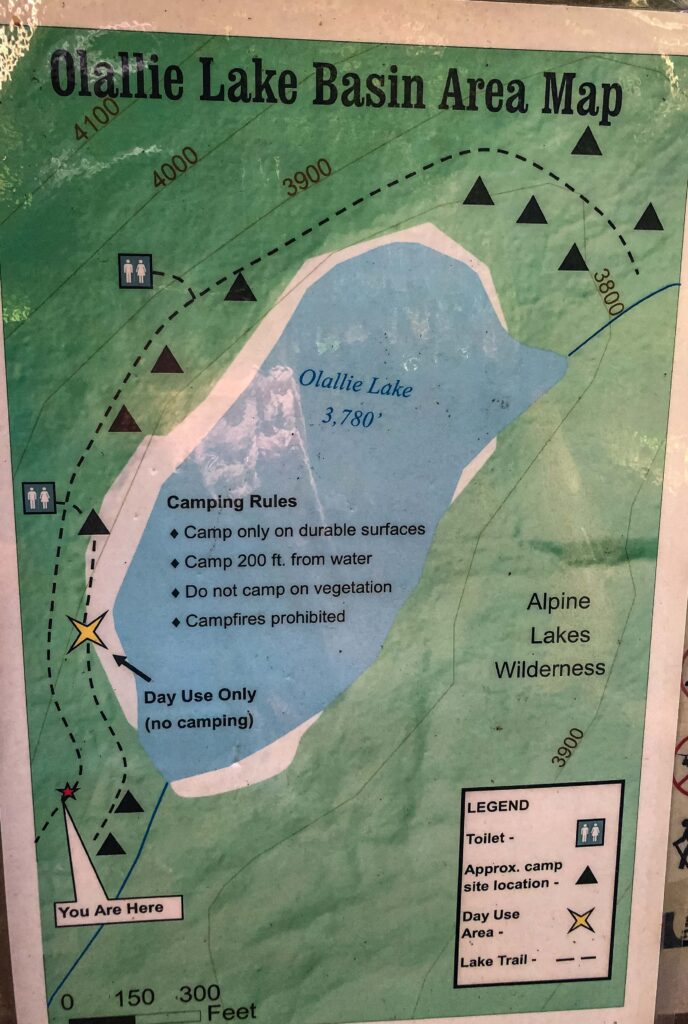 When I invited them to go in the water, Ajax stayed on shore. He can swim but only if someone carries him in and lets go. We decided he should stay dry.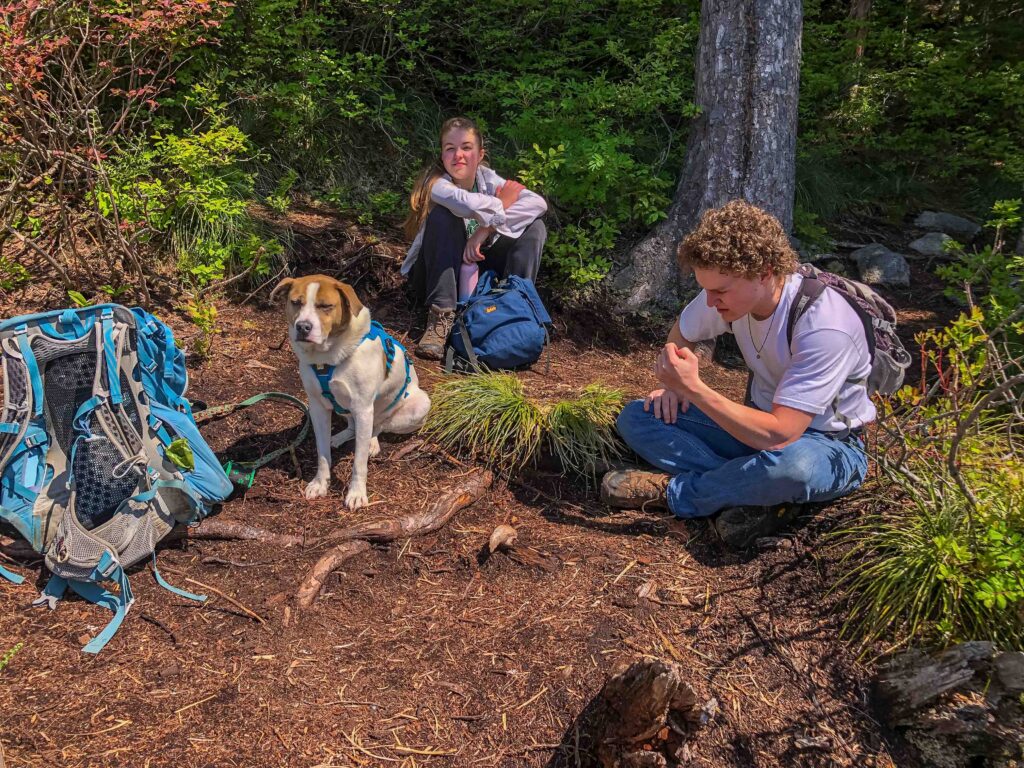 The water is, as you'd expect, cold. But also delightfully refreshing. When I spotted a frog, my daughter grabbed her camera to take some photos. An item that would have been useful: a towel. I never bring one for day hikes, but for an overnight near a lake, it would come in handy. Since we still had a second lake to explore, we dried off our feet and headed back toward the log jam at Talapus Lake roughly 1.5 miles away.
Talapus Lake Log Jam
Olallie has a decent wading area with a sandy bottom. Talapus Lake has floating logs. Brooke and Zach both wanted to test their balancing skills. When they asked how much time we had (they wanted to take their shoes off there, as well) I said we could stay longer if they'd entertain me in traffic on the way home. While they hurled sticks into the lake, I found a spot next to Ajax to write in my journal.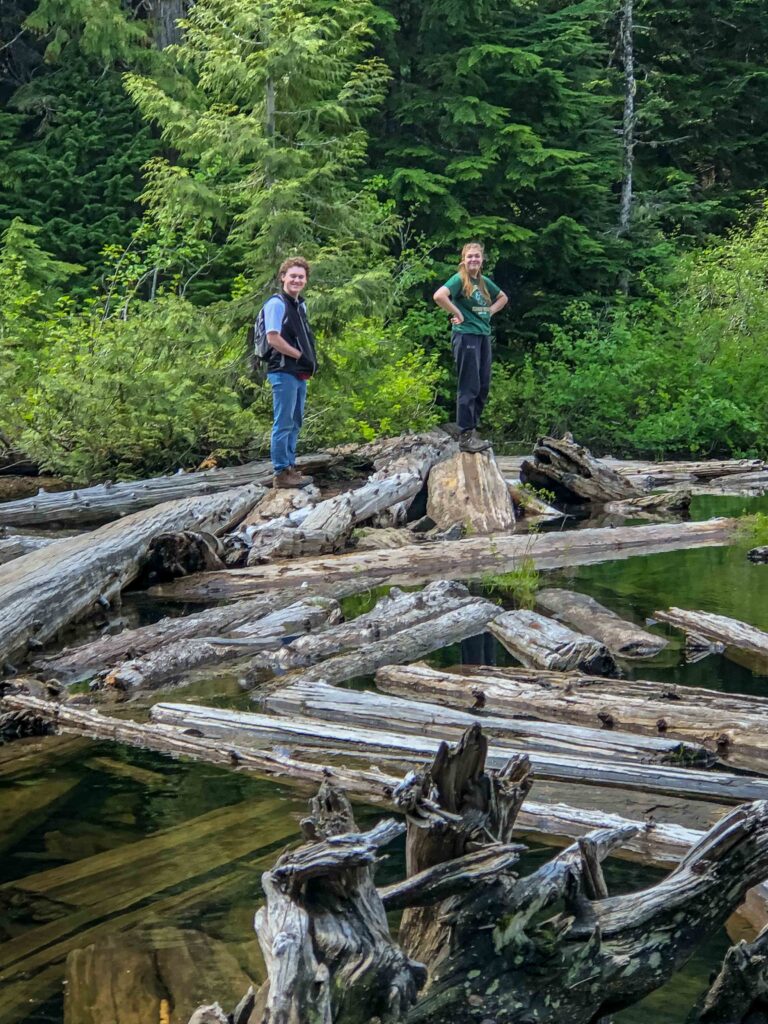 The choice to linger meant adding time in the car on the drive home. The closer we got to rush hour, the more time I guessed we'd spend stuck in road construction between exits 24 and 18 westbound on Interstate 90. But because we expected it, we entertained ourselves on the drive by playing The Alphabet Game and looking for interesting license plates and bumper stickers.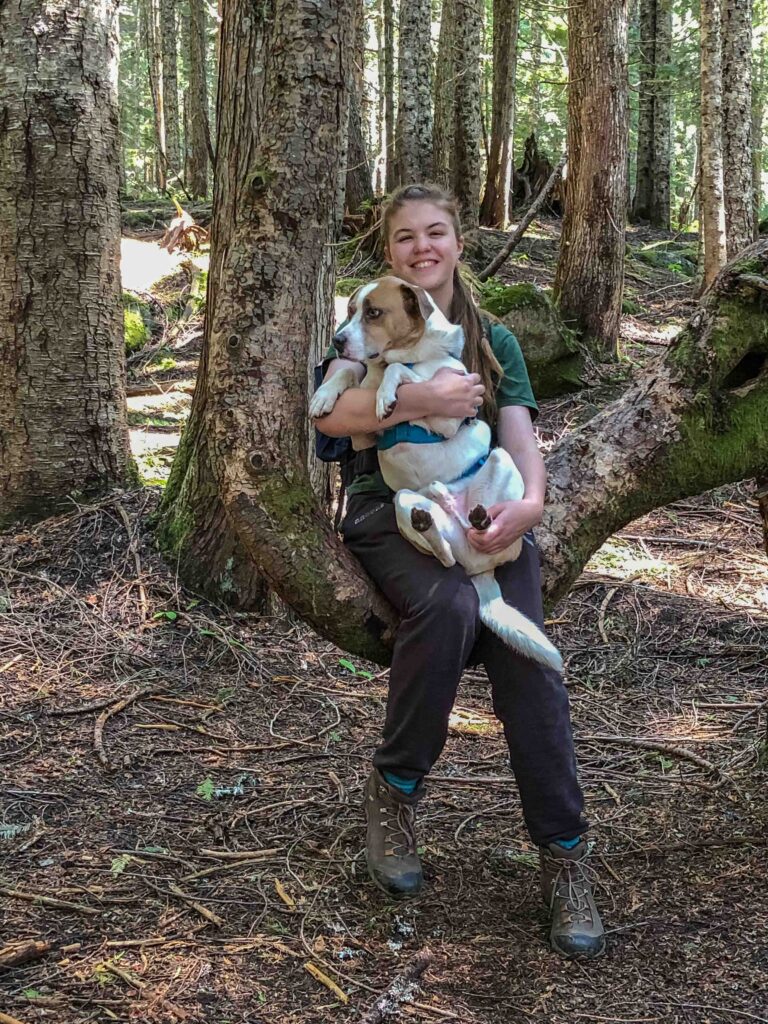 Choosing Between Talapus and Olallie Lakes
The best things about these two lakes are they're close enough to visit both on the same hike. If you park at the Pratt Lake trailhead, you'll reach Olallie first. Both are worth seeing. As to which is better, I didn't raise that question. Frogs or logs? Which do you prefer?