Since returning from Alaska, I've been eager to visit the Alpine Lakes region to see how autumn is progressing. Last week I learned that the trail to Snow and Gem Lakes has been repaired and reopened. So a friend and I decided to explore. I needed to process my daughter starting college (Convocation is today!) and hoped Mother Nature could provide solace from the tears. She provided the perfect metaphor for me to learn from alpine autumn changes. The lovely weather, beautiful fall colors, hidden blueberries, daunting challenge of a talus slope, and barefoot dip in Gem Lake paralleled my daughter's own adventures at the University of Washington.
Perfect Conditions
At just after 8 a.m. on 9/23/22, the three of us headed up the trail. The forecast was for overcast skies, high 50's, and a light breeze. Perfect hiking weather. Between conversations, my thoughts wandered to my daughter and what she might be doing on campus the weekend before her first quarter of college classes.
Fortunately, Mother Nature grounded me in the present moment. As soon as I spotted the first maples and Sitka mountain ashes in brilliant red and orange, I could only whip out my camera and search for more. Mission accomplished: beautiful colors. Absolutely breathtaking.
As we returned to the cars hours later, the sun came out. It gently reminded me that my daughter will struggle and succeed. She will face stormy and sunny days, ups and downs. The only constant we face is change. Change in her living situation and growing independence. For me, coming to terms with the fact that she no longer needs me in the same way.
Our new role as parents of a college student is to support her, be a sounding board when she has questions, and let her assume an active role in navigating her college landscape. May there be as much beauty and a comparable road map for her journey as we had going to Snow and Gem Lakes.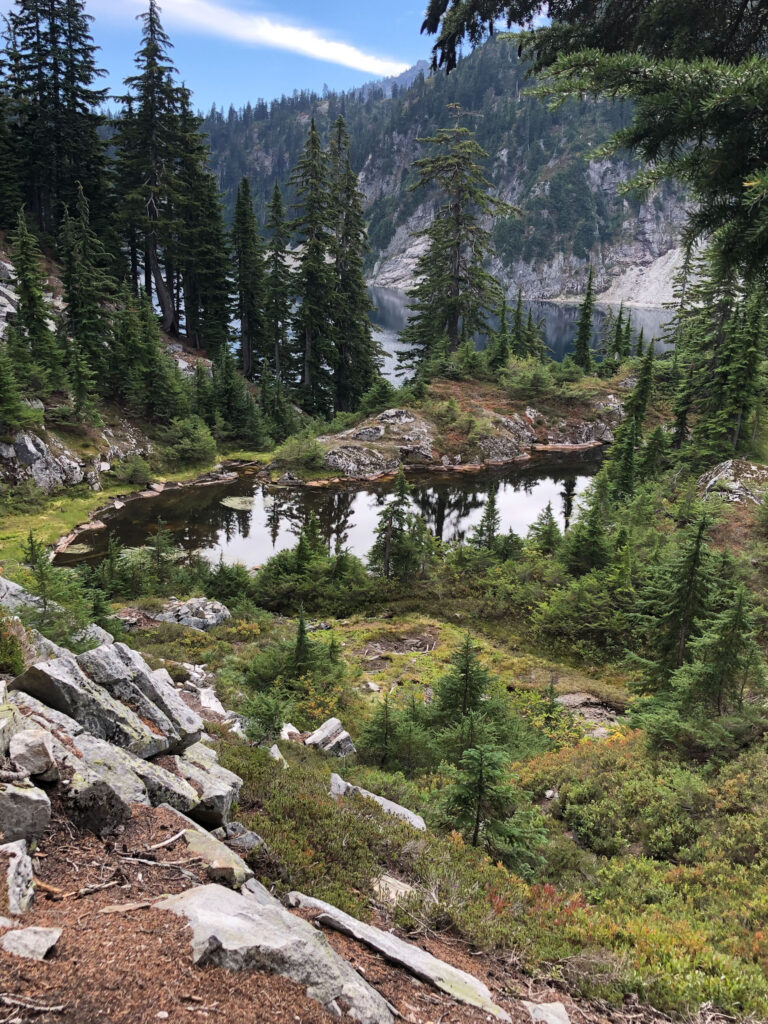 Alpine Autumn Changes: Hidden Blueberries
We paused for a short rest stop at Snow Lake before continuing toward Gem Lake. I discovered we were in prime blueberry terrain. Score! I picked a few small ripe ones and was instantly rewarded with purple smudges on my fingers and a delicious burst of refreshing sweetness on my tongue.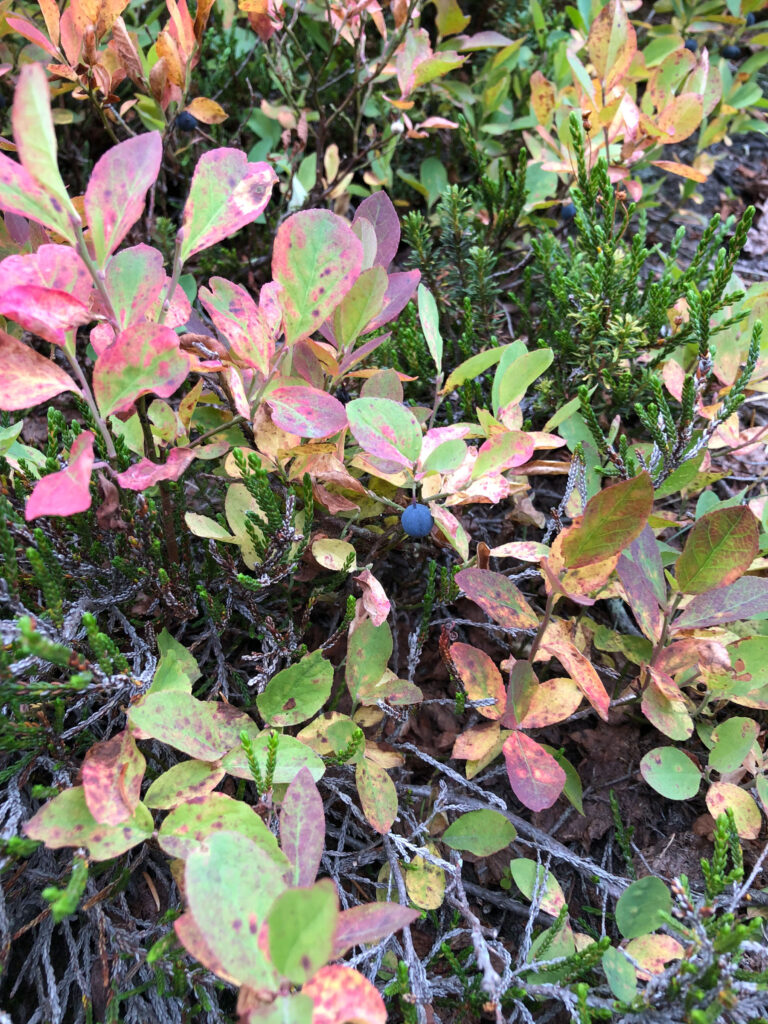 The berries reminded me of a huckleberry hike to Mt. Catherine we did together as a family in 2021. The fruits were like hidden gems, shielded by the changing leaves. Similarly, I'm sure my daughter will find hidden gems at school if she stays on the lookout for them.
The week before University of Washington classes start, the college offers dozens of daily Dawg Daze activities. Sporting events, visits to the Zoo, and impromptu art gatherings. Foot races, movies, and pre-football game face painting.
Like me, my daughter is not much of a joiner, but I truly hope she finds a few tiny gems, moments with a friend here or sunrise there, a class she falls in love with, or a special location she visits repeatedly like Drumheller Fountain.
Uphill Climb of a Talus Slope
Just when I was convinced that "a little farther" would soon become "we're here," we faced the most intimidating part of the 11.3-mile hike. Our obstacle? A talus slope that seemed to swallow up the boot path. Momentarily discouraged, I waited for T. to catch up so she could have the final say.
The more we studied the slope, the more we realized that the path through the rocks was fairly level and crested not too far away. We decided we were so close, we might as well finish it up. And what a great decision it was. Other than the two gentlemen right behind us, we had the lake to ourselves and great views in every direction.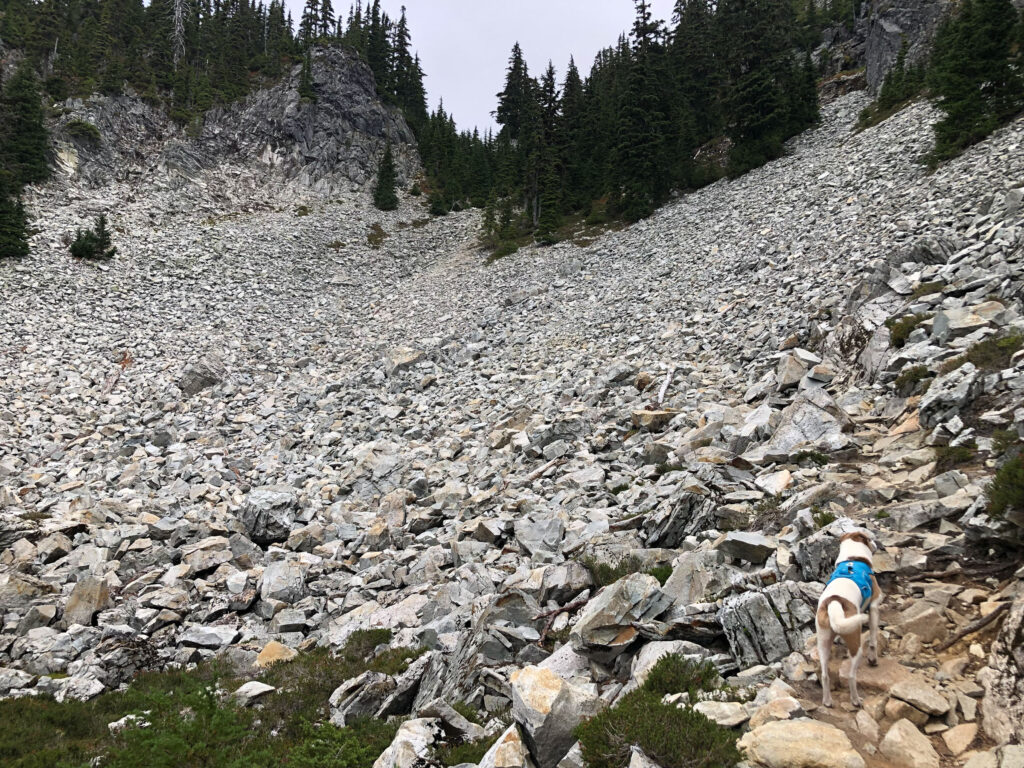 The takeaway lesson for my daughter is to encourage her to persevere, even when the path is not apparent. To ask questions of those around you who might help. Collaborate. Gather more information. Then proceed, knowing you can always pause, turn around, or try something else.
Alpine Autumn Changes: Cold Dip in Gem Lake
The final lesson involves nurturing. I've developed a new hiking ritual this year. If my destination includes a lake, I take off my boots once I get there, so I can dunk my feet. Since we were visiting two lakes, I waited until we got to Gem, a lake I've never visited before. T took a pass, but Ajax joined me. It even looked like he wanted to go swimming.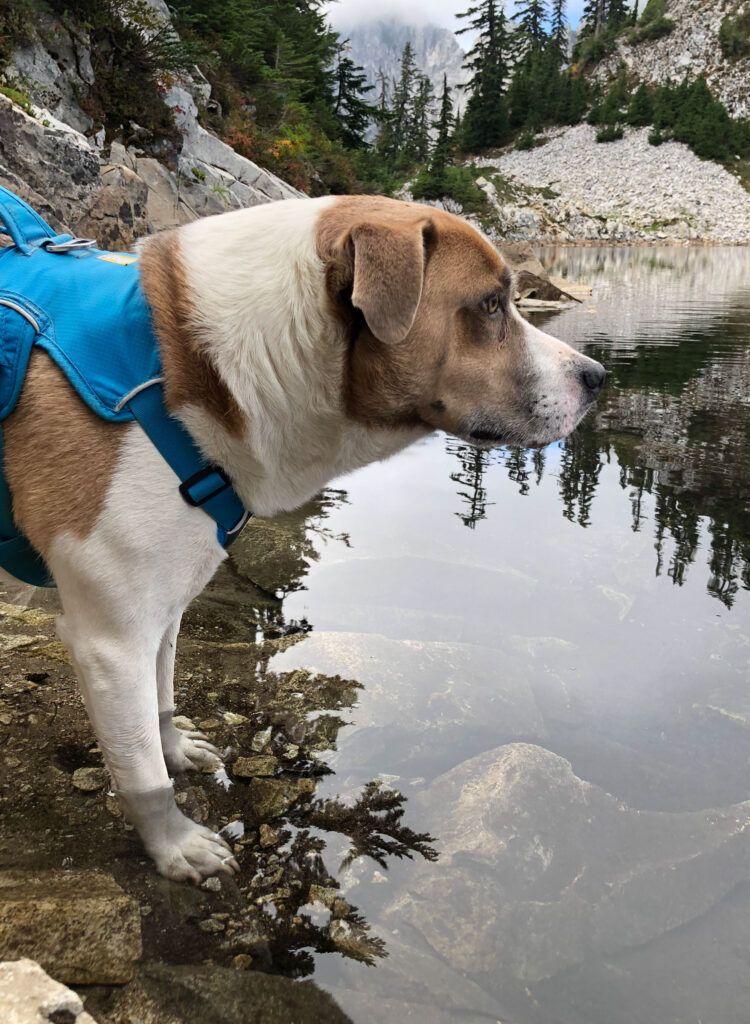 Once again, I thought about my daughter and how she's taking the plunge into a mighty big lake. The University of Washington admitted 7,000 first-year students this fall, 3.5 times more people than the whole of my own undergraduate experience. Talk about overwhelming! But if we can nurture her own process of finding courage, and support her to take tiny steps — maybe not her whole body at first, just her toes — she can gradually build her confidence that she can swim without sinking.
Final Words
Hokey though it may be, turning my hike experience into a life metaphor helped me feel better. It reminded me that change is a constant we can neither control nor prevent. What we CAN control is our mindset and attitude. The more I experience nature to stay grounded, centered, and connected to what matters most to me, the more gracefully I'll handle this transition to an "empty nest."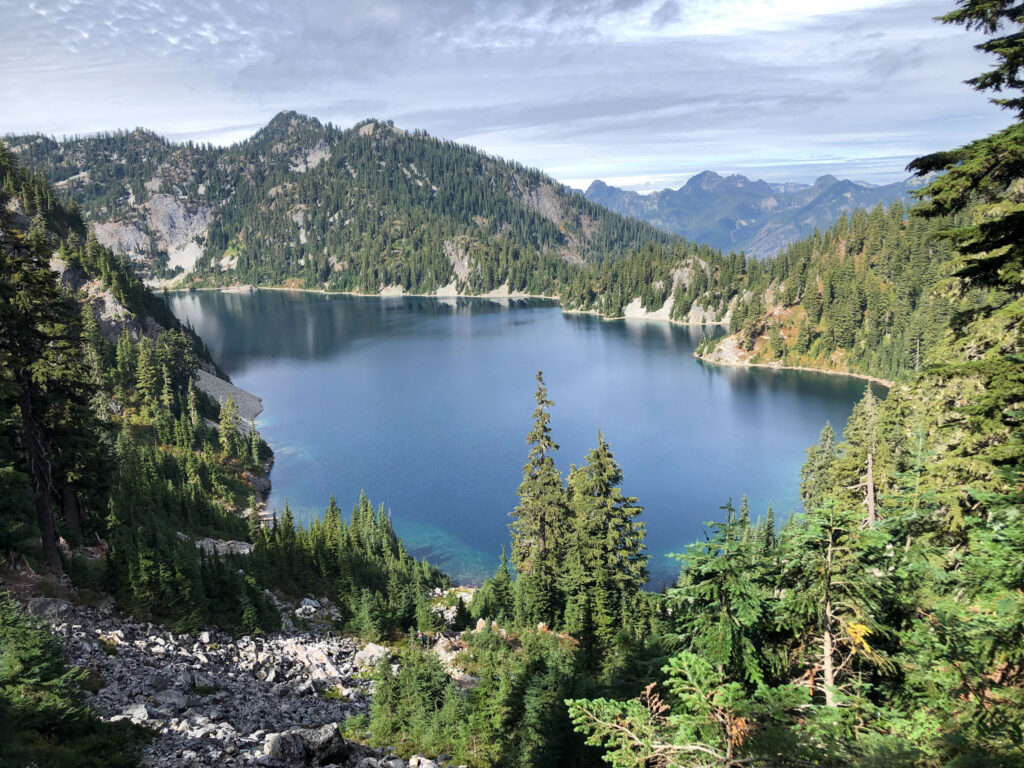 Can lessons from nature help YOU make some big changes this fall? Please share your thoughts in the comments below.