On November 6, Ajax and I met two friends, Tonia and Susie, at Exit 54 off I-90 to hike to Mirror Lake. The forecast promised precipitation all weekend. A lot of it. Lucky for us, we started early enough in the day that we experienced far more snow than rain. The change in seasons always provides unexpected lessons, and the surprise snowfall left each of us with valuable lessons learned.
The Trip that Almost Wasn't
Up until 18 months ago, I would have called myself a fair-weather hiker. Anytime the chance for rain is greater than 50%, I reschedule. Why be miserable when you can go when it's nice out? Plus, my dog is not a huge fan of walking in slop. Neither of us relished the thought of spending several wet hours outside in near-freezing temperatures. I almost postponed.
But then Tonia told me Susie would like to join us. For a year, the three of us had tried coordinating schedules to hike together, without success. I didn't know when we'd find another opportunity. We had to try.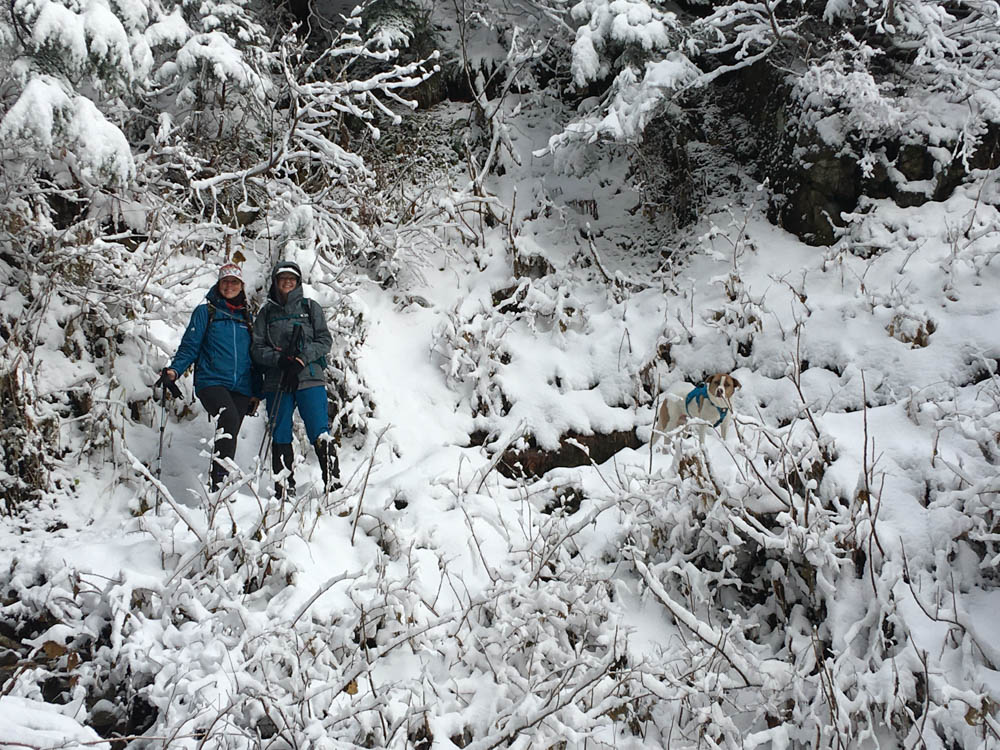 Rain Turns to Snow
Early Saturday morning as we headed for Exit 54, I started second-guessing my decision as the rain turned into a downpour. Are we going to get all the way there, just to turn around and drive back? Two miles below the Hyak East exit, however, the rain turned into snow.
I love snow. I grew up in Wisconsin, after all. For the first time during our drive, enthusiasm, interest, and excitement returned. Maybe we'll be in SNOW instead of RAIN. That would mean we wouldn't get that wet. Maybe we could salvage this trip, after all.
Within five minutes of arriving at the agreed-upon parking lot, Susie showed up and told me Tonia would meet us in ten minutes. I'd only been up the Forest Road 9070 as far as Mt. Catherine. Susie, a skier, knows Exit 54 as well as I know Exit 47. Once Tonia arrived, my friends moved their boots and packs into my car and hopped into the back seat. Ajax navigated from the passenger side.
Lessons Learned: Navigating Narrow Forest Roads
I navigated around deep pits in the gravel road, taking my time. Gravel gave way to slush, then finally to snow. I grew up in Milwaukee, but that doesn't mean I know how to drive in the snow. But I didn't give any thought to it…until my right tire started spinning. I eased up, tried again, shifted to manual. Were there chains in the back? Did the car have snow tires? Could we make it another third of a mile as is?
"Uh, guys, I keep slipping," I said after seeing blinking lights on my dash for the third time.
"We can always park and walk from here," Susie offered. Where would we leave the car? I hadn't considered doing a 3-point turn on a narrow gravel road covered in snow. Thoughts of parallel parking failures as a teen shot through my head.
Knowing we'd have an easier time leaving with the car pointed downhill, we looked for a place wide enough to turn around. Backing up using a fogged rearview camera proved impossible. I kept heading toward the cliff edge, only to overcorrect. Before I knew it, one wheel slipped into the ditch.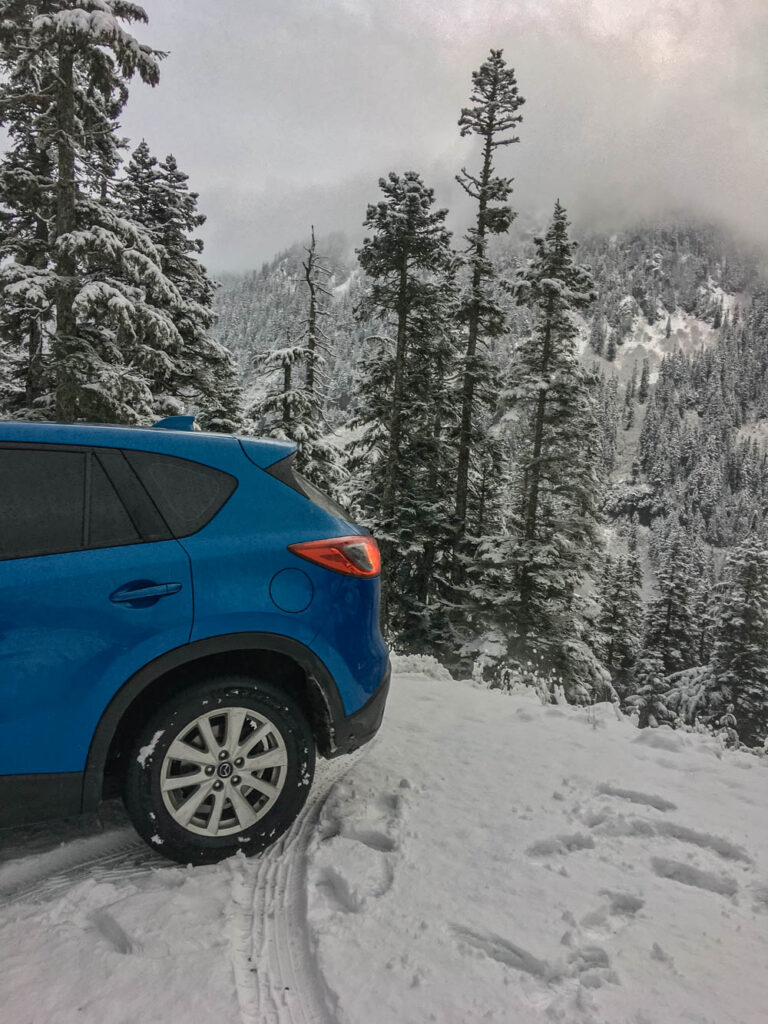 Tonia hopped in the driver's seat while Susie and I pushed the car out of the ditch. Susie, most experienced with snow driving from years of skiing, offered to back up while Tonia and I provided directions. Before long, we got the car turned around. I found a wide-enough spot to pull aside and park. Finally, we were off!
Lessons Learned: Navigating High Water / Blow Downs
The first snow of the season is magical, full of hope and promise. Around us, the air felt clean, crisp, pure. Trees bowed to the sky's mercy, laden in a blanket of white. Quite a contrast from the deforestation on Tiger that Ajax and I had witnessed five days earlier. The snow muffled all freeway sounds, and the forecast likely drove other shoulder-season hikers inside. Once again, we were the only ones on the trail. Bliss!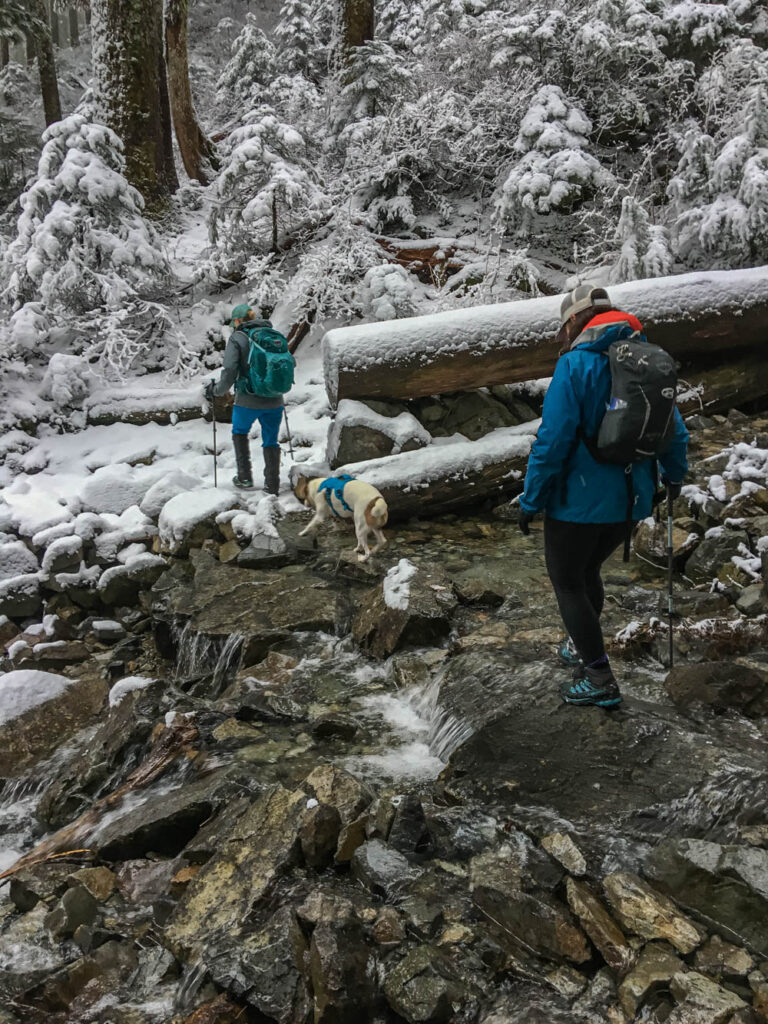 Mirror Lake is accessible from the Pacific Crest Trail. Susie led, followed by Tonia, while I snapped photos in the back. Anytime Ajax wanted to veer off in the wrong direction, we called him back. Due to all the recent precipitation, we navigated several rapid-water crossings. Ajax got his paws pretty wet but we continued without anyone slipping or falling in. Under freezing conditions, that could mean an immediate turnaround.
At one point we reached a huge log across the trail. The only way past it was over. Lucky for me, Ajax had on his "suitcase harness" so I could lift him onto the log and he could hop down. Other blow-downs weren't as bad.
Lessons Learned: Heeding Driving Wind
After roughly 90 minutes, we descended slightly and found ourselves in 4-6 inches of snow. Strong wind gusts blew the snow sideways. When we regrouped, Ajax acted quite agitated, pacing back and forth in the biting wind. Susie voiced concern about the drive back down the gravel road. We had no way of knowing whether the conditions we faced on the trail were the same 1000′ lower where we parked. We had to assume we'd remain the only ones on the mountain, and without a cell signal. What if we struggled to get the car out?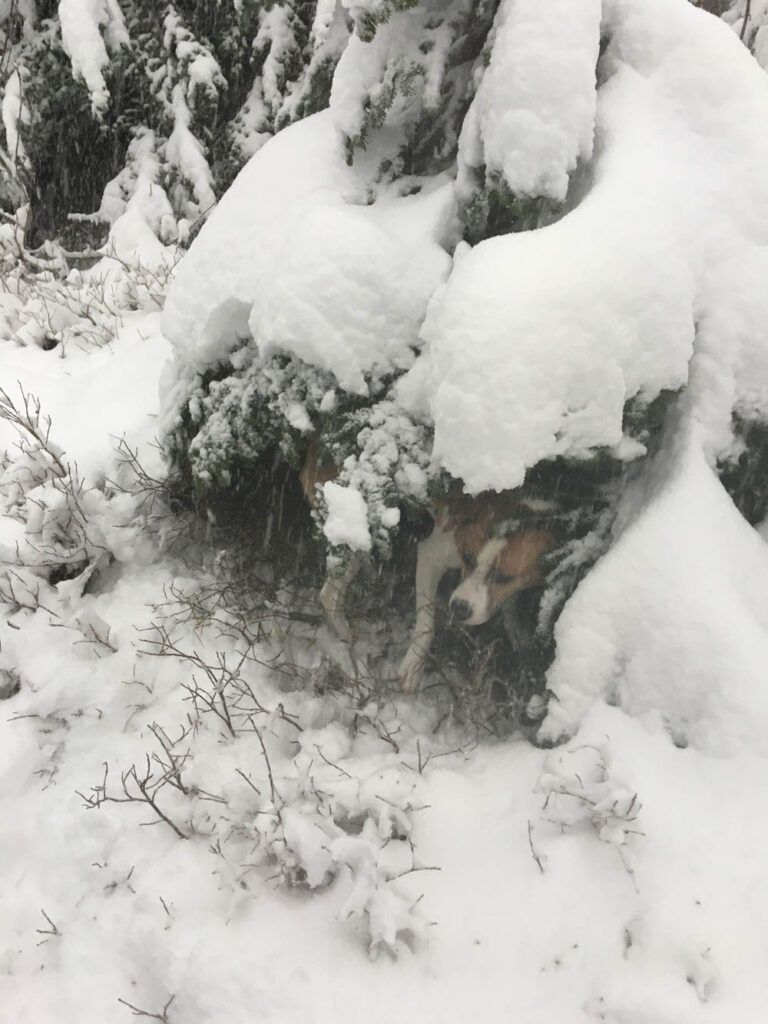 I was certain we'd be fine if we continued. However, when Ajax ducked into a growing tree well to protect himself from the sideways blowing snow, the scale tipped in favor of turning around. I've never seen such a pathetic look on my 6-year-old dog's face before. He was genuinely miserable. His vote swayed mine, and we all agreed to turn around. But not before we got a few photos.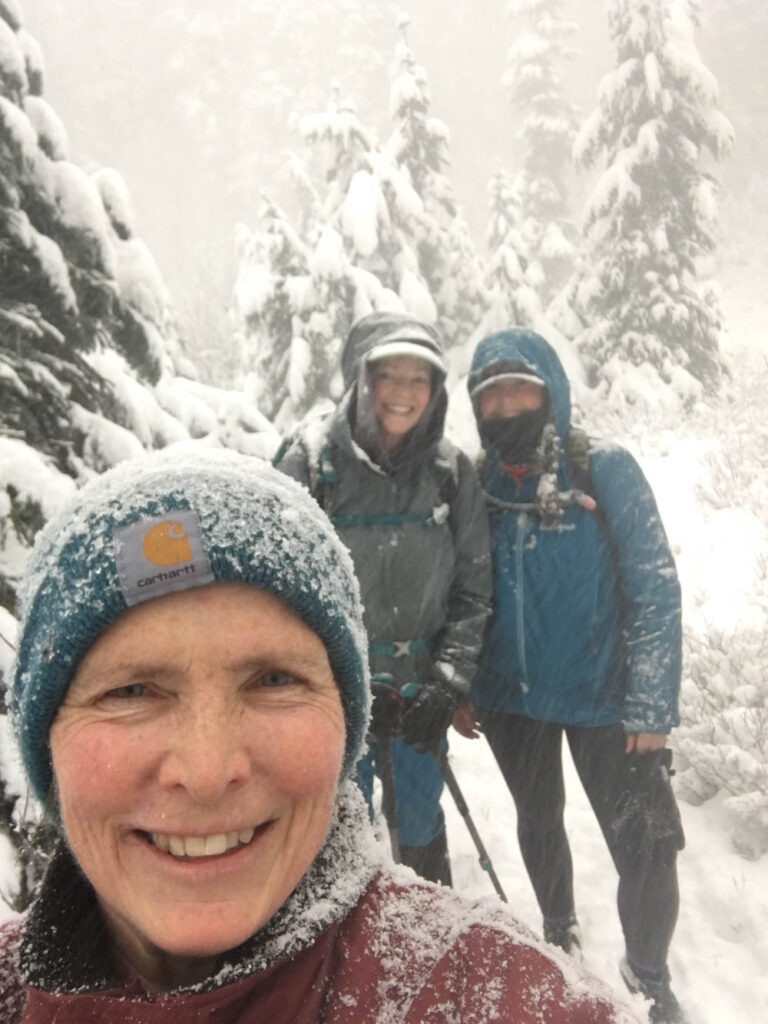 Once we climbed out of the basin, conditions changed. The wind died down, the snow let up, and at one point we actually had a momentary clearing across the valley. Had we waited a few minutes to see if anything would change, or if we'd started out from the car a few minutes earlier or later, would we have kept going?
Snow Changes Everything
The truth is, if I hadn't had hiking partners lined up, I never would have left Seattle. Had I left Seattle alone, I would have chosen a familiar hike I'd done before. And had I gotten as far as FR 9070, I would have had difficulty turning around on the narrow road without partners. So the question is moot – alone, Ajax and I never would have chosen to explore the 5.3 miles and 950 feet gain that we did. So, what did we all learn?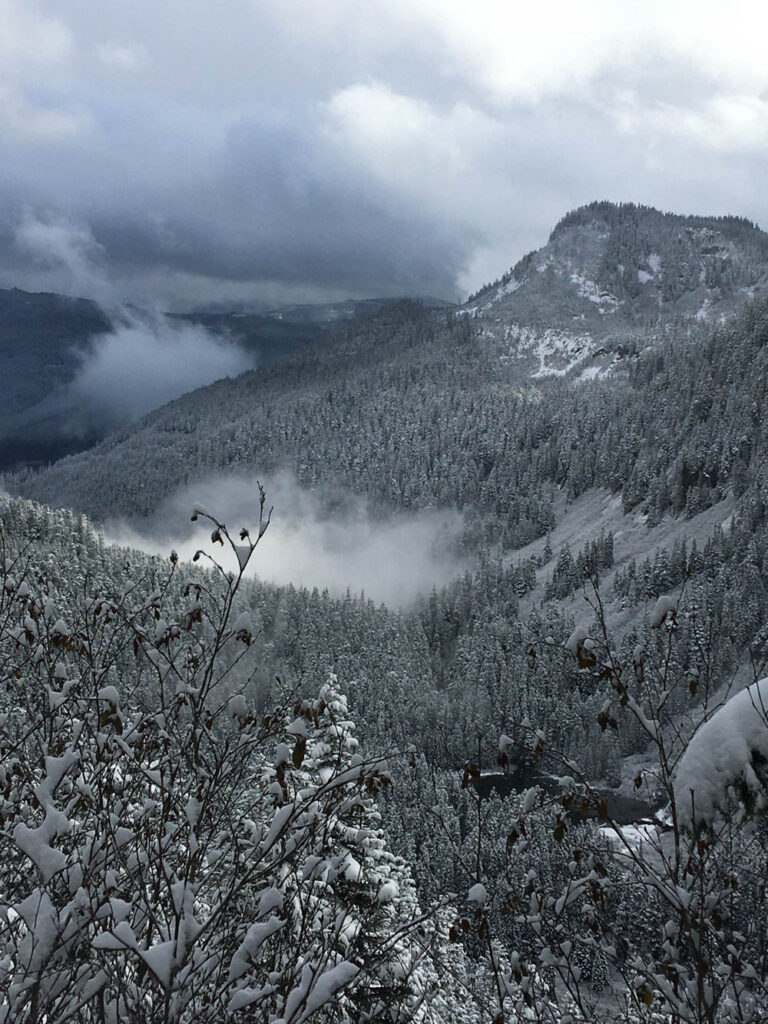 Additional Lessons Learned
Snow changes everything, from gear to pack weight, from terrain considerations to travel time. It's much easier to slip on wet, possibly icy rocks and logs in winter. A fall in a stream in summer is no big deal; in freezing conditions, it can become life-threatening. My dog is a great hiker, but with his thin coat and unprotected paws, I can't expect him to be able to travel as far in the snow.
Modify Gear
It's always better to be safe than sorry. Especially when everyone is excited for the first snow of the season. Shorter early-season snow outings are perfect for ironing out foul-weather gear. Tonia backtracked in Seattle to retrieve her waterproof shell. Susie had on the only rain pants. Two of us wore gaiters, but did any of us have the right waterproof boots for deep snow? Were our hats and gloves suitable for snow as well as rain? Did we each carry enough layers? How about a change of clothing in the car?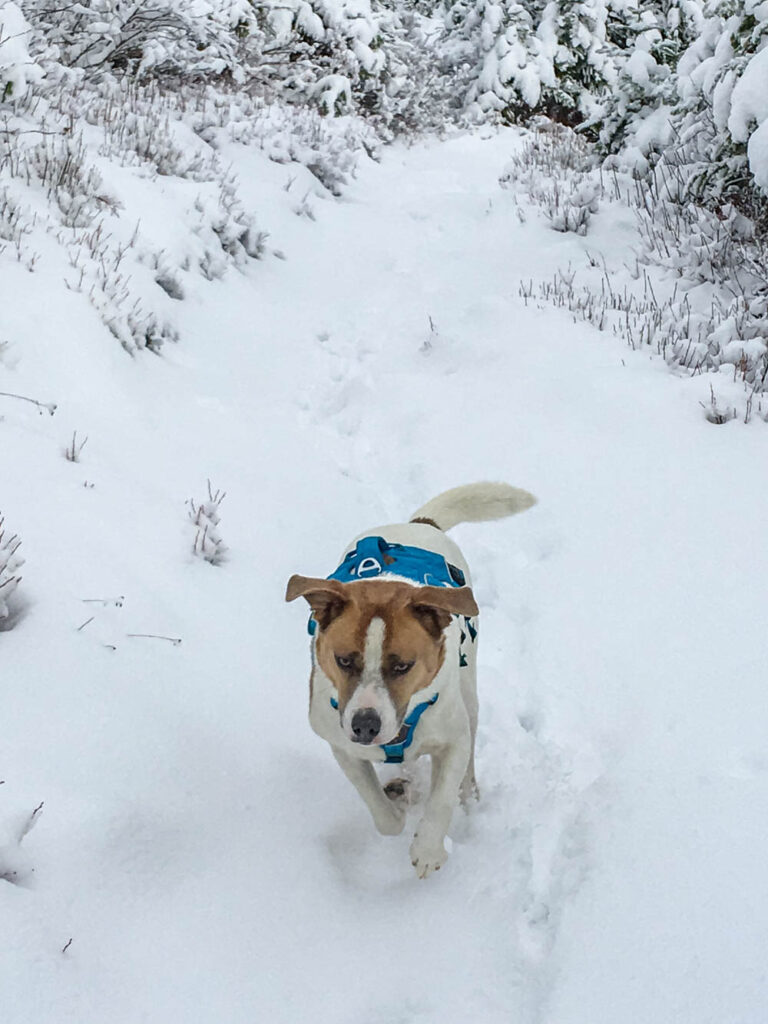 Add Travel Time
Snow travel is not the same as trail travel, so mileage has to be recalculated. All trail times get reset whenever you're traveling over snow or ice; the deeper the snow, the slicker the conditions, the slower the going unless you're wearing microspikes or snowshoes. Carrying more layers and equipment (and a hot beverage!) also means your pack will weigh more, which will slow you down.
Reduce Expectations
Weather in the mountains can change from moment to moment. While the avalanche risk in the early season is low, the other obstacles noted above make it important to lower your expectations. In the Cascades, if the forecast is for rain, but you can get up high enough, you can still be out without getting miserably wet if you're in the snow. If the driving rain on the way home was any indication of what else was coming in, we made a wise decision. Better safe than sorry; we can always go back another day to enjoy the beauty of the winter wonderland.