My recent adventures on Mt. Wrightson (in SE Arizona) had me wondering how my next hike in the Cascades would go. Last week Ajax and I hiked one of my favorite trails, Mt. Washington. I wanted to apply newly learned lessons in familiar conditions. The mountains were calling and I had to go… But this time, I set intentions that were different from my usual hikes.
Micro Intentions
I can hear you now. You're probably remembering another post on intentions that I wrote at the start of the year. And you would be correct. That post addressed big-picture intentions (what some call "goals.") You can use the same principle for small, daily objectives as well.
Often when I hike, I go wherever my mind and body suggest would be the most fun on any given day. Variables to consider might include weather, time, distance, elevation gain, and whether it's a good place for shade, streams, snow, or solitude. Rattlesnake Ledge tops the list of places to avoid, as there are usually two dogs for every five people, a steady stream like ants on an anthill. Not the solitary wilderness experience we desire.
Sample Intentions
I chose Mt. Washington. But not for reasons you might think. You can set intentions before you leave the house, or you can wait until you pull into the parking lot. An intention is an objective you want to reflect upon or work on as you hike.
Someone who usually races to the top may set an intention to be more mindful of the scenery. A hiker who feels energetic might set an intention to take fewer rest breaks. Another might want to see what happens when they change from eating a sandwich to snacking on trail mix and a protein shake. Someone else might want to try to identify five new flowers or birds. Intentions, like goals, can be anything that matters TO YOU.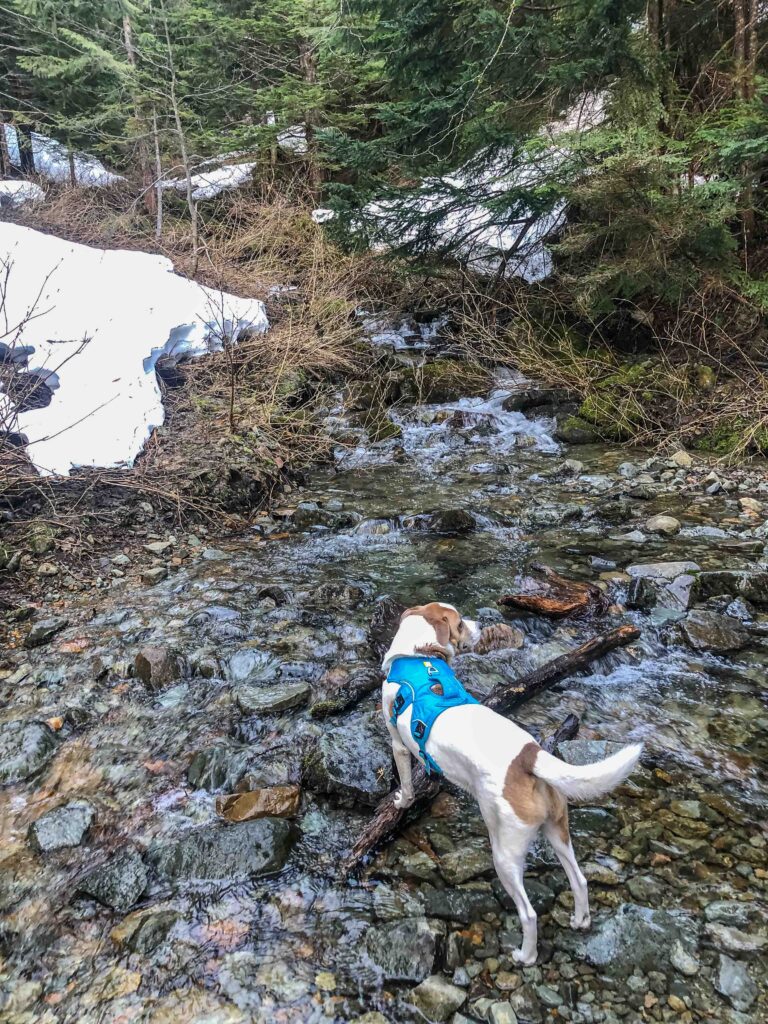 My Set Intentions for May 11 Hike
Many of my clients enlist my help as their trainer to develop strength and speed. My intentions for this hike included metrics of a different kind. Based on what I learned on Mt. Wrightson, I set the following intentions:
Take two short 2-minute mind-body breaks during the first hour to adjust clothing and give Ajax water
Include a 10-minute snack break at the lake to put on traction for snow conditions if needed
Pause for 30-60 minutes at the summit to listen for birds, look for jays, take photos, and have a snack
Use the Merlin Bird ID app to see how many spring warblers and sparrows I could identify
Build my heat resilience and tolerance (we've had some unseasonally warm weather)
Learn what the current snowpack is like to recommend hikes for local Pacific Northwest clients
The last one was an afterthought. I'd seen WTA (Washington Trails Association) trip reports and knew we'd be on snow, but I wasn't sure how low it started. I had microspikes, a sit pad, and a pole in case we encountered icy conditions. While I am glad I carried both, in most areas the snow is so soft you can manage without traction. A pole, however, is useful for recovering from postholes or crossing higher-than-usual streams.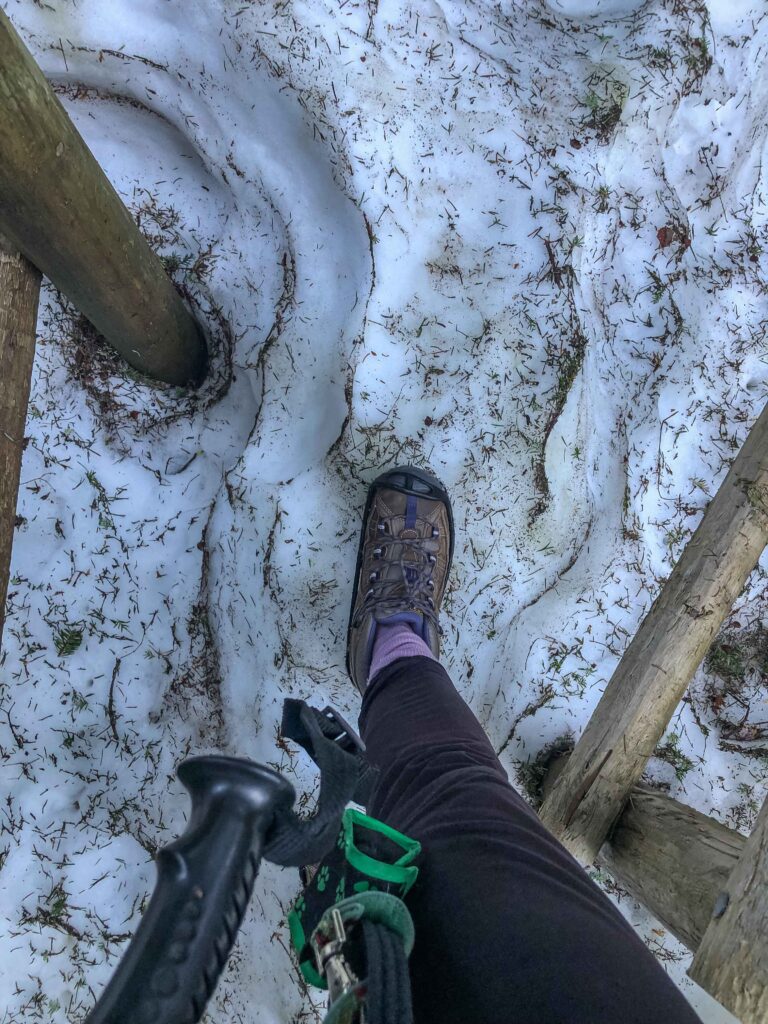 Results of Our Experiment
In anticipation of swarms of people taking advantage of the unusually nice, sunny weather, we left the car at 5:30 a.m. We were the first to arrive. Each of our breaks served a specific purpose. We reached the summit with energy to spare and had there not been as much snow, we would have added a detour along the Great Wall on the descent.
We reached snow just beyond the sign that indicates the left-hand turnoff for the Great Wall. Above the river crossing, Ajax punched through in several spots. The trail has way more snow than I have seen at this time in May. With the warm weather, it should melt quickly. Expect snow in places until at least June 21.
Expect post-holing right now. As soon as I noticed Ajax punching through, I started to as well. We avoided tree wells and narrow snow bridges. Wherever we could, we stayed on the dirt trail so we wouldn't unexpectedly lose our footing. At one point the trail headed straight up a steep snowy slope. Fortunately on the trip down we were able to find and stay on the switchbacks.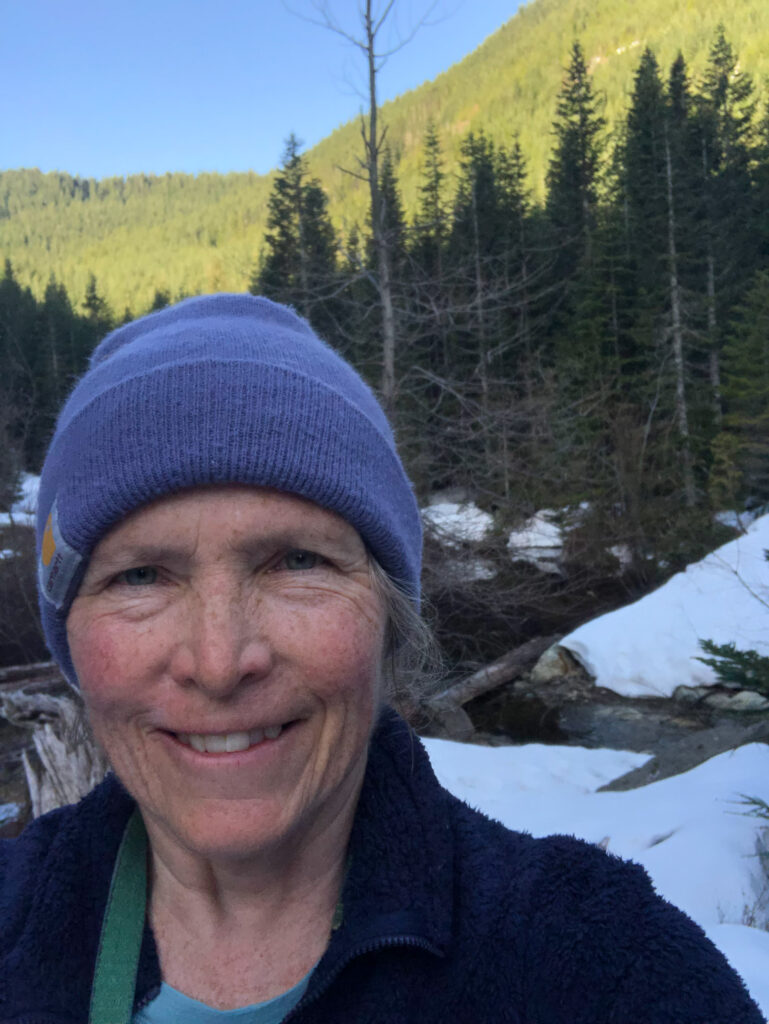 Set Intentions: Become Happy Hikers
As for the results of setting intentions, we identified 17 bird species from their songs. We spotted Mt. Rainier, Mt. Baker, and Glacier Peak under some of the most brilliant blue skies ever. I came home with three times more photos than usual.
We had the mountain entirely to ourselves except for three women starting up as we returned to the car. And now I can steer clients to appropriate hikes because I have first-hand experience of how high the snowpack is. Best of all, despite adding deliberate rest stops, our pace was comparable to other hikes up the mountain. Mission accomplished!
If you have experimented with setting micro-intentions for your hikes, please feel free to share your results in the comments section so we can all pool our knowledge and learn from one another.