Last Thursday, Ajax and I explored the trifecta destinations of Dirty Harry's Peak, Dirty Harry's Balcony, and Dirty Harry's Museum at Exit 38 along Washington State's I-90. This hike reminded me of the diverse factors that go into how to make good decisions for your party, whether that includes twelve hikers or your dog.
Which Hike?
Obviously, a dog doesn't have a direct vote in which hike to do, but Ajax's comfort IS always an important consideration whenever I plan an outing. Especially since these Active Ajax Adventures were designed as a way for us to enjoy the outdoors together.
When we hiked Mt. Washington the week before, Dirty Harry loomed directly across the highway from us. Since there is still plenty of snow on trails at Exit 47, we've been hiking farther west. Why not compare the north-facing slopes of Mt. Washington with the south-facing slopes of Dirty Harry's Peak? We arrived at the Dirty Harry's Peak parking lot early enough to start hiking at 6:10 a.m. The earlier, the cooler, the better for us both.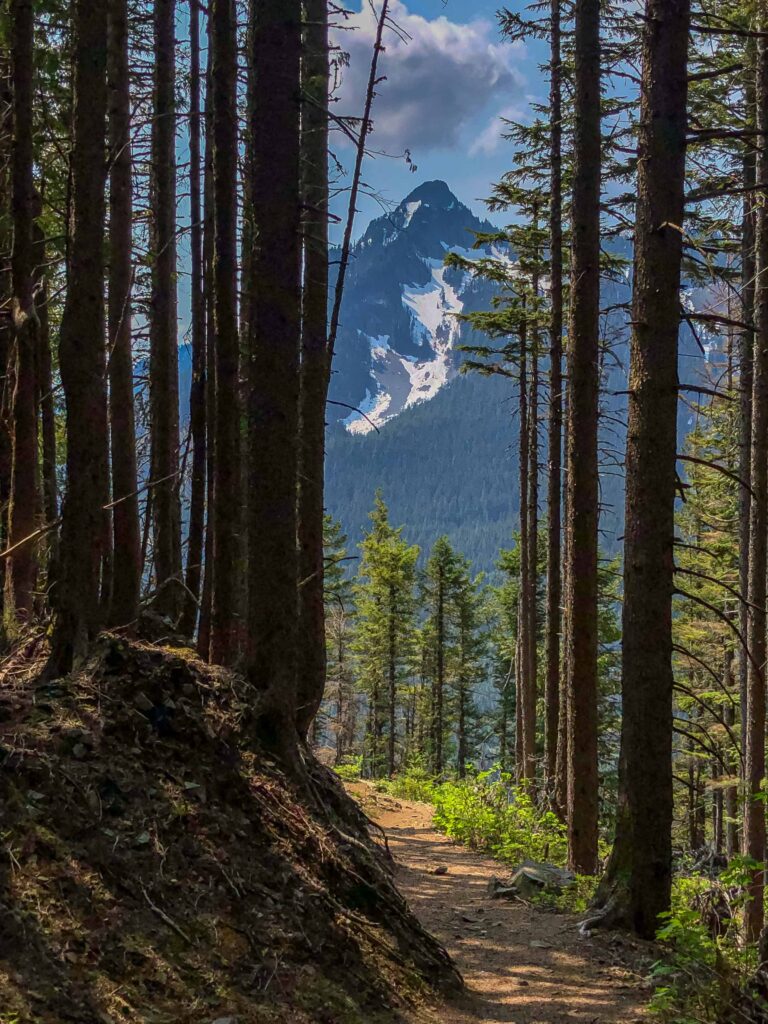 Make Good Decisions About Where to Stop
The next decision was where to take our first break. We could visit one, two, or all three destinations, separate hikes in their own right: Dirty Harry's Balcony (4.4 miles and 1,600 feet of gain), Dirty Harry's Museum (5.6 miles and 2,800 feet of gain), and Dirty Harry's Peak (9.2 miles and 3,326 feet of gain). I wasn't sure Ajax would be comfortable visiting all three — he is, after all, wearing a fur coat in this heat — so we stopped at The Balcony first.
Having settled into a nice rhythm of water breaks every 45 minutes, we continued through the lush woods to mile 2.8 where we reached the fast-running Museum Creek. In a trip report I'd read the day before, another hiker suggested using poles to cross. I had found a suitable stick (my pole sat forgotten in the car) in case I needed one. But how would Ajax do?
Where to Cross?
I never want to take any unnecessary risks that would jeopardize my partner's safety. I thought about securing his leash to his "suitcase harness" so I could grab him more easily if he slipped on the wet rocks. The last thing I wanted was for him to tumble downhill out of reach. At the edge of the racing water, we stood assessing the flow. I couldn't find any "obvious way" across.
Nope. Too risky.
I actually turned us around. Maybe we could explore the Museum or check out the Ira Spring Connector closer to the Balcony.
Once Ajax stood safely beside me, however, I glanced around. Several rock "islands" stuck out to the left (low) of the fastest part of the stream. Maybe we could cross there.
With Ajax watching on the bank, I carefully made my way across several large pieces of wood someone had placed on top of stones. Safely across, I turned and called Ajax.
Heart in my throat, I watched as he paused and shook out his nervousness. Then, determined not to be left behind, he promptly joined me.
Relieved that we'd made it across, I gave him lots of lavish "good boy!" praise. As we continued, I wondered whether the continued snow melt would cause us greater difficulty on the way back. We'd literally have to "cross that bridge" when we came to it. Onward, to find snow.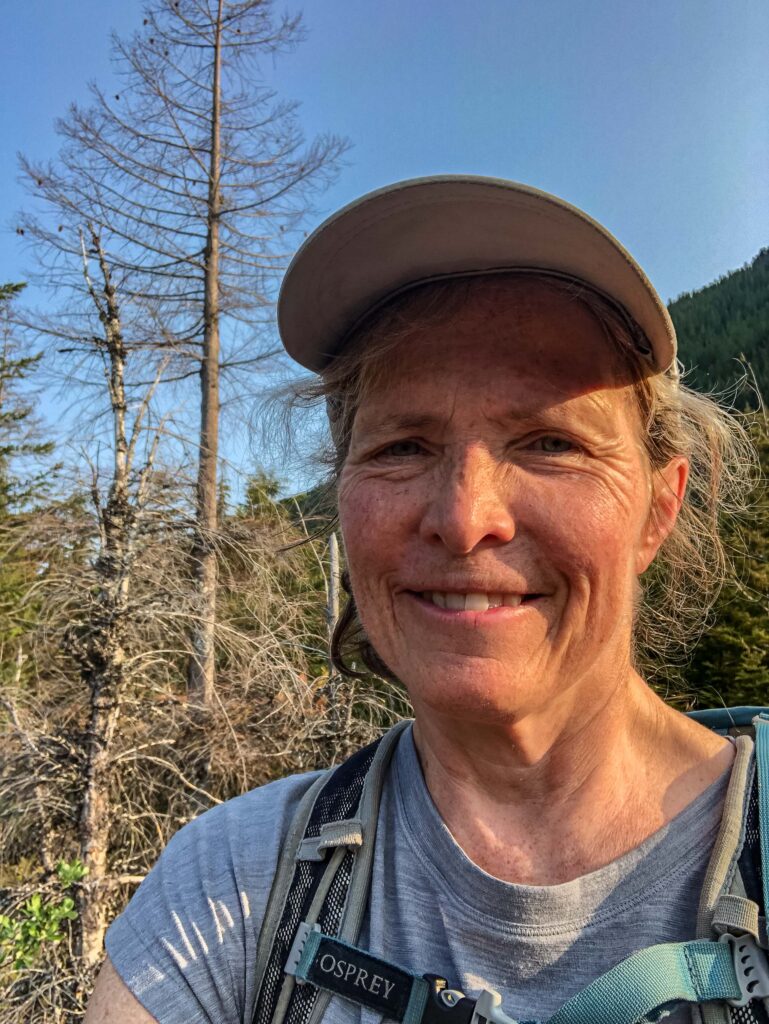 Make Good Decisions About How Long to Rest
At a lovely spot half a mile beyond the stream crossing, we took a ten-minute break. I felt pretty confident we would not see any other hikers behind us. After all, only dedicated and experienced hikers would brave that stream crossing. And only insane people would be up this high so early!
Several large trees have been carved into lovely benches where hikers can sit and enjoy the view. We were almost to the steepest part, so I gave Ajax a snack and some water while I shot several photos.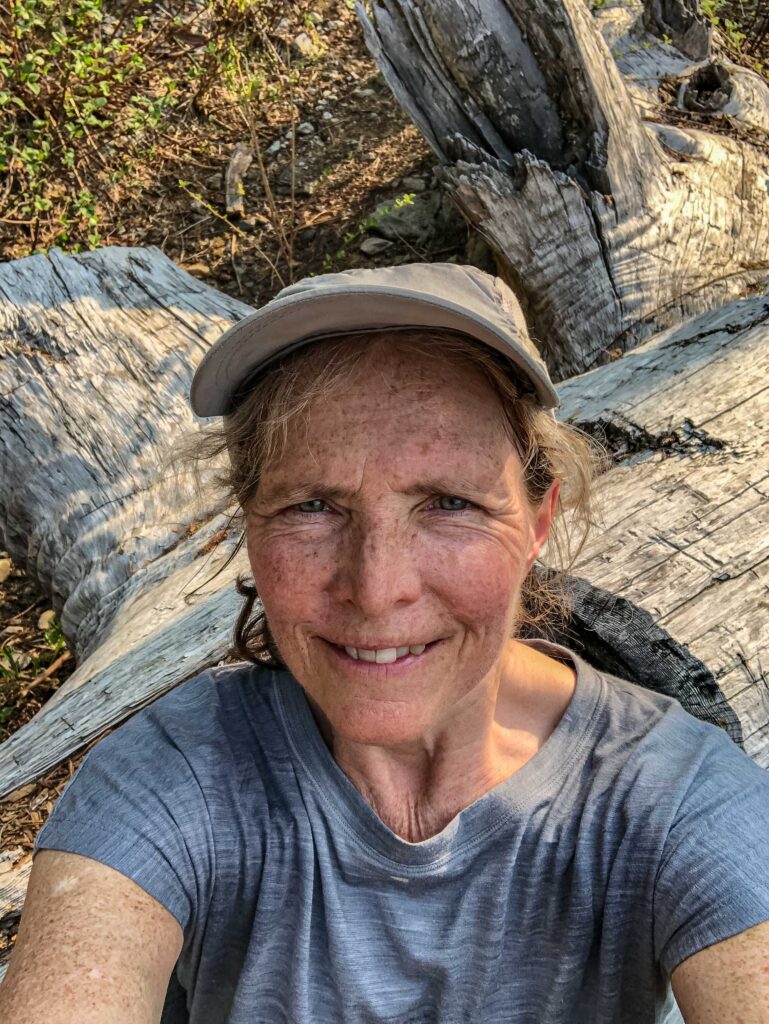 Recharged, we easily stepped across numerous small stream crossings, covering the last 1.5 miles pretty comfortably. The trail includes some unrelenting switchbacks, and we reached snow about .5-.75 miles from the summit for the rest of the hike.
Where to Enjoy the Views?
From Dirty Harry's Peak, you can look north, west, or south. The day we hiked, smoke from Canadian wildfires obscured most of Mt. Rainier to the south. My DSLR 100-400 mm lens would have been useless. Glad I didn't carry it!
For our summit visit, we found a shaded spot on the far west end of the ridge where the snow had already melted. Ajax promptly plopped down to relax. I pulled out my foam sit pad and reclined, looking into the blue sky. As soon as I'd gotten comfortable, a gray jay (or 'camp robber', as some people call them) ventured close enough for a good shot on my phone.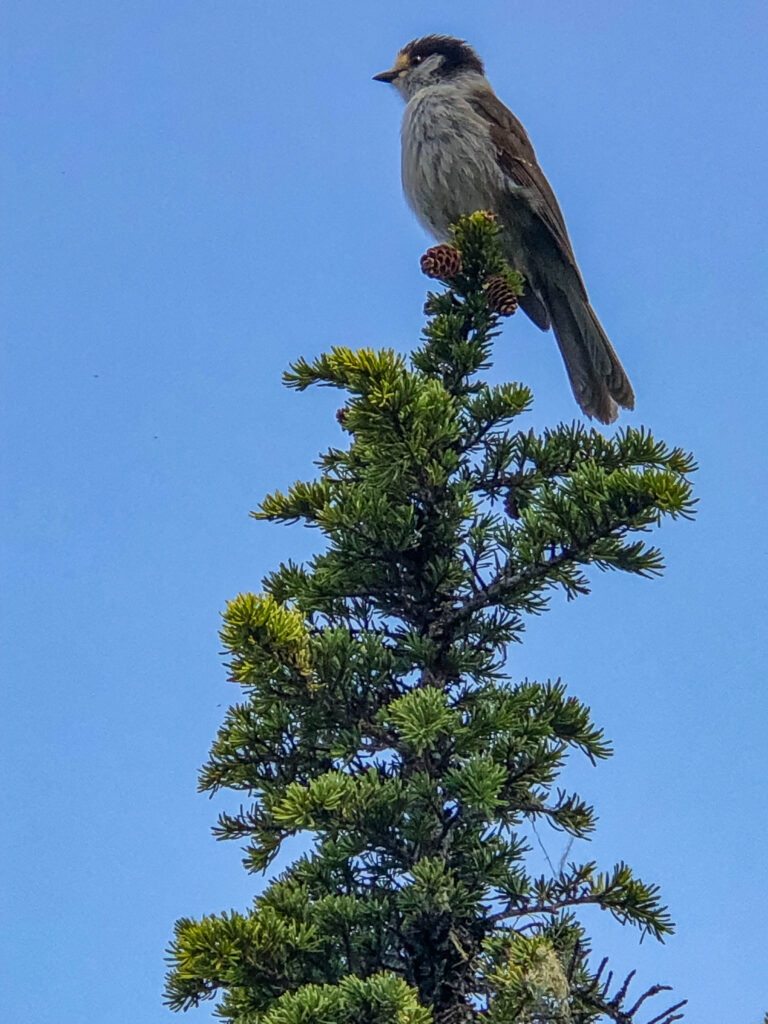 After enjoying the views for half an hour, I packed everything up and we made our way to the "other summit" to check out the view to the north. I hoped we could see Glacier Peak and Mt. Baker; the haze made that impossible. But we spotted a lake I later identified as rounded Granite Lake, straight below us, with snow patches in places.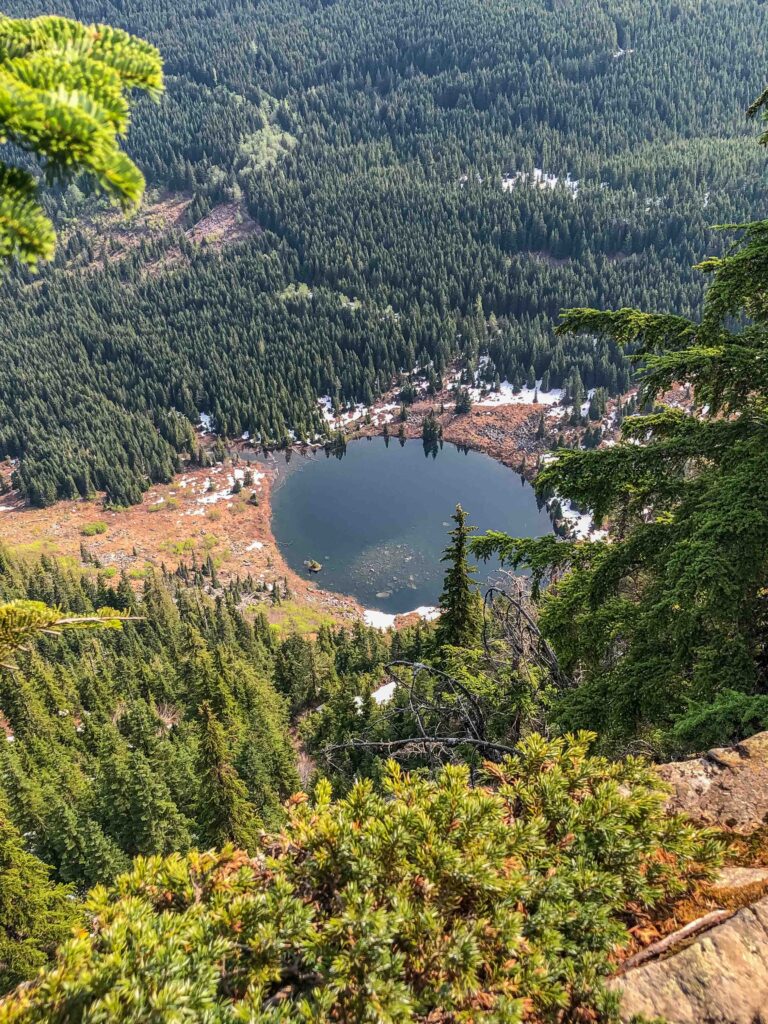 My stomach dropped when I noticed what Ajax was standing on. Below him, the narrow snow bridge was rapidly melting. If it gave way… Fortunately, Ajax responds to my voice commands. He abruptly trotted to my side to lavish praise. Now, at the halfway point, we had to get down safely. The toughest part would be that stream.
Should We Include A Side Trip?
The trip down included interesting exchanges with eighteen single or paired hikers headed up. "Cross low," I told them about the stream. I winced when I spotted a snake slithering across the trail in front of me. Fortunately, Ajax was exploring something behind me and didn't see it.
There was also the issue of crossing Museum Creek again. We heard running water before we saw it. And twenty paces from it, Ajax came to an abrupt halt. Did he remember the first time? Could I coax him across again? I gave him another water and food break (lucky dog!) He'd done it before; could he do it again?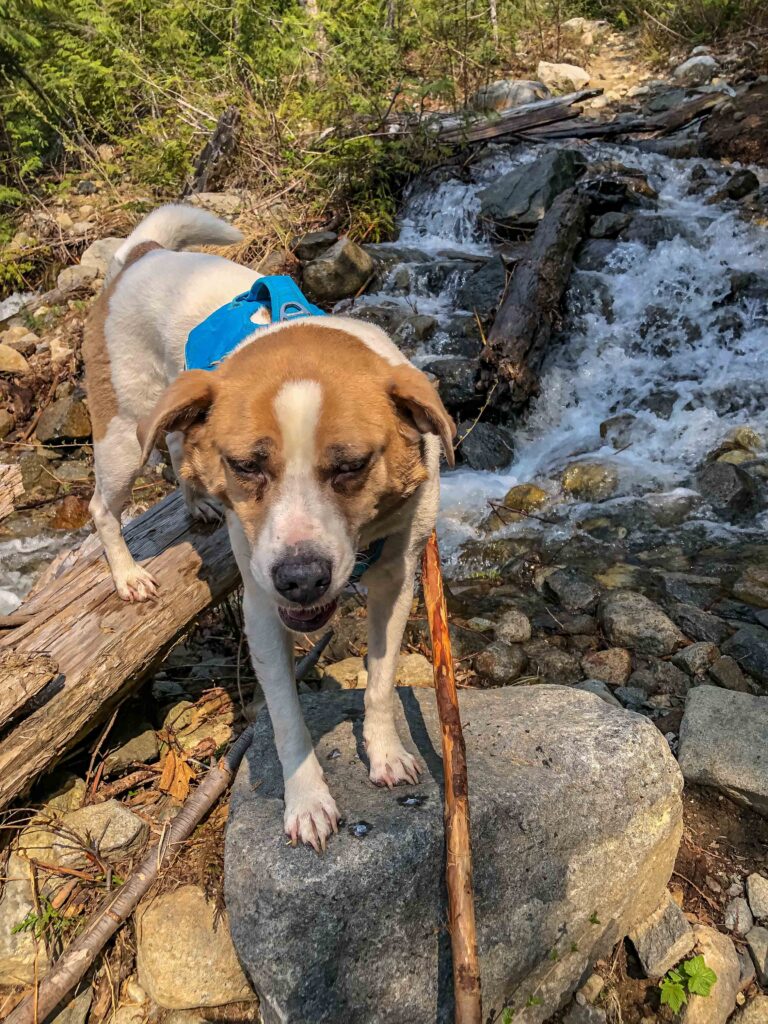 With a little coaxing, he scampered right across the stream, choosing his own way, reminding me of the pair of mountain goats I'd spotted on Dirtybox Peak situated between Mailbox and Dirty Harry's Peak. Relieved and feeling invincible, I searched for the north turnoff for Dirty Harry's Museum.
Dirty Harry's Museum
There is no sign for the "entry" into the woods like there is for the trail itself. A small rock cairn sits on a large boulder directly across from a dark narrow opening in the trees. And once you enter the opening and head steeply upward, there are bright ribbons marking the way.
Ajax followed me for several minutes until the trail met the stream and opened up to Harry Gault's rusty truck. I've only visited this particular destination once before, so we took a few minutes to explore the truck before heading down in earnest.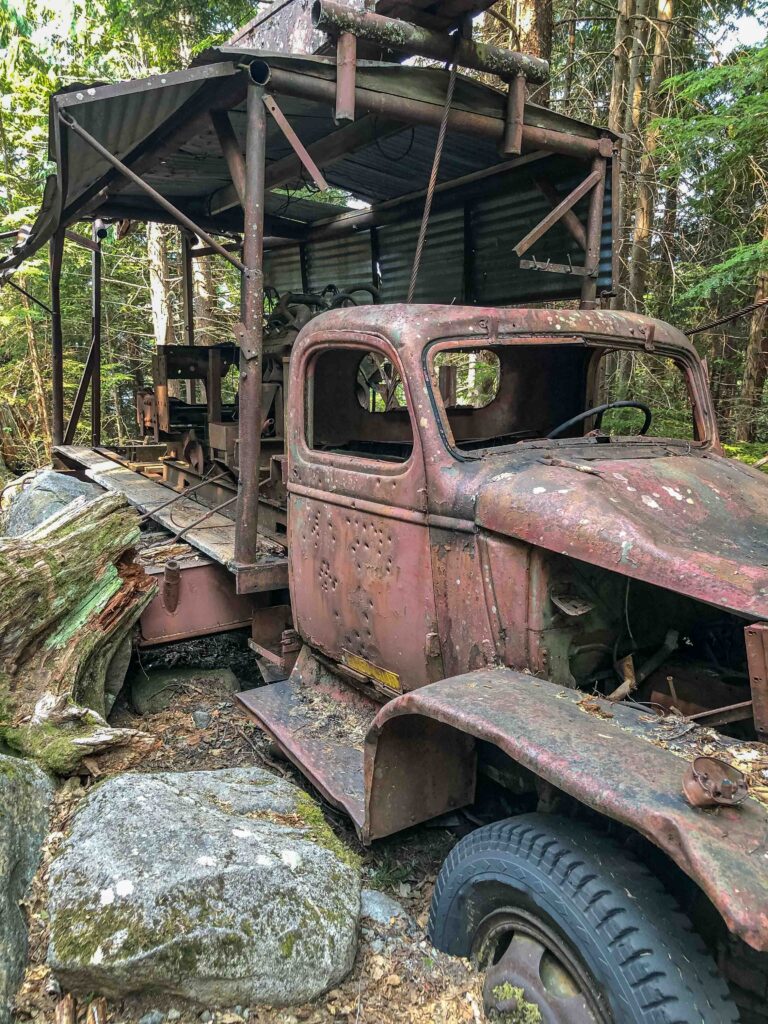 Make Good Decisions: When Enough Is Enough
Once we returned to Dirty Harry's Balcony around 11:15, I stopped for Ajax to have the rest of his kibble. I could tell his energy after visiting all three destinations. I paused to enjoy birdsong and chatted with another hiker until it looked like Ajax was ready. Only two miles to go! I estimated that keeping on our pace, we'd reach the car by 12:30.
But my pooped pup had had more than enough. A mile from the car he plopped down and wouldn't go any farther. I considered carrying him but I knew that would just result in both of us being exhausted. So instead, I pulled out my sit pad, found a good rest spot, and let him take a brief nap.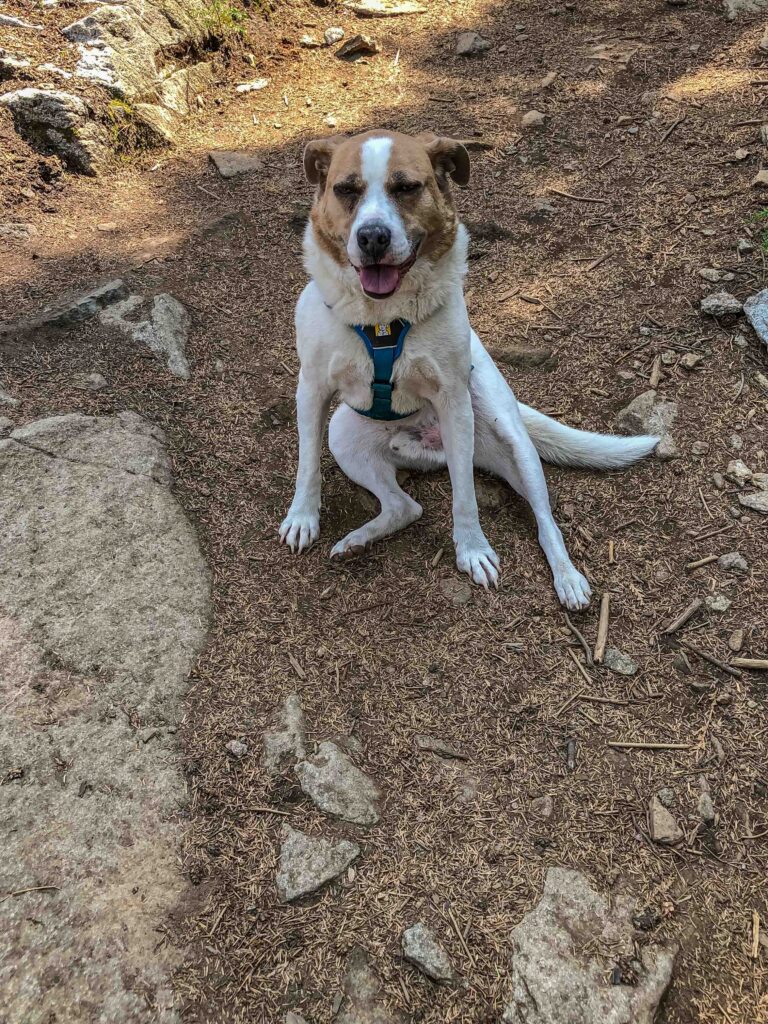 After a fifteen-minute break, he'd stopped panting, but he still lagged behind me. I finally secured his leash to his harness and coaxed him down to the car. He'd clearly reached his max.
Takeaways
As we head into summer, some of my top takeaways from this experience include the following tips:
Consider all party members' strengths and weaknesses. I plan early morning trips so Ajax will be more comfortable. And if the forecast is for temperatures much above 75 degrees Fahrenheit, we stay local.
Choose destinations wisely. Granite Mountain and Dirty Harry's Peak are two trails I've decided are best done with Ajax in the fall or spring when there is plenty of snowmelt or cooler temperatures from shade and cloud cover.
Consider destinations with rivers or lakes to cool off when it gets hot.
Study trip reports on such websites as Washington Trails Association to learn about conditions ahead of time. Knowing the stream was running high helped me be prepared both with a stick and with alternatives.
Be okay with changing the destination – go farther or shorten the trip depending on party preparation.
Listen to your party members, canine or human. If they show signs of needing a break, provide one. Pressing on may only make matters worse.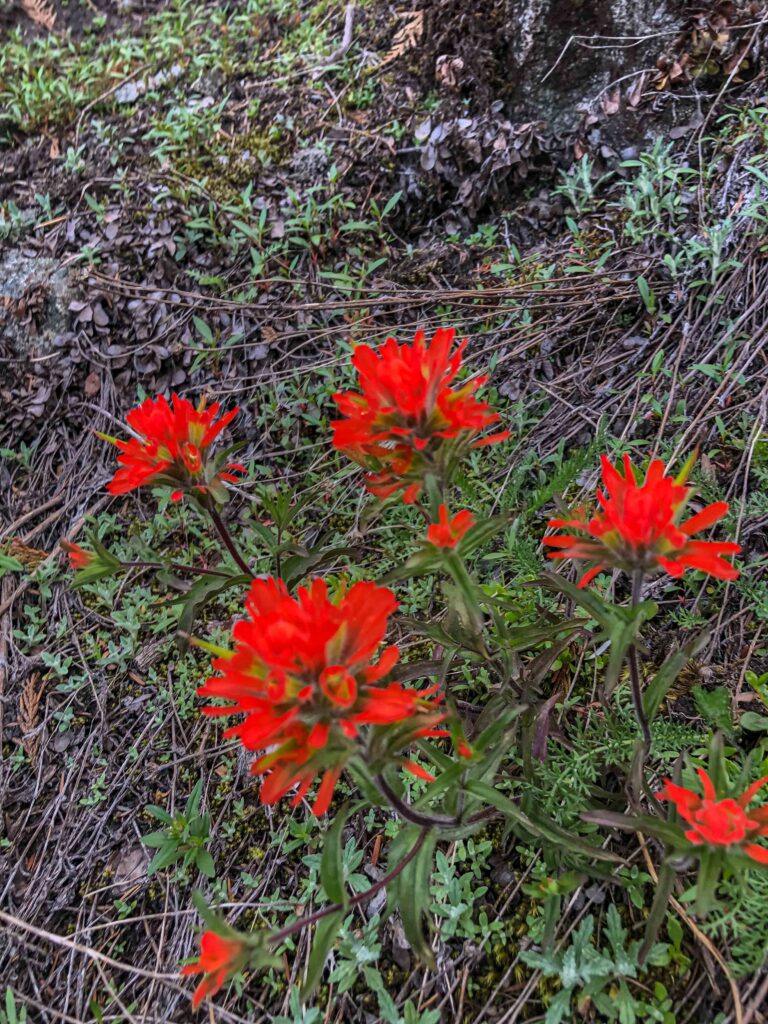 What top takeaways can you share about any of your recent learning experiences in the mountains? Share them in the comments so we can all benefit.