Ajax and I recently visited a nearby neighborhood pea patch. I thought about all the effort it takes to cultivate a successful garden. Akin to what it takes to change something about ourselves. As I reflected on Brene Brown's comments about how "We're all doing the best we can," my mindset started to shift. What happens when we cultivate the Five Ps: Patience, Practice, Paying Attention, Play, and Purpose?
Cultivate Patience
Anything worth doing takes time and patience. We cannot prepare for an active adventure, raise a child, write a book, or create a new business overnight. Likewise, I cannot expect to make a smooth transition from eighteen years of parenting to an empty nest in a few months. Even though that's what I feel should happen. (Oh, that cursed word!)
Reframing Shift
In a Precision Nutrition course I'm taking called SSR: Sleep, Stress Management, and Recovery, I'm learning about reframing failures and mistakes as important learning opportunities. What if we looked at daunting obstacles as challenges rather than roadblocks? Can we forgive ourselves for triggering episodes that cause guilt or shame? What would it feel like to think of them as the best we could do given the tools we had at the time? Instead of avoiding something because we're afraid, can we embrace it as a way to grow, learn, and challenge ourselves?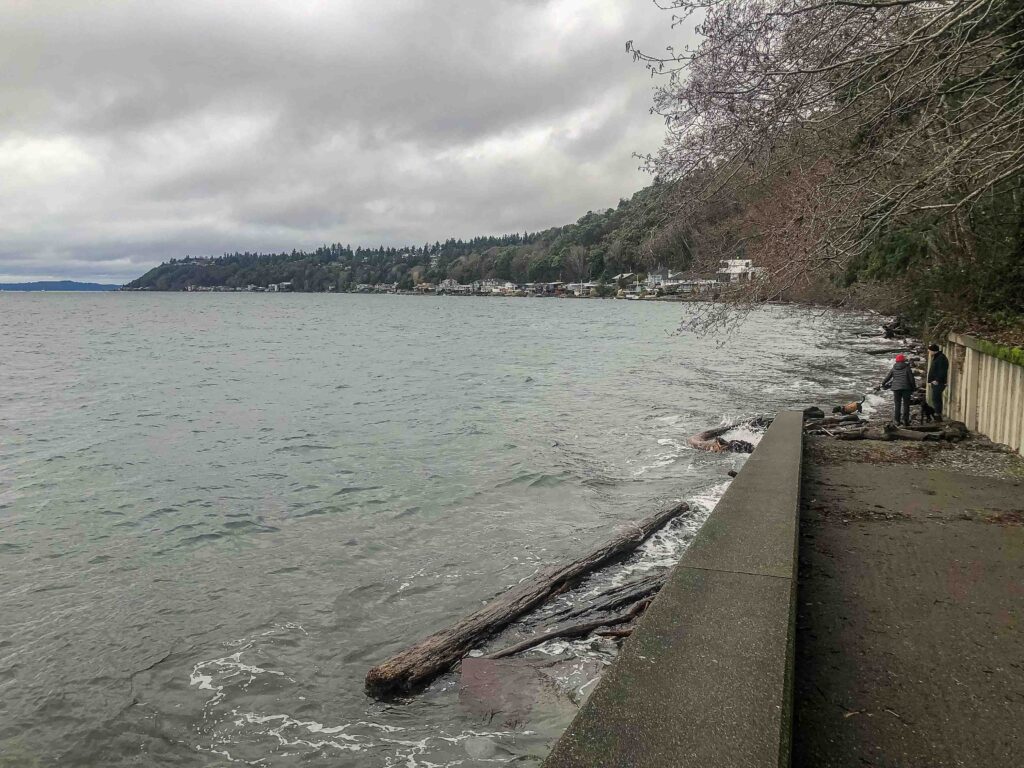 The SSR course explains that when the demands of any obstacle outweigh the resources available to us, we get mired in "fight, flight, or freeze" and become stuck. But if we find a way to use all of the internal and external resources we have (including adequate sleep and the five P's) we can better cope with the demands and move forward.
Takeaway: Glaciers are mighty forces, but the work they do is not inherently obvious until later. Likewise, patience will take us miles beyond frustration. We can actively work to cultivate patience on a daily basis, much like we would brush our teeth, exercise, or eat vegetables. Let's quit "shoulding" ourselves so we can move forward with patience and grace.
Practice in Seahurst Park
Last week, I got some practice with patience. Ajax and I visited the Seahurst Ed Munro Park, also known as "the jewel of Burien." It is a saltwater beach on Puget Sound with 3.5 miles of lovely hiking trails through beautiful forests.
As we explored the waterfront on a breezy, chilly, overcast day, I found myself thinking of my daughter. This triggered anxiety, which caused me to become impatient with Ajax, who loves to sniff everything. The whole point of these rambles is to connect with him, not yank him along beside me.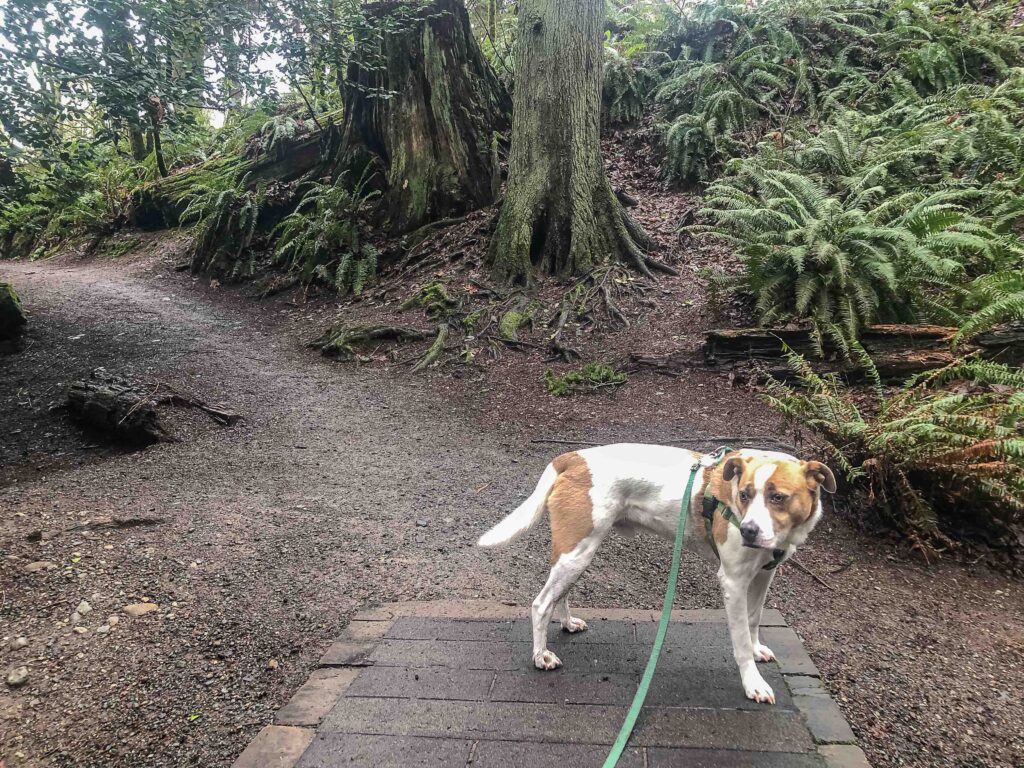 For some unknown reason, the sound of the surf jarred me. But as soon as we found a dirt path that led deep into the woods, my mood improved. I recognized the familiar sound of birdsong. My breathing and heart rate slowed. Ajax loves the woods and the beach equally, as long as he's with me. However, I've learned that I prefer the peaceful beauty and solitude of moss-covered trees.
Takeaway: Practice listening to your body and mind. They ask for what they need. And if you are not in a position to give it to yourself, make a point of setting aside time at lunch, in the evening, or on the weekend to practice.
Pay Attention in Northacres Park
In addition to frequent practice, it helps to pay attention, a practice known as mindfulness. On a recent sunny walk to the Jackson Park Golf Course, I spotted a dog that Ajax doesn't like. Instead of risking confrontation, we headed toward Northacres Park. But it meant crossing busy Interstate 5, something we don't do on foot.
Once we reached the off-leash area, I could still hear the din of cars racing by on the freeway a hundred yards away. I could see varied thrushes, robins, and woodpeckers hopping about. But I couldn't hear them until we left the park and got half a mile away from the freeway. Once I heard chickadees and towhees singing, I felt my jaw unclench. I could once again observe my surroundings and enjoy the peaceful sounds around me.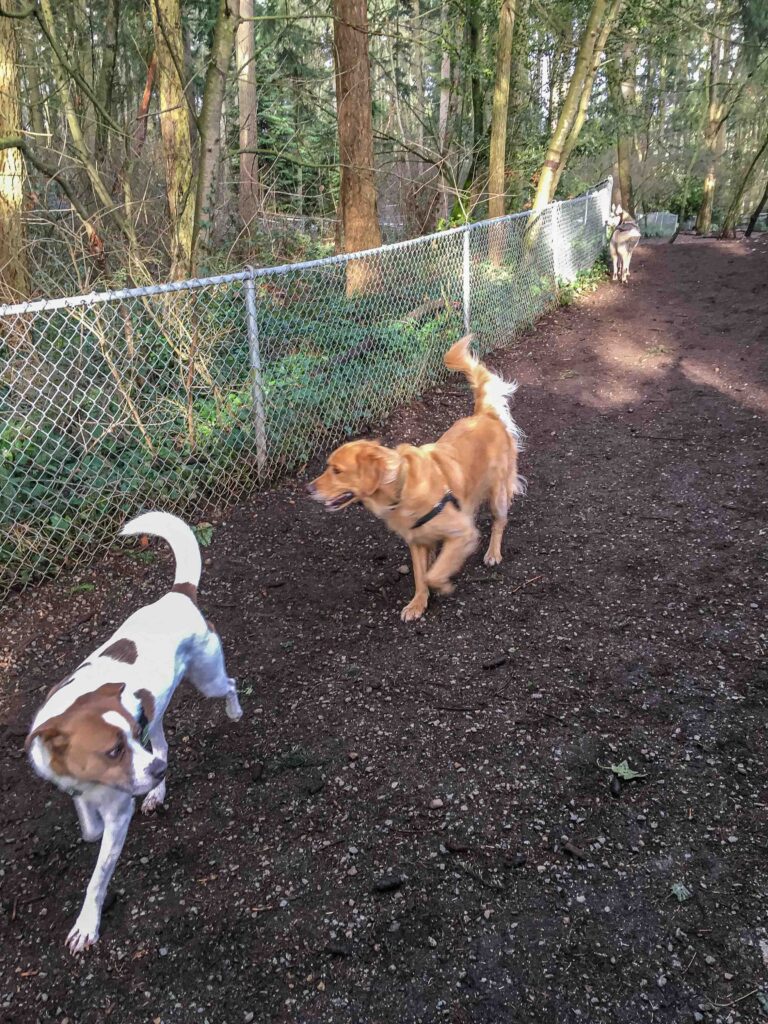 Takeaway: If you feel stuck, pay attention to where in your body you experience it. Is it in your throat? Your muscles? Or your mental faculties? Do you feel dull or sluggish when you're usually quick and sharp? I think, create, and operate more efficiently with calm, quiet, or natural sounds. As Debbie Tung points out in her graphic novels about being an introvert, working in a large office would make it difficult to be productive.
Cultivate Play in Magnuson Park
This weekend I spent a few hours birding with a friend, without Ajax. As much as I adore our rambles, certain activities go better without him. Four of them include leading field trips, volunteering, scrambling, and birding.
Our goal was to enjoy each other's company, but we had one target bird in mind: the Bohemian Waxwing, irregularly seen on the west coast. We detected 42 different bird species during the morning outing, including a single Bohemian in a flock of Cedar Waxwings.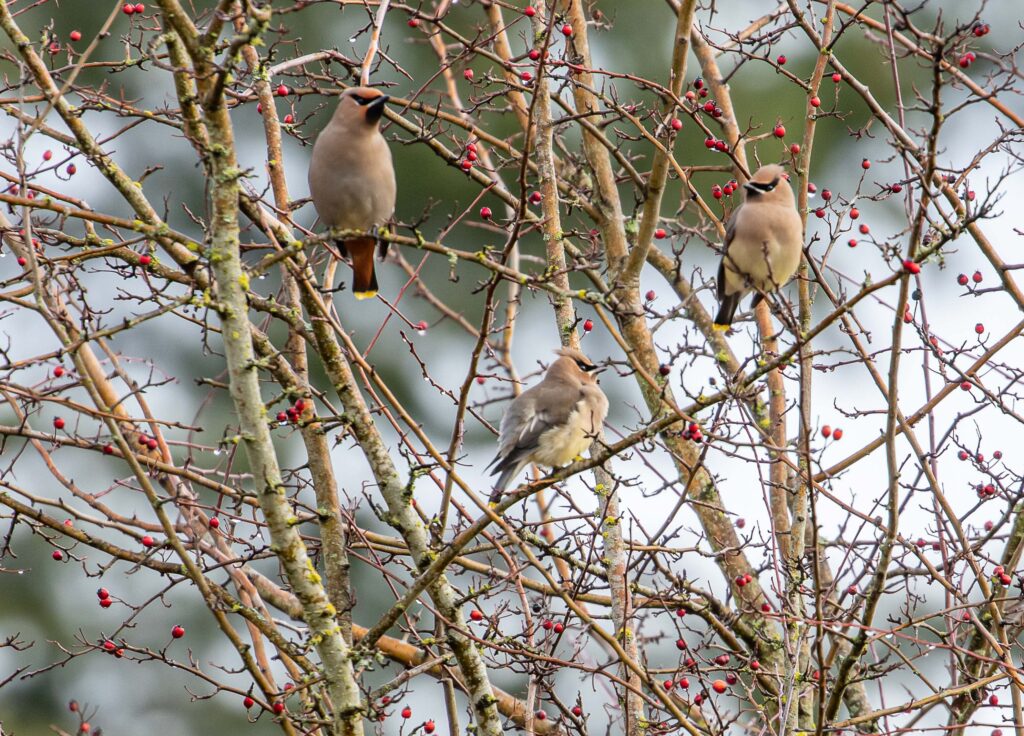 Whenever I feel stuck, getting outside almost always helps. Whether it is the fresh air, a change of scenery, movement, or distraction, I'm not sure. Maybe all of the above. Watching birds forage for food, preen, or flap in puddles has a calming effect on me. Looking up at a huge cedar or Douglas fir does the same thing. If you find yourself spending more time on social media or YouTube than you'd like, grab your shoes and go outside. You might find yourself making headway afterward.
Takeaway: When parenting a college student, I'm learning the importance of keeping track of my own needs. We'd assumed that since our daughter's roommate was going away for the weekend, she'd stay on campus. I made plans with a friend and I refused to break that commitment. The consequence of our daughter not providing enough notice means she might not get exactly what she wants. Hopefully, if it happens often enough it will teach her to change her habits.
Pull It All Together with Purpose
If we still feel stuck after trying our best to be patient, practice new skills, pay attention, and play, the final "P" is to remind ourselves of our purpose, or our why. We can set our intentions for the current obstacle, even if that is to struggle with grace and presence of mind. Or to ask for help.
This week I have been facing technology issues head-on, practicing breathwork, and allowing myself multiple chances to make mistakes and learn from them. I figure the more I goof on smaller things that don't matter as much, the more skilled I'll become for when it does matter. I could set an intention to be lighthearted and playful the next time I mess up, or set the goal of figuring out what it might teach me.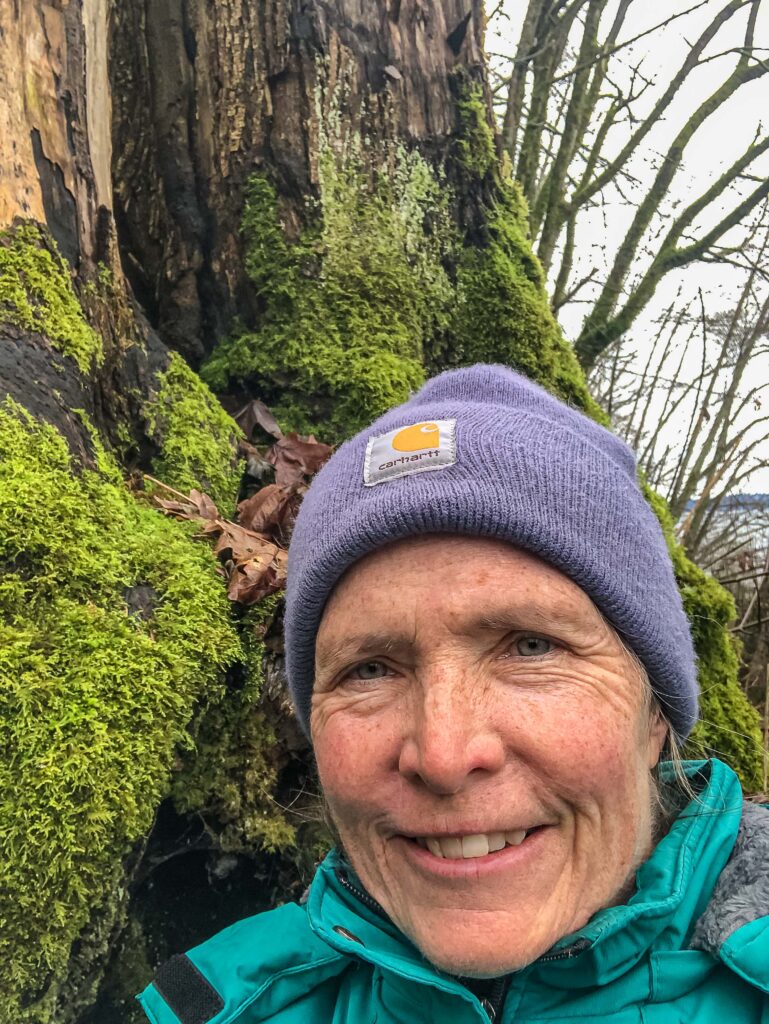 Takeaway: I've never dealt with an empty nest before. I'm going to make a lot of mistakes. If we can remember that we are not our mistakes, we simply make mistakes, then we can use them as our teachers. I know from the past year that I have physical resilience in spades. Now it's time to cultivate mental resilience.
As always if something in this post resonates with you and helps you get unstuck in some way, I'd love to read about it in the comments. Joyward!