At the start of each new year, it's tempting to make sweeping changes around work, home, relationships, food, and movement. Instead of tackling everything in your life that needs changing, start with one. Then watch the ripple effect as it impacts other areas of your life. My Ajax ramble project is doing exactly that.
Acting On An Intention
You may recall that my intention for 2023 is to have 52 unique Active Ajax Adventures this year. So far we have already visited eight unique parks in January. But what's interesting about our experiment is noticing how making progress on one goal impacts others. What if you tried the same thing: setting an intention in one area and seeing what changes in other areas of your life?
My recent rambles with Ajax have taken me through the following parks:
Recent Rambles
So far, Ajax and I have logged 9 hours of "adventure time" on park walks ranging from 15-109 minutes. Seven we did by ourselves; the other we did with my husband and daughter. Weather conditions were sunny for two of them; the others were overcast or rainy.
Rainy Roanoke
Perhaps the most surprising ramble was following a mid-week Physical Therapy appointment. I'd intended to take Ajax with me to the arboretum, but I decided to go there someday that isn't so rainy. Instead, we pulled over at the corner of Roanoke and tenth, parked directly across from U. W.'s Oceanography department, and wandered around in a hilly, scenic neighborhood I'd never visited before. Seeing Thomas G. Thompson, the UW's research vessel, brought back memories of graduate school days.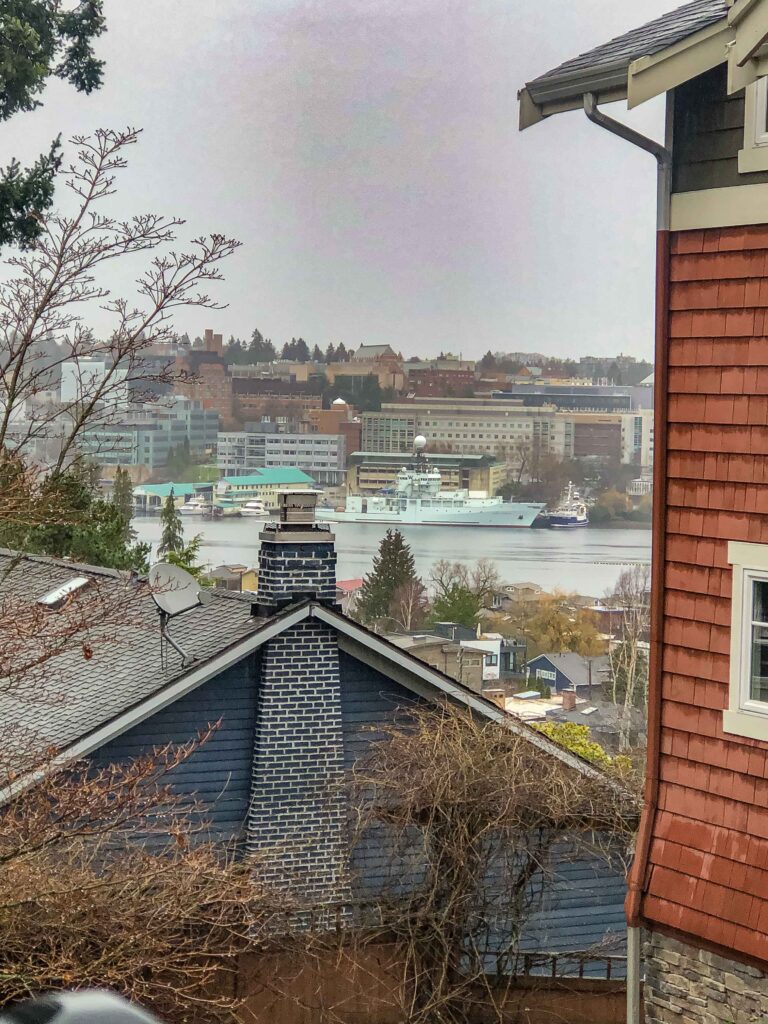 I have always considered myself to be a fair-weather adventurer. This ramble project is teaching me the value of going out in all weather, including downpours. I am discovering local sets of stairs; 80 steps lead up from Queen City Yacht Club to Roanoke Park. And we stumbled upon a downed Heritage Tree, a European white elm, which must have been destroyed in a recent wind or snowstorm as it still had yellow police tape around it.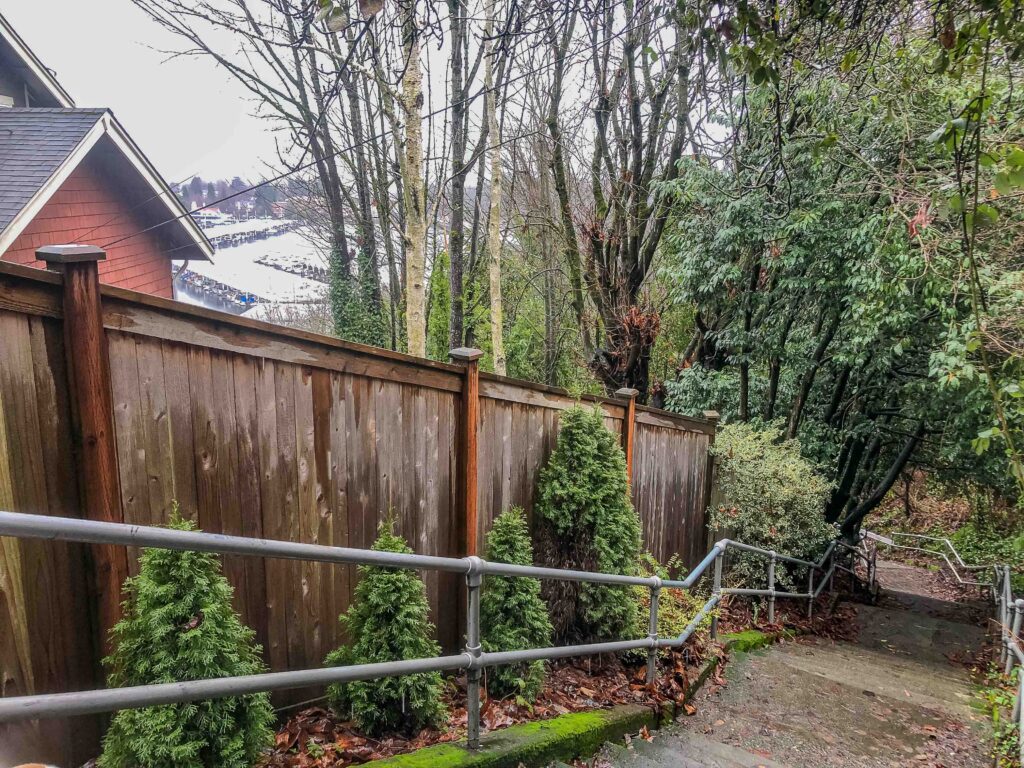 Twin Ponds Park
Twin Ponds Park sits halfway between our house and a Shoreline grocery store I visit on occasion. On days when I'm pressed for time, I'll take Ajax with me for a little outdoor stroll before I stop at Town and Country. Two of my favorite things about Twin Ponds are the enormous old-growth cedars such as the one pictured below, and winter waterfowl such as wood ducks, buffleheads, wigeons, and mallards.
Pinehurst Playfield
Our Pinehurst ramble was a bit of an accident. It started with a library walk and then, to take advantage of the fact that it was not rainy, I extended it to the area west of the neighborhood we visited on our Seven Libraries Ramble. Only, we overshot our objective and had to pick up this playfield to make the ramble count toward our 52. Cheating? Hey, the only rules for this project are the ones I make up for myself! The park itself is pretty ordinary, but I find the houses around it fascinating.
Meadowbrook Pond
The highlight of the first 15% of the project was a Saturday afternoon stroll with my dog, husband, and daughter around Meadowbrook Pond. The takeaway from that adventure was to bring a pair of binoculars as the season advances so I can watch for unusual birds. I also really liked having a pair of youthful eyes along with us. Our daughter spotted a Wilson's snipe, a shorebird I'm not sure we would have seen otherwise. Bonus: we got our kiddo away from her screens!
Ripple Effect: Ramble Benefits
The biggest takeaway from these earliest rambles was observing what happens to my attention. When I am in a familiar neighborhood, I reflect on everyday problems. But in a new area, I focus completely on what's around me. I'm also discovering:
Paying more attention during our rambles is carrying over to routine walks with Ajax. Now, we go on different routes every time we walk. I hadn't realized how limited I'd become. How much of our lives do we exist on autopilot? If we don't remember much about our everyday lives, what can we do to be more present and less numb?
On our walks and rambles, I'm noticing remodeled or renovated houses; homes painted unusual colors; interesting yard decorations; and landscaping changed since the last time we walked these streets.
Finally, I'm experimenting with setting intentions for each walk. Perhaps I pose a question to the multiverse and mull it over. Or, I take a photography prompt and look for multiple possibilities for my photography. What if we set an intention for every outing? How much more mindful and purposeful we could become!
Biggest Ripple Effect? More Joy
The biggest ripple effect I'm experiencing from three weeks of rambling is … more joy in all areas of my life! I love being outside, and visiting new and different places with Ajax is doing exactly as I'd hoped. It's allowing me to optimize the following:
Appreciate beauty
Connect deeply
Move frequently
Create abundantly
Improve lovingly
Challenge gently
And while our rambles have satisfied my desire and need to be outside, I very much look forward to returning to the mountains soon. If you have noticed any ripple effect from changing a habit in one area and seeing it carry over into others, share that in the comments. I love hearing from readers and I respond to each valid comment.