To celebrate the change of seasons, this week Ajax and I participated in our annual pilgrimage to the summit of Granite Mountain. In 2020, Ajax overheated on the descent. We changed tactics in 2021 but the muggy, buggy, and smoky outing dowsed my interest in hiking it during the summer. The exposed south-facing slope — an avalanche chute in winter — is too brutal for Ajax in the heat. On October 5, 2022, we enjoyed cooler temperatures, an empty trail, and brilliant fall colors. And on the same day this year, the Cascade Mountains once again stunned us with their beauty.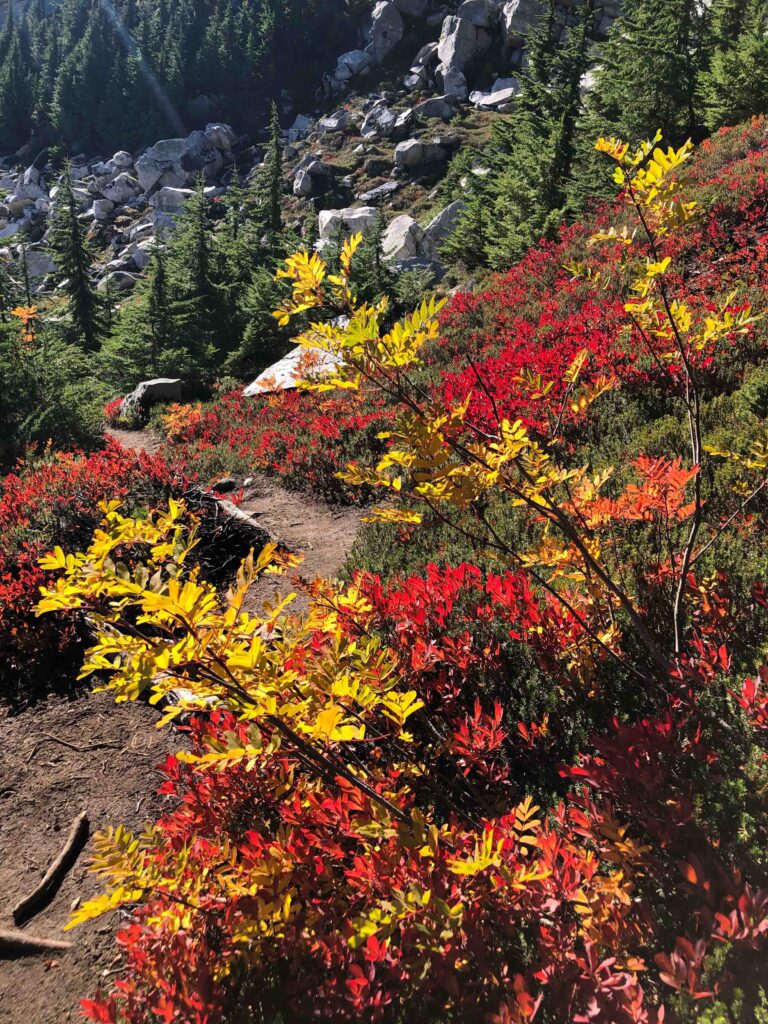 Getting Started
In previous posts, I have shared how sometimes I have to get myself to a trailhead before I actually feel like hiking. This time, I couldn't wait to reach the trail. A recent trip report raved about spectacular fall colors and I knew exactly where Ajax and I would go.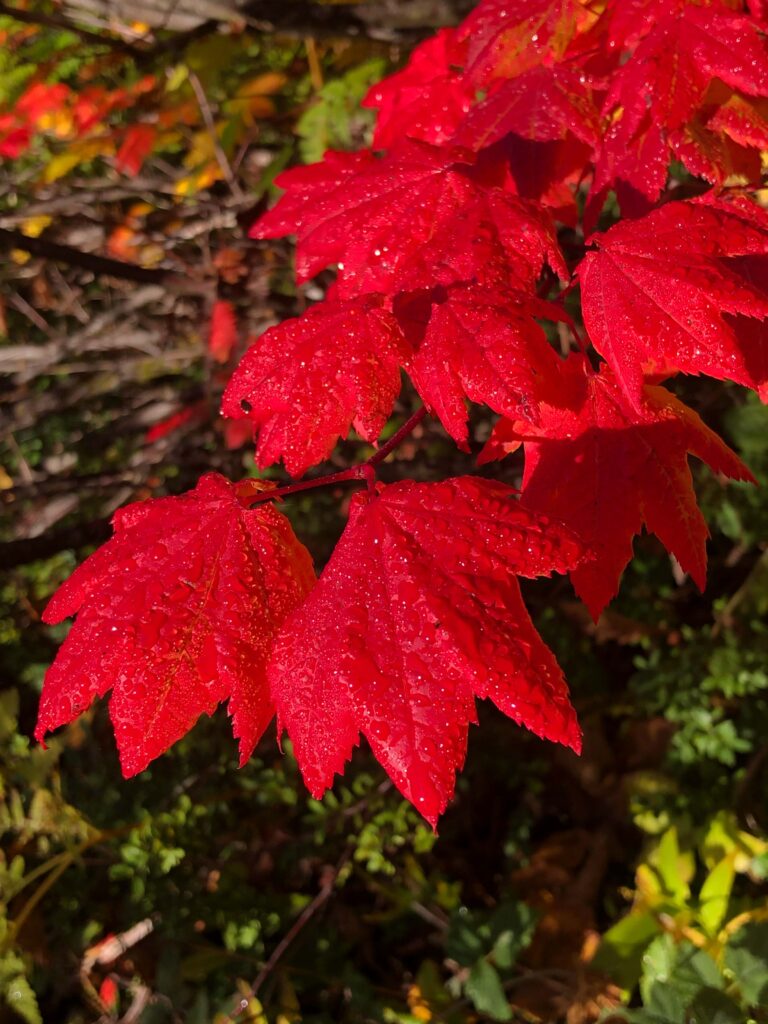 On the drive to Exit 47, four things set this trip apart from others.
We stopped to fill up with gas in the dark so I wouldn't run out of gas 45 miles from Seattle
I listened to Il Divo's Mama for the first fifteen minutes — which repeated in my head for most of the hike (yes, mine is still with us; not so my husband's)
For the rest of the drive, I listened to Richard Schwartz's audiobook, No Bad Parts. It reminded me of the blog post I wrote some time ago about reigning in our inner critic.
Through morning mist and fog, splashes of color hinted at the display to come higher up
By the time we reached the parking lot just after dawn, I had my camera all ready to go.
Granite Mountain: Ascent and Discovery
We started hiking around 7:20, with only one other hiker in front of us. When a spider web brushed my face just past the Pratt Lake/Granite Mountain junction, I guessed the other hiker must have headed in the opposite direction. At the avalanche chute, colorful shrubs awaited. And at every switchback, more stunning scenery vied for my attention. By the end of the morning, I'd shot over 200 photos.
Unfortunately, the beauty couldn't mask a growing ache in my left foot. Right between the second and third metatarsal, I felt a nodule or tender spot that made me want to scrunch my toes or roll onto the outside of my foot to avoid the ball of the foot. It posed no problems on dirt, but the irregular rocks through the chute aggravated it.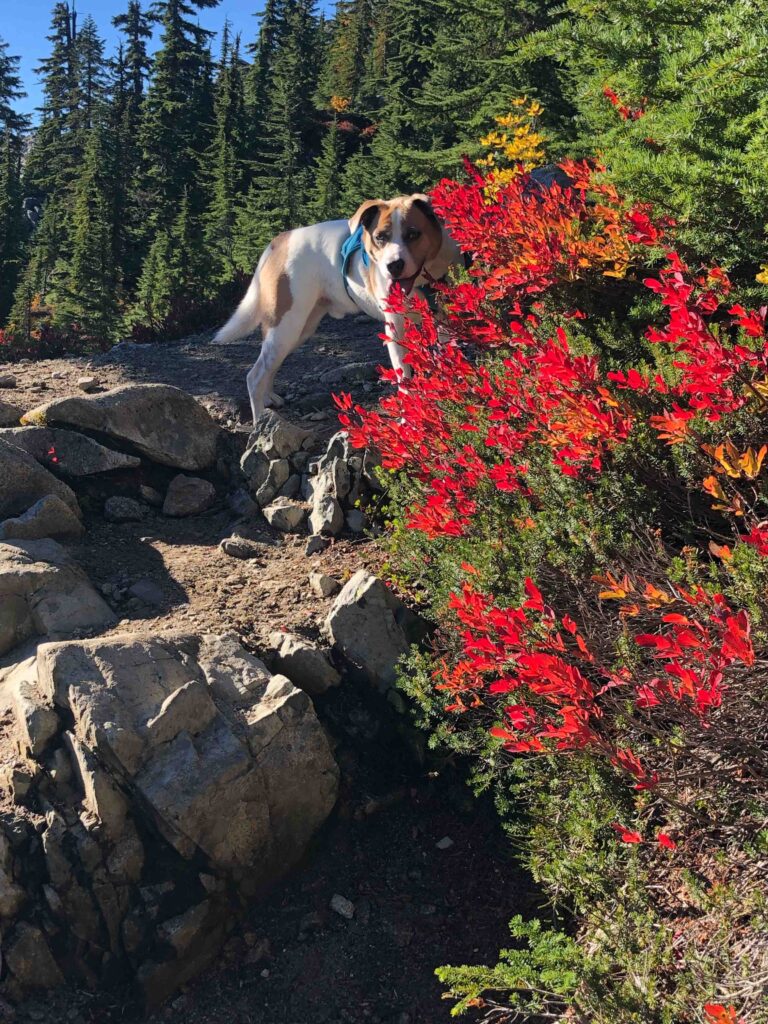 Since I usually don't feel problems with my Keen boots until descending, I worried about continuing. Each half-hour, I stopped to give Ajax some water and tweak my laces. Take note: the next time you have issues with your boots, try removing your liners. As it turns out, a matted clump of pine needles under the left arch support caused the issue. I guess I'm the proverbial "princess and the pine" rather than pea!
Solo Summit
At 10:15 we enjoyed a half hour at the summit of Granite Mountain. Snow geese in the hundreds migrating southeast squawked high overhead in shifting V formations. A lone hawk soared lazily on an updraft. Hornets (or wasps?) hovered above Ajax's food and water container, bothered little by a light breeze that kept the other bugs away. I scanned the meadow below looking for other hikers but we had the place to ourselves.
I surveyed the mountains as though they were my own backyard. Due east, a thick marine fog layer blanketed the Puget Sound. All around us were our friends. Bandera. The Tooth. Washington. Defiance. Snoqualmie. McClellan Butte. Not a single cloud other than those below our feet. And stunning reds, golds, oranges, and yellows in all the west-facing valleys illuminated by the sun. Calm confidence washed over me. This is a peaceful world I know so well.
The only thing that could have made it better was to be able to talk about it with Ajax. What was he thinking, as he sat nearby, panting? Did he appreciate the warm sun or was it too much for him? He wouldn't eat any kibble. Nor did he chase the chipmunk that approached my pack looking for handouts. But once I put on my pack, he trotted over, ready to go.
Descent from Granite Mountain
As with any early start on a beautiful day, the silence broke as soon as we left the summit basin. Fortunately, the hikers we passed as we descended were spaced out over the next few hours. In addition to Granite Mountain, the trailhead allows access to Pratt, Rainbow, Island, Talapus, and Olallie Lakes. So while the parking lot was full, we didn't see everyone using it.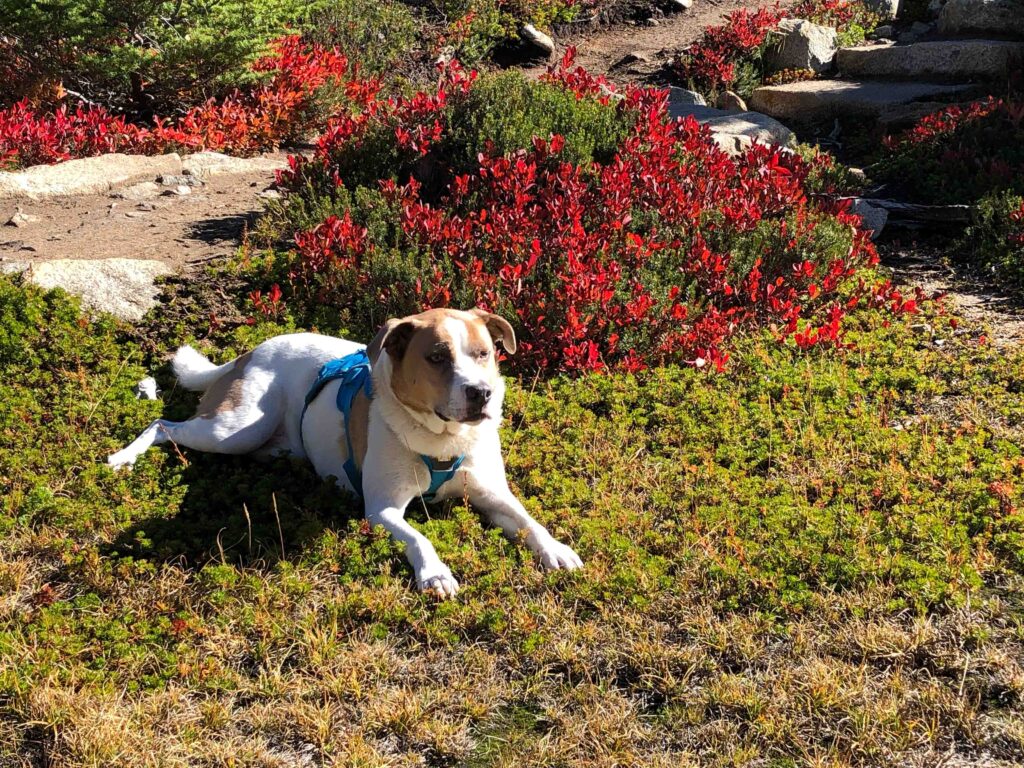 The days are once again getting shorter. Rain is common in the Pacific Northwest the last three months of the year, so I know we're on borrowed time. I knew if we didn't get out during the week, we might not have another chance. A climber once commented, "If I'm not a little cold, hungry, or tired at the end of a trip, then I brought too much stuff." As tempted as I was to cut corners, I'm not that climber. I like being comfortable and having sufficient supplies for the two of us.
Do you have a favorite peak you visit every year? Mine used to be Mt. St. Helens, but the permit hassle has meant changing my goals. Now, Granite in October has become the perfect balm for the spirit. I can't wait to visit again next fall.