Continuing from last week, this post is the second in a series about my family's recent 12-day Alaskan vacation. Included are several exercises to increase mindful awareness. I've blended them with musings about my journey to remain mindful in Denali while searching for grizzly bears, moose, caribou, Dall sheep, and wolves.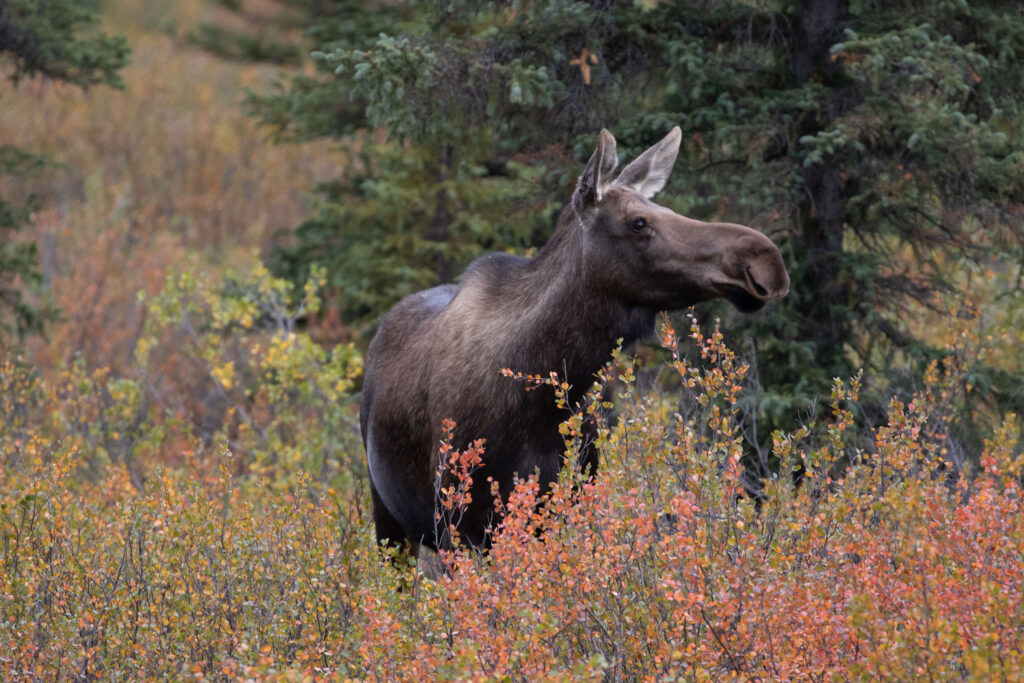 Mindfulness Versus Meditation
This week several clients asked me to differentiate between "mindfulness" and "meditation." I am not formally trained to teach either. But my understanding is that meditation is a process of clearing the mind by focusing on your breath while letting troublesome thoughts float by. Yoga is a popular example of meditation.
Mindfulness, on the other hand, is the practice of staying in the present. It involves paying attention to now, rather than worrying about the future or fretting about the past. I have had far more "success" with mindfulness than with meditation. Perhaps because I can practice mindfulness while brushing my teeth, walking Ajax, washing dishes, or taking photographs.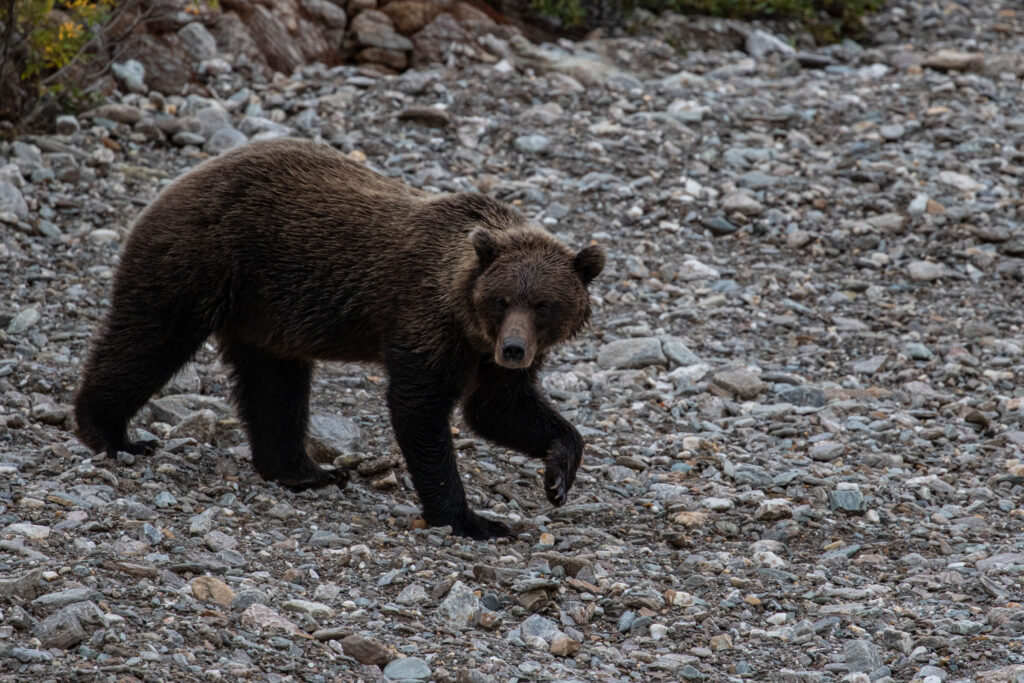 When Mindfulness Doesn't Work
I found myself reflecting on my mental state during our recent Alaska trip. One of our favorite activities on family vacations is to photograph wildlife, whether we are on a boat, looking for birds, or driving park roads. Denali National Park is known for five large mammals, fondly referred to as the big five. We located all but wolves.
Admittedly, there were times I caught myself not being mindful. Was my daughter enjoying her graduation trip? Should I have used a different camera carrier than the one draped awkwardly across my body? Would one can of bear spray be enough if we had another unexpected encounter with a grizzly? My standing joke is, "I worry so bad things won't happen." How much better would my experiences be if I ditch worry and focus on NOW?
Try This #1
Provided are a few thought exercises to help you explore mindfulness. Try recording the answers to the following questions to tune in to what you are doing RIGHT NOW:
How are you feeling? Where do you feel it?
What do you need? A drink of water, a nap, a bite of chocolate, a walk? Can you give it to yourself?
If you could have anything, what would you love today? A massage, a million-dollar bonus, a new boss? The sky is the limit.
What are you most proud of from today, this week, and this month? Consider reviewing my post on gratitude.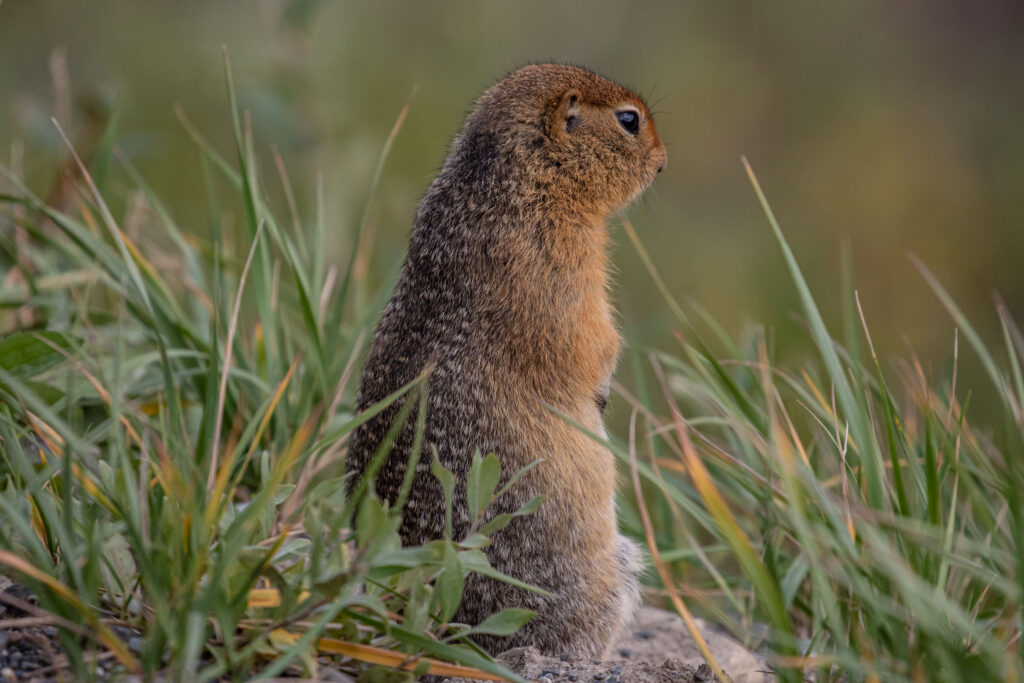 Mindful in Denali: Logistics of Animal Searches
To look for wildlife in Denali, we first needed to understand where we were allowed to go to look for animals. Denali National Park limits car traffic on the paved road to Savage River (MP 15). Beyond that, a narrated bus or a shuttle bus from the bus depot near the park entrance at MP .5 was the only motorized option. We could also bike or walk. In late summer 2022, Denali's single road was only open as far as milepost 43, due to the Pretty Rocks landslide. We chose the shuttle bus.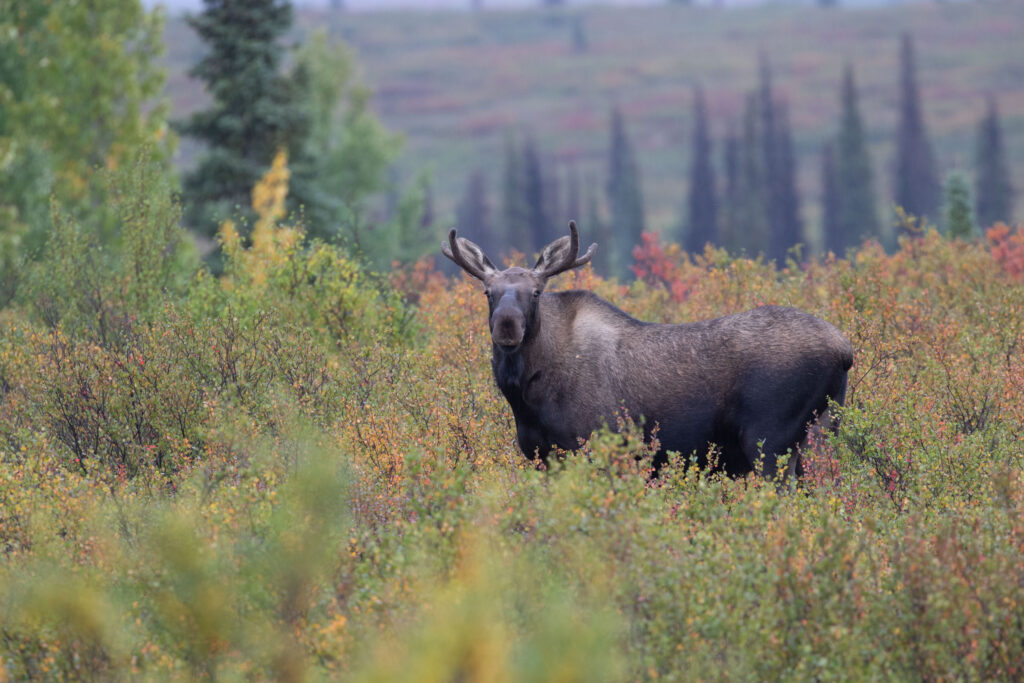 The mammals we were looking for forage during the morning and evening hours. Our primary access limitations were our teen daughter's sleeping needs and available seats in the shuttle buses. The two days we took the bus, we reached our exploration areas around noon. Fortunately, plenty of animals graze all day long.
We knew from six visits to Yellowstone National Park that we'd each need a good pair of binoculars, especially to spot wolves and Dall sheep. My husband and I had our digital cameras ready, as our cell phones don't take good wildlife close-ups.
Our shuttle bus driver pointed out tips about local landmarks as he drove, including slowing down for photographs of wildlife near — or in — the road. All the photos included in this post were taken using a 100-400 mm lens so we would not interrupt their natural behavior.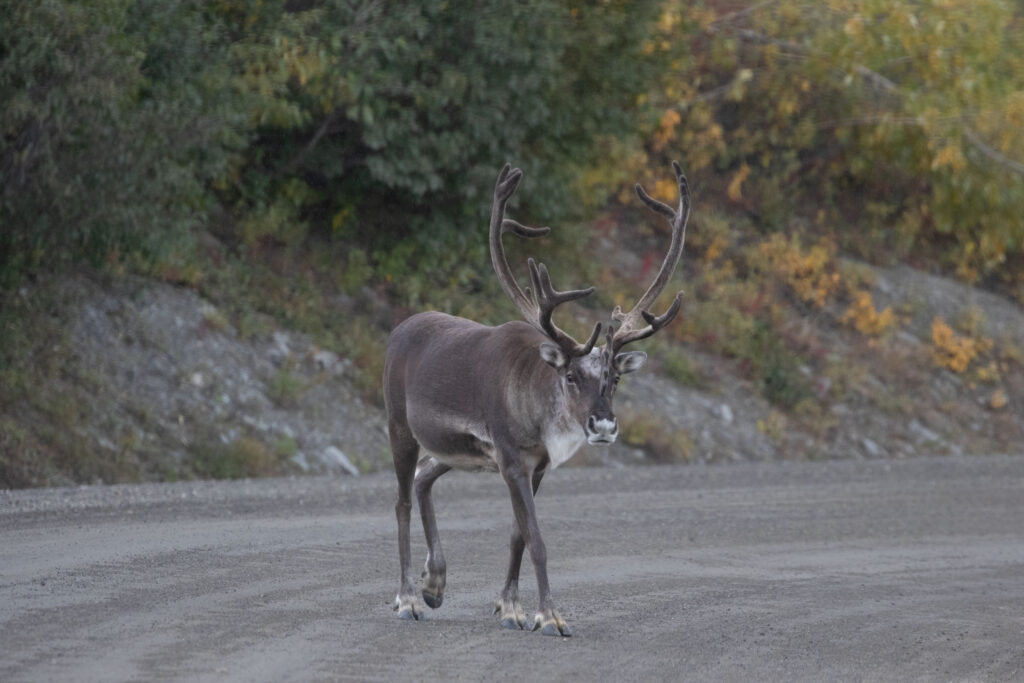 Try This: #2
If you have 15-20 minutes available, go for a sensory walk someplace you don't normally visit. Do NOT listen to music or record steps on a biometric device. Take yourself off autopilot and sink into the moment. A watch is okay if you need to be back at a certain time.
What do you see?
Can you identify any new scents? What do you smell? Are they pleasant or not?
Listen to as many things as you can hear. Can you find ten distinct sounds? Learning birdsong is a great way to activate your hearing.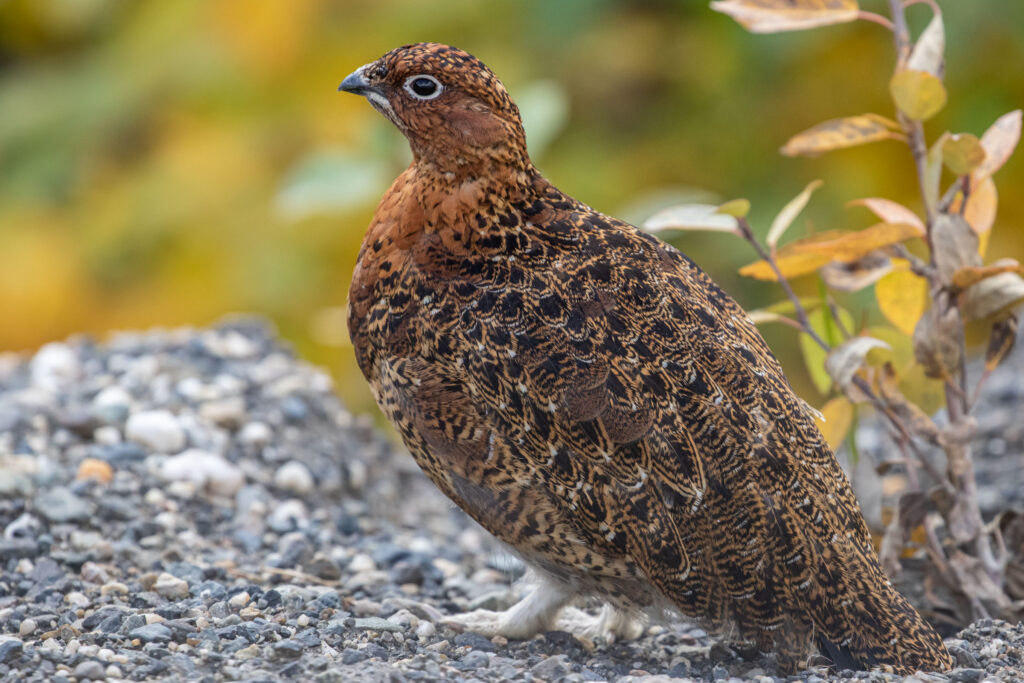 Pay attention to the breeze, textures, sense of heat or cold, and sun on your face. What do you feel?
Do you "taste" anything around you? Berries, the aroma of coffee, or the 'taste' of wildfire smoke?
Finally, do you feel safe? Harried? Nervous? Relaxed? What contributes to your overall interpretation of sensory input?
Unexpected Delights from Being Mindful in Denali
What we missed by arriving at the start of Alaska's rainy season, we more than made up for by hitting the jaw-dropping autumn colors perfectly. If I'd been too focused on finding the animals, I might not have fully appreciated the beauty surrounding us. What's more, we learned more about animal behavior by being fully open to the experience.
The driver told us that bull moose were congregating for their annual rut. We could also see various stages of velvet on the caribou's antlers. By doing plenty of research ahead of time, we knew what to expect and where we might find birds and mammals. Consider creating a "perhaps list" so that you have plenty of options to choose from. And reflect on the type of animal behavior you are interested in seeing so that you can time your trip based on what you're likely to see.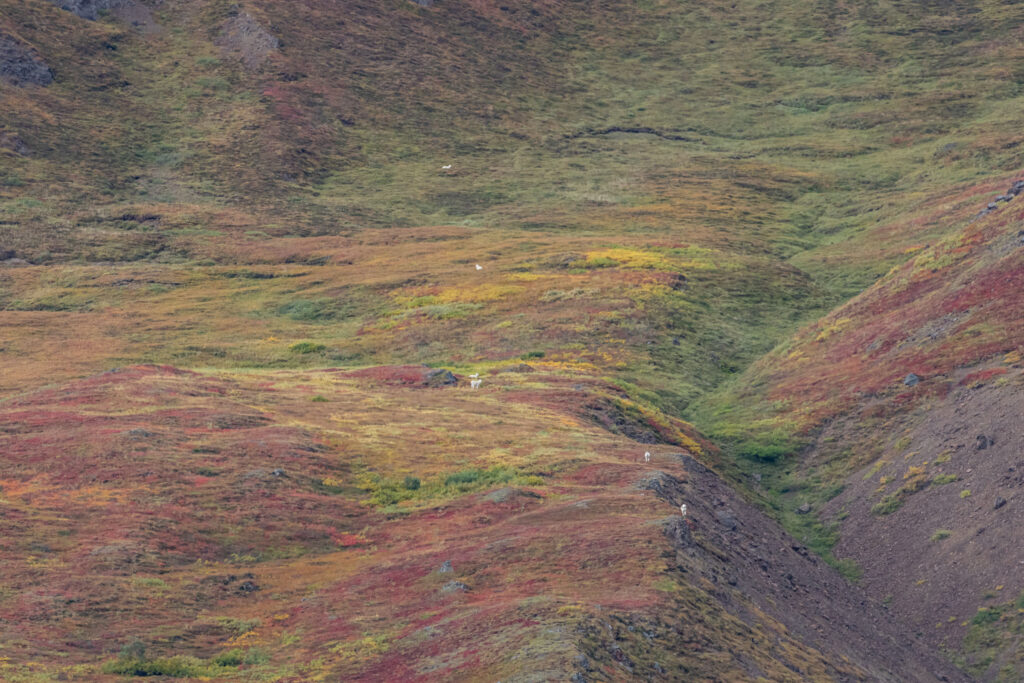 Try This: #3
As you go about your daily business, pause every so often and look around you. Notice how the light hits the clock. Watch dust motes float in the sun. Observe how your hands play in the suds while doing dishes. The more we can bring awareness and attention to what we are doing, the more we will be able to appreciate the present moment. We live NOW, not tomorrow or yesterday.
As always, if you have experiences you'd like to share related to mindfulness or novelty, please feel free to share them in the comments so that we can all learn, grow, and discuss.