For anyone joining my blog after January 1, 2023, here's a brief summary of our Active Ajax Adventures project. The quest: 52 unique adventures (one per week) with my 8-year-old Labraheeler and wonderful hiking partner, Ajax. The requirements: each green space ramble would last longer than an hour (and could include hikes), without repeats. I abbreviated the quest to "AAA". The project was every bit as useful to me as the American Automobile Association is for drivers. Although I hesitate to do much with Chat GPT, I found one suggested AI headline to be appropriate: Paws and reflections. You be the judge whether it hits the mark.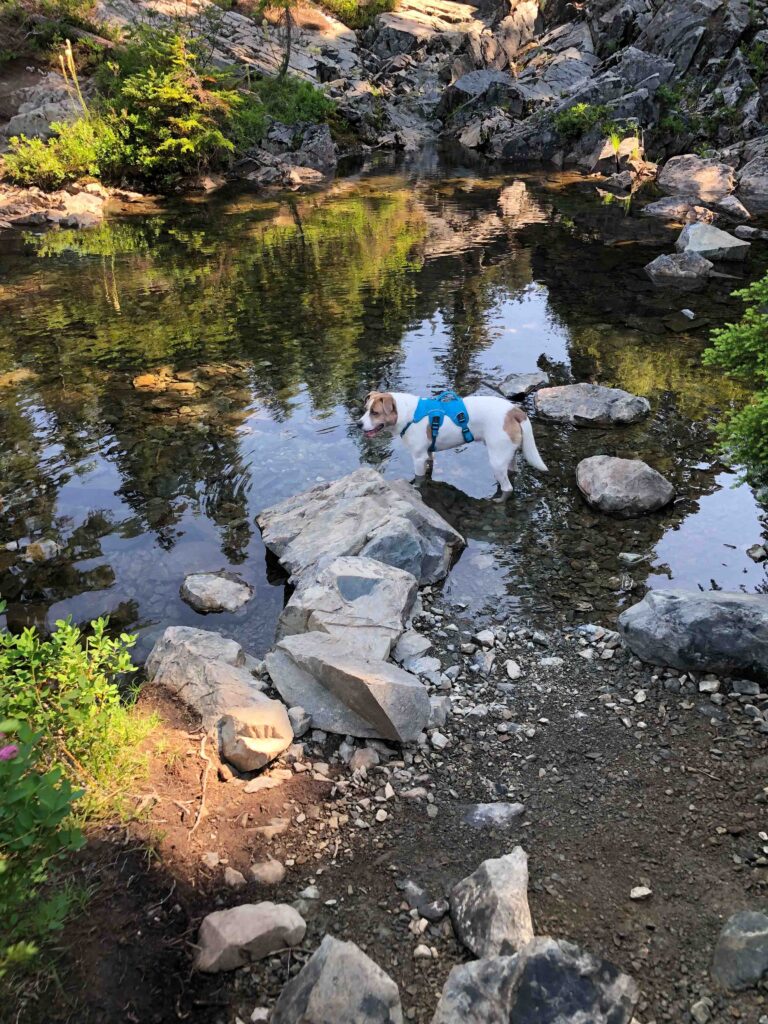 Project Kick-off
In my second blog post of the year, I asked myself, "Why would anyone want to read about this?" Frankly, it doesn't matter what anyone else thinks about your intentions as long as they ENERGIZE YOU. By using a tool Precision Nutrition refers to as the "Five Whys", I drilled down to my Big Reason for completing this project: "As a way to explore mindfulness, learn to become more fully present, and experience joy in tiny moments." In short, I framed it as an experimental path toward contentment and well-being.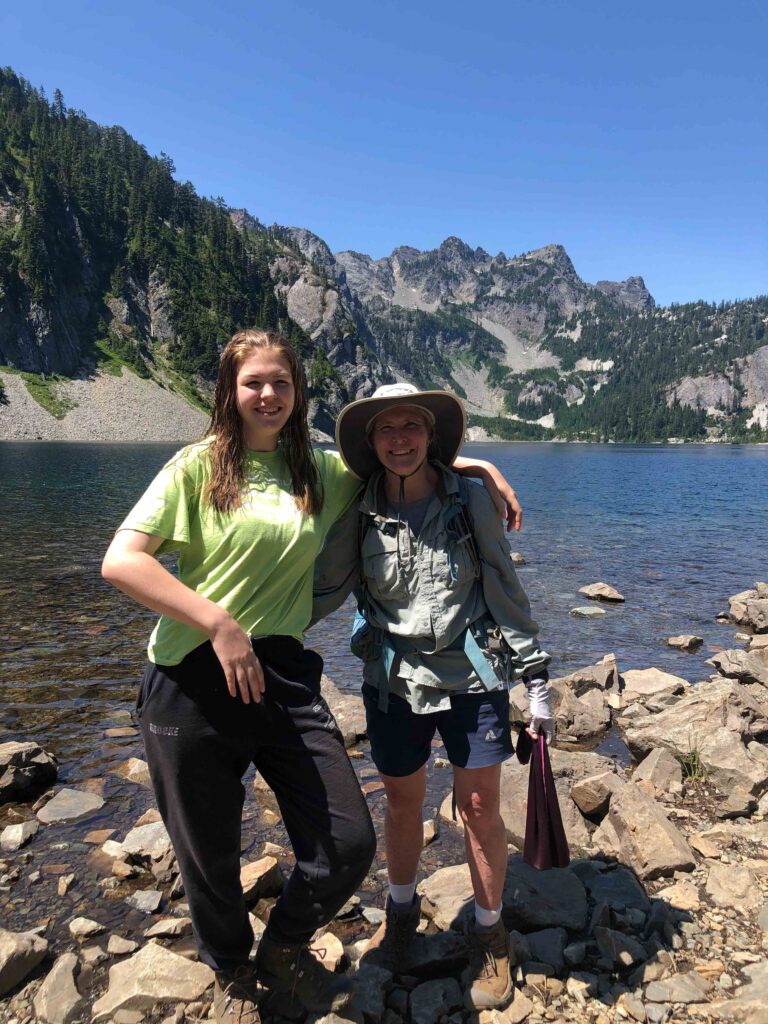 Paws and Reflections: the Murky Middle
We zipped along with our project for the first half of the year. But in early June, I almost gave up. I shared why in a post about feeling stuck called "Murky Middle: How to Follow Through on Intentions." By modifying some of my own guidelines (after all, I made them up, I can change them!) I decided to take our rambles to the mountains. My energy immediately surged forward again.
The last quarter of the project has been my favorite. My teenage daughter, home for the summer, joined us for 9 hikes. Although my husband and I have been wrestling with "a partially empty nest" since fall 2022, it feels like having her back has erased our progress on that front. But our relationship is so much richer than it ever was. We can relate to each other as adults. I absolutely love this phase.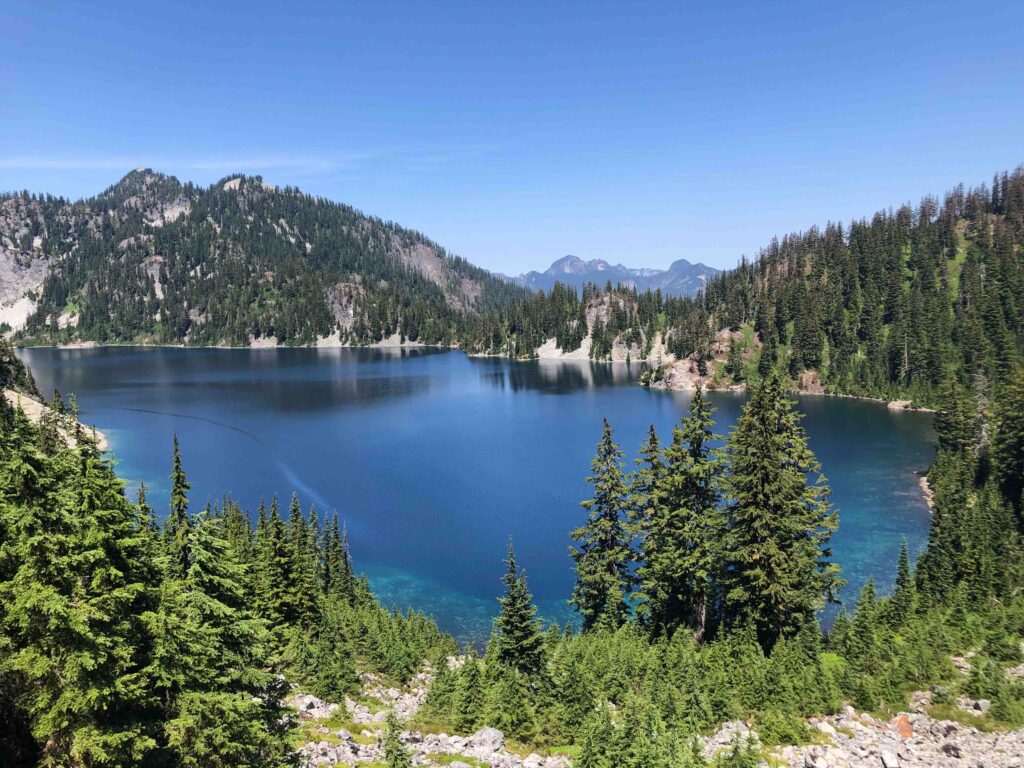 While we have stumbled over some obstacles, especially in Cougar Mountain's Whittaker Wilderness, we have also discovered a common passion: visiting — and swimming in — alpine lakes.
The Joy of Alpine Lakes
Of the nine hikes Ajax and I have done with my daughter, most included lakes or waterfalls. The most memorable, Mirror, Snow, and Rachel Lakes, all involved swimming for at least half an hour.
Mirror Lake
The rutted gravel road to Mirror Lake trailhead was the most challenging for us to navigate this year. It easily added an extra half hour in the car, sometimes at 5-10 mph. However, the PCT is a beautiful trail, and we encountered very few hikers on a Thursday in July. I'd only been on this trail to Mirror Lake once before, in November of 2021 in snow, so it felt new to me.
On this particular hike, the biggest surprises were:
The duration of my daughter's swim (nearly an hour)
How much improvement she'd made in strength and conditioning in only two weeks (either that, or she's very motivated to see lakes!)
Not a peep out of Ajax, who waited patiently by the shore, with wet paws. He'll go in if we carry him in but otherwise, he's nothing like other Labrador Retrievers.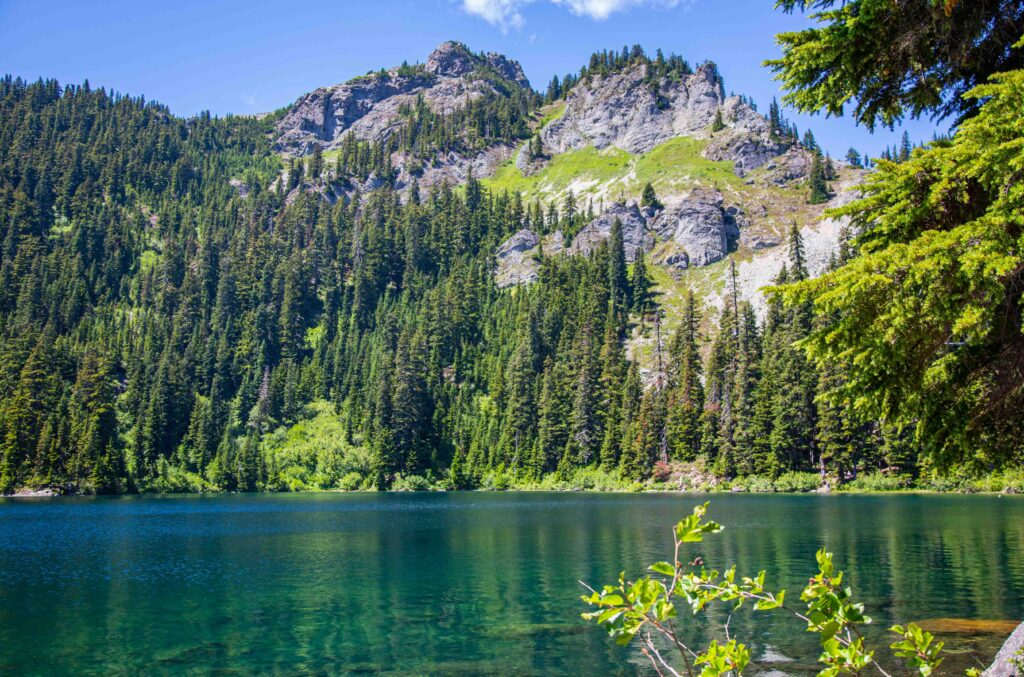 Snow Lake
Another fun trip was a midweek hike to Snow Lake with my college crewmate and her teenage son, a student at the University of Washington in my daughter's year. This destination at Snoqualmie Pass is incredibly popular, especially since some of the water-play trailheads along I-90 are closed this year for construction and trail maintenance. While we enjoyed spending two hours at the lake, I worried about how Ajax would do going back.
The rocky south-facing slope heats up significantly in the middle of the day. When I noticed Ajax overheating, I handed my car keys to my friend to get the air conditioning going in the car. My daughter and I slowed our pace and coaxed Ajax out. He's done a phenomenal job this year, but he's not getting any younger.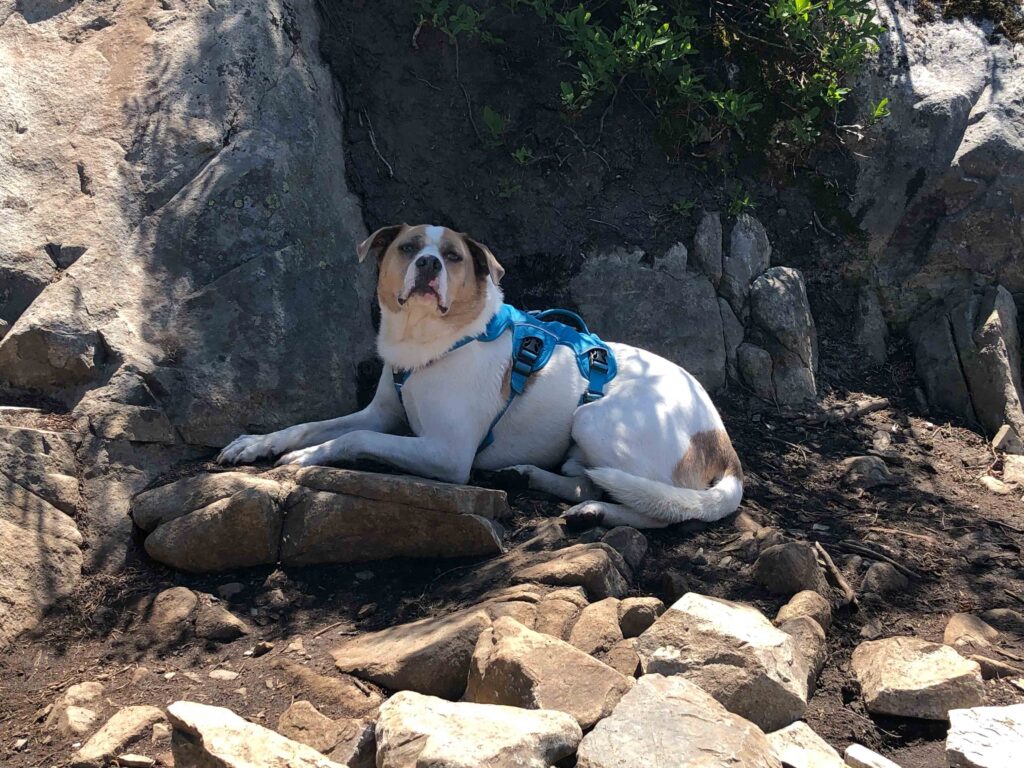 Paws and Reflections: Where's the Finish Line?
A few days later, I stalled again. I really wanted to finish our Ramble project with a special, meaningful, new-to-me or favorite hike, but most of the ones on my list were either too long for my daughter or too hot for Ajax.
Rachel Lake
Finally, on Thursday, August 3, we found the perfect destination: Rachel Lake. Not only were there relatively few people, but the first 2.75 miles are lovely, rambling through meadows and forest along Canyon Creek with plenty of wonderful photo opportunities. It took us four hours to reach the lake (and two hours out) because we kept finding places to stop.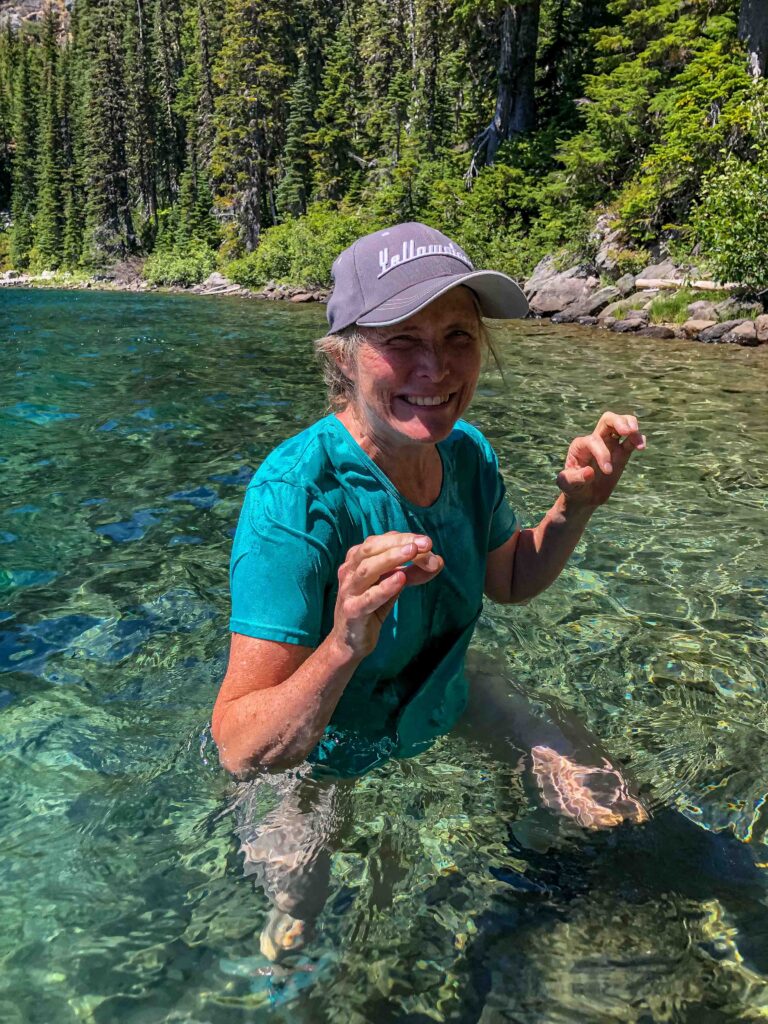 The trail was not without its trials. My daughter had a boot mishap at the second stop. While interesting, the copious roots, stones, and route-finding issues on the trail between mile 3 and the lake (a gain of 1200 feet in 1.25 miles) frustrated my daughter, and the steep steps challenged Ajax. The horseflies were annoying. I was the only one who had brought food.
Repeat in the Future?
When I asked my daughter if she would consider going back, she gave me an emphatic no. The steep jumps left my dog's tail tucked and droopy for a good two days. Can a dog break his tail? Where was all his energy? I might be tempted to return in a month to see the fall foliage, feast on ripe blueberries, and add an extra two miles to see the view from Alta Peak. But I'd be going by myself.
Ramble Project Takeaways
This project was wonderful in so many ways, but I'll share three highlights. First, it got me out of my comfort zone, visiting new places. I'd become a creature of habit the past three years, going to the same places each year. This year Ajax and I expanded our repertoire by a full eighteen locations, many of which I now suggest to clients who are looking for less-populated hiking trails.
Second, it made me want to continue to explore new dog-friendly locations. There are so many wonderful places to visit in the Pacific Northwest that are not overrun by people. What's more, my daughter wants to keep building her stamina and tolerance for elevation gain so we can visit harder-to-access alpine lakes such as Blanca Lake whenever it re-opens. We might even try some backpacking next summer!
Finally, knowing how close I was to quitting the ramble project in June, I'm delighted that we kept going. By doing some "paws and reflections" I've come to see just how fabulous these last nine hikes have been with my two favorite hiking partners. Completing my intended objective feels great. And I have a new hiking partner, at least for a few more weeks.